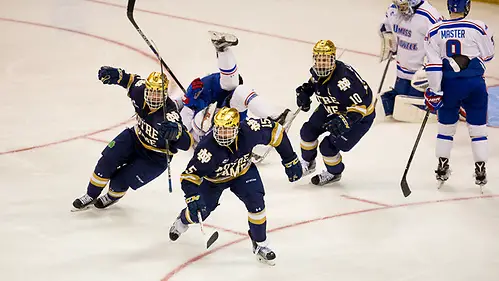 MANCHESTER, N.H. — With the Frozen Four in Chicago, arguably the backyard of Notre Dame, the obvious goal from day one was to be playing and not just hosting the event. The only problem was that all along the way, there were significant bumps in the road.
That, however, didn't stop this team of destiny, which leads the three takeaways from the Fighting Irish's 3-2 overtime victory over UMass Lowell in the Northeast Regional final on Sunday.
1. Call them the Cardiac Kids, but also call them regional champs
Notre Dame didn't enter this tournament guns a blazin'. In fact, after a loss in the Hockey East semifinals, there was a statistical chance the Irish could have been left out of the field.
After earning one of the final at-large bids, the Irish had a disastrous start in Saturday's opening game, falling behind 2-0 before rallying for a 3-2 win over Minnesota.
And Sunday, despite going blow for blow with Lowell, the Irish found themselves in a 2-1 hole with just over five minutes left.
Given that Notre Dame could come back and win the game in overtime, it has survived many of its nine lives. One has to wonder if this is a team of destiny. That's something we'll find out in Chicago.
2. Anders Bjork may be the bionic man
Maybe it was designed or maybe it was not, but junior Anders Bjork, who set up all three Notre Dame goals en route to tourney most outstanding player honors, seemingly never left the ice.
He skated many of his shifts with linemates Cam Morrison and Jake Evans but almost always was left on the ice to play the wing with Dylan Malmquist and Andrew Oglevie. That gave him nearly 30 minutes of ice time, almost every one of which had a major impact on the game.
"I laughed [when asked about double shifting]," said Notre Dame coach Jeff Jackson. "I turned to [Bjork] and said, 'You weren't being double shifted. You were just taking two shifts for one.'"
All kidding aside, Jackson used Bjork in many mixed line situations, believing that he could handle what he called NHL-like minutes.
"Our bench is a little shorter now [due to injuries]. So if you've got horses you have to play them."
3. Morrison the hidden storyline
It's easy when you think of how strong the play of Bjork was and the fact that Oglevie played the role of hero scoring the overtime goal, you can accidentally overlook that massive contributions of Morrison.
The top-line winger opened the scoring by burying a rebound on a breakaway in the first. Then, when the chips were down, he collected a rebound and roofed a perfect backhander to tie the game with 5:17 remaining in regulation.
He was left off the all-tournament team entirely, but his contributions are a major reason the Fighting Irish are headed to Chicago.
That all-tournament team:
F: Anders Bjork, Notre Dame (also the most outstanding player)
F: Andrew Oglevie, Notre Dame
F: Ryan Lohin, UMass Lowell
D: Jordan Gross, Notre Dame
D: Michael Kapla, UMass Lowell
G: Cal Petersen, Notre Dame