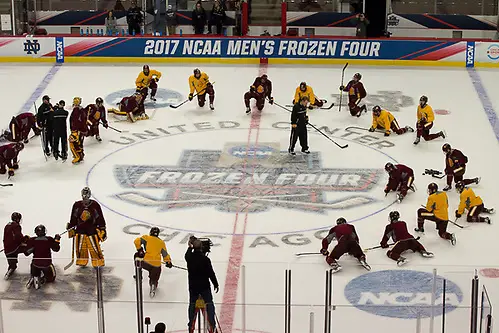 CHICAGO — From three coaches who have been to the Frozen Four collectively eight times with their current schools and one who is ending his program's 23-year drought, this year's Frozen Four coaches may all want their players to live in the moment, but they have each prepared their clubs in varying ways.
Learning from the past
While the pressure is on for Denver as a high-powered, experienced team — and the only club returning from last year's Frozen Four — senior forward Evan Janssen said Wednesday that maintaining focus and keeping the distractions low is as easy as staying off line.
Frozen Four 2017
More coverage of the 2017 NCAA men's Frozen Four at Frozen Four Central.
"I think a lot of us try to stay off social media and reading into those [online stories and speculative reports]," Janssen said after practice. "We just try to focus on ourselves. We always preach how you've got to stay in the moment."
Coach Jim Montgomery said he took last year's run in the tourney — and eventual loss to North Dakota in the semifinals — as a learning moment on how to better prepare the Pioneers this year leading up to the matchup with the Fighting Irish.
"We started preparing for Notre Dame earlier than we started preparing for North Dakota because mentally we were fresh," Montgomery said. "We didn't waste a lot of emotion winning the regional. The second thing I think that we've learned is how to manage our time while we're here. We purposely scheduled our practice — luckily, being the No. 1 seed, we could — so we have two hours of down time here before the banquet, which is going to allow our players just to relax mentally and get away by themselves."
Keeping the routine
Minnesota Duluth senior Dominic Toninato said the Bulldogs have kept up the same routine practice-wise, but with all the traveling in recent weeks "the big difference is trying to catch up on some school [work]."
And part of that routine is a ritual three-puck warmup game.
"They were fired up to play the three-puck game at the United Center," coach Scott Sandelin said after Wednesday's Frozen Four practice. "We do it every Wednesday. It's a little warmup. [Earlier] I'm debating, should we do it? Should we do it? If I had not done it, they probably wouldn't have had a good practice.
"They stay in their routine. This time of the year, there's not a lot of different things you want to be doing. You want to keep them comfortable. You want to keep them confident."
Removing the noise (or at least trying)
Despite this being the program's first Frozen Four appearance in more than two decades, red-hot Harvard (on an 18-game unbeaten streak — the longest for a team entering the Frozen Four since 1991) is keeping its cool by simply removing the noise and treating this like any other game, according to the players at least.
"If we get too caught up in everything else, we won't be as focused on our game," senior forward Alexander Kerfoot said. "Obviously, we still have a lot of work to do, so we're just trying to treat this like any other weekend."
Added classmate Sean Malone: "We've played in really big games this year with the Beanpot and ECAC tournament and things like that. I think we could use our experience there and know that we have to come out playing our game hard right away."
But coach Ted Donato admitted that it's nearly impossible to completely ignore all the noise on college hockey's biggest stage and treat this like any other game.
"Honestly, no, it's not possible," Donato said. "They're not practicing at the United Center every day or in a great city like Chicago. They understand the opportunity that's in front of them. I think there are certainly different challenges that they might not see at other times in the year, but I think they did mention that they feel like some of the experiences they've had, whether it's playing in the Beanpot or even at Madison Square Garden, you realize that things come fast and furious in those types of games.
"This is certainly a different game. I think you can always try to — in your mind, just think of it as a different game. But we haven't been to the Final Four in a long time. So it's not just another game. But mentally, they're preparing as if it's another big game that they're playing."
Controlling distractions
After two prior trips to the Frozen Four with Notre Dame, coach Jeff Jackson knows there's a number of things the team has to be prepared for.
One of the most important things to remember at this stage in the game is avoiding all the distractions.
"Hockey is hockey; no matter where we're playing, it's the same thing, same size rink," he said. "But when you put everything else around it, it's the distractions, and controlling those distractions is probably the biggest thing.
"You've got all these different things going on. Today, they've been doing stuff all day long, so have I. From the morning, you've got thing after thing after thing, not what you're accustomed to. It's different than what you're accustomed to. You've just got to make sure you don't allow everything that's going on around, away from the hockey game, affect the hockey game."