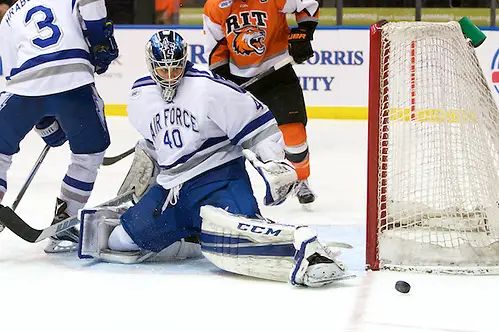 Former Air Force goalie Shane Starrett enters his first offseason camp as a professional hockey player.
And he has his two years as a Falcon to thank for it.
"Being at Air Force definitely helped me mentally," Starrett said. "There is a lot of mental tests when you go through basic and survival training. That helped me become mentally tougher and taught me how to best handle stressful situations. You feel you can get through any battle and that definitely has helped me become a better goalie."
Starrett, 22, left the Atlantic Hockey program this spring, taking advantage of a longstanding Department of Defense policy that allows sophomores to leave the service academy without penalty if they decide the military is not for them.
He signed a two-year contract on April 10 with the Edmonton organization and joins the Oilers for their development camp the first week of July. At this point, he is assigned to the Bakersfield Condors of the American Hockey League.
The recent reversal of another DoD policy that had allowed academy graduates to go pro and forgave their five-year military commitment, makes Starrett's opportunity a unique one for former Falcons. He is grateful for the chance.
"It's something I have worked for and dreamed of from the start," Starrett said. "I am excited but I also know I have to prove myself again."
While pro opportunities are rare for Air Force players, coach Frank Serratore is not about to bet against Starrett's chances of enjoying a lengthy professional career.
"I have a lot of faith and confidence in Shane Starrett," Serratore said. "It's a tough road trying to make it to the National Hockey League, but he has the size, athleticism and skill set needed."
Starrett is confident as he prepares for the Oilers camp. He was an invited college free agent at last summer's Chicago Blackhawks development camp and will rely on that experience now.
"I am going into it with the same attitude as last summer — prove myself to them and prove my worth," he said. "It is different going in as part of the organization. You are always having to prove yourself in college and especially as a pro."
Starrett is looking forward to the extra tutelage from Oilers consultant Sylvain Rodrigue.
"Their goaltending coach is really looking forward to working with me," Starrett said. "Edmonton is a young team that is obviously going to be great in the future. Edmonton is a great fit for me."
Starrett may be the last Falcons hockey player to have a full-time pro career, but that will not keep AFA graduates out of the minor leagues if circumstances allow.
A number of former Falcons, including goalie Andrew Volkening, forward Jacques Lamoureux and defenseman Greg Flynn, were part-time players or practice-squad athletes for minor league teams near where they were stationed. Lamoureux has played in five of the last six seasons thanks to a flexible work schedule and an understanding commanding officer.
Knowing the limitations placed on active-duty personnel keeps Air Force recruits grounded while they consider a military career after college hockey. That has made the policy reversal a non-factor in recruiting, Serratore said.
"It hasn't really come up," he said. "It's business as usual. [A minor league opportunity] can happen but it takes a lot. They all know that coming in."