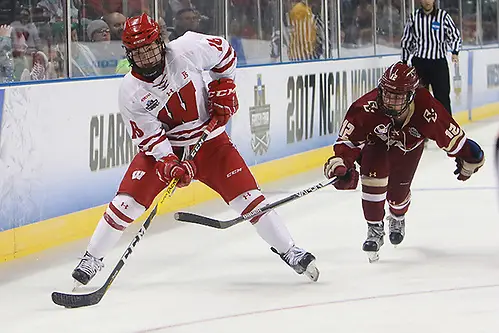 The top three teams in the league had significant departures due to graduation and are missing players this season who are centralized with Team USA and Canada prior to the Winter Olympics in Pyeongchang, South Korea. Minnesota, Wisconsin, and Minnesota-Duluth all have a lot of questions they'll need to answer in order to be successful. Each program has plenty of young talent, but it will be how quickly each adapts that will decide how the season plays out. Normally, I'd go with last year's winner as the preseason number one, but in this case, I have to give the nod to Minnesota because while they have a lot of unknowns, they have solid Sidney Peters in net. Wisconsin has to replace Patty Kazmaier Award winner Ann-Renée Desbiens, and that will be no easy feat.
Bemidji State
Last season: 12-20-3, 7-18-3, (seventh). Lost to Minnesota in the first round of the WCHA tournament.
Names to know
Clair DeGeorge: A freshman who really impressed in preseason workouts. She's taller than 6 feet in her skates, won the team's fitness run, and looks to be someone to have an immediate role on the team.
Emily Berglund: She made huge strides from her freshman to sophomore season, and the Beavers hope they'll see even more growth out of her. The team's leading scorer, she's got a lot of pressure on her shoulders.
Erin Deters: She is the only goalie on the roster with any experience. She was blocked by Mowat, but held her own when she got the chance in the net. She's going to have to work to earn the spot.
"The good news is we're returning seven of our 10 top scorers. The bad news is we didn't score a lot. The biggest question for us is in goal after the graduation of Britni Mowat." – coach Jim Scanlan.
Three questions
1. Can they pick up the offense? The blue line and goaltender are going to need time to settle in. Last season, even with Mowat, they allowed 1.5 more goals per game than they scored. No one person is going to be the superstar of the Beavers. They need everyone to find a new gear and give their defense a breather.
2. How do they handle the opening weeks? They open the season with Syracuse and then run the gauntlet of Clarkson, Minnesota, Wisconsin, and Minnesota-Duluth. That's probably not going to go great for them, but how the respond and grow from those games and carry on through the season will tell us a lot about the team.
3. Who follows Mowat? No pressure on Deters and two freshman goalies, but you've got some big skates to fill. There were games over the past four years where Mowat was the only thing keeping Bemidji in games. With an anemic offense and a need to get players up to speed in the face of an absolutely soul-crushing schedule, Bemidji needs to rely on the goaltender.
Crystal Ball
I expect them to finish fifth.
Minnesota
Last season: 26-8-5, 19-4-5 (second). Lost to Clarkson in the NCAA semifinals.
Names to know
Sidney Peters: A redshirt senior who stepped up and had a big season in net for the Gophers after not having played much in previous years. Minnesota is going to need her to be even more stalwart in the net as their young squad finds their skates.
Sidney Baldwin: She is the highest returning scorer on this squad, and she had just 16 points last season. There's so much room for players to step up this season, and Baldwin has to be the one to lead them as the captain.
Taylor Wente and Grace Zumwinkle: They are two-time gold-medal winners with the Team USA U-18 team. Any year they'd be highly touted rookies, but especially this season where there's so much room to step up and make an impact. The Gophers need them to transition quickly.
"We're going to have to be at our best as coaches just as our players are. There's nothing set in stone. Generally coming into the season as a coach you're going to say OK, here are our top two lines, here's our power play units. It's completely open. We're just going to have to be patient with it and see players emerge and show that they can be in those certain roles." – coach Brad Frost.
Three questions
1. Who's going to score? It's a bit of a tired refrain across the country this year, but it's most relevant here. The Gophers lost seven senior to graduation, plus Amy and Sarah Potomak and Kelly Pannek to pre-Olympic centralization with Team USA and Canada. They will be missing their top six scorers from last season. Last season, the team tallied 124 goals, 206 assists, and 330 points. Those six accounted for 65 percent of those goals, 70 percent of the assists, and 68 percent of the points. With Baldwin, a D, as their biggest returning scorer, a lot of Gophers need to step up. Lucky for Minnesota, they don't really rebuild, they just reload.
2. Can they finish strong? For the first time in three years, the Gophers will finish the season on the road at Wisconsin. They've been able to have the Badgers at home the past two seasons. With all the questions and unknowns in this season for those two teams, those final two games are likely to be crucial for conference standings.
3. Who's filling Lee Stecklein's skates? Not to mention Megan Wolfe? Stecklein has been one of — if not the best — defenders in the league for years. She provided poise, calm, and experience on the blue line, was as scoring threat and, at 6 feet, was a huge presence and protection in front of the net. If the Gophers offense is going to need time to figure itself out, the defense has to be sure early on.
Crystal Ball
Despite all the question marks, this is Minnesota we're talking about. Frost and his staff are some of the very best, and this is a highly experienced and talented rookie class. They might not be as dominant as you're used to seeing, but I expect they'll figure it out soon enough. I don't have any idea how to judge who'll best figure out their question marks, but Minnesota has a solid answer in goal so they get the advantage right now. They finish first.
Minnesota-Duluth
Last season: 24-7-5, 19-5-4 (third). Lost to Minnesota in the first round of the NCAA tournament.
Names to know
Ryleigh Houston: She transferred to UMD from North Dakota, where she was second on the team in scoring. The Bulldogs graduated a ton of talent; last year's senior class accounted for 81 of UMD's 110 goals, including 21 game-winning tallies. They need Houston to make an impact immediately.
Jessica Convery: She transferred from Mercyhurst for her senior season and looks to fill the hole left by Maddie Rooney, who is centralized with Team USA. Rooney was the breakout star of last season. UMD needed a goalie for a single-season, so this was the perfect fit.
Catherine Daoust: She was second on the team in scoring, and the blue line needs a new leader with the graduation of Sidney Morin. Daoust has a ton of potential, and whether she steps it up this season will be fun to watch.
"Our defense is really an exciting group. We have four returning defensemen and three of them are assistant captains – Catherine Daoust, Jessica Healey and Linnea Hedin. They've worked hard off ice to put in good position on the ice. With those four back there, I feel very confident." – coach Maura Crowell.
Three questions
1. Can Convery deliver in net? Any biases aside, she's going to face a very different situation than she did at Mercyhurst. She's got a solid defense in front of her, but Convery she faced just 492 shots last season in the CHA, while Rooney saw 1075. UMD starts the season with Boston College and Minnesota in the first four weeks, so there's not a lot of room for her to adjust.
2. How do you replace Lara Stalder and Ashleigh Brykaliuk? Every team has top scorers to replace, but these two were playmakers all over the ice for the Bulldogs. Stalder saved a goal in the WCHA tournament last year. They were leaders, they logged a ton of minutes, and they were dynamic. It's not just about replacing the points they scored; UMD needs a couple of players to take their example and live up to it.
3. Can they maintain the momentum? UMD returned to prominence last season, and start the season ranked fifth in the country. There were dynasties in Duluth in the past; can these Bulldogs continue what was started last year?
Crystal Ball
This conference is nigh on impossible to predict this season with so many question marks. For now, I've got UMD third.
Minnesota State
Last season: 7-26-4, 4-21-3 (eighth). Lost to Wisconsin in the first round of the WCHA tournament.
Names to know
Rebekah Kolstad: She is another transfer from North Dakota. The Mankato native comes home and brings a boost to the offense. Her experience will serve this young team well.
Emily Anthony: She led the team with 14 points and seven goals.
"Two years ago when I started, we had one senior and 21 sophomores and freshmen. So now they have the experience. We kind of have to do things by committee instead of relying on a single person." – coach John Harrington.
Three questions
1. Who's in net? Brianna Quade had most of the minutes last season, but Katie Bidulka and Chloe Crosby each saw limited time. The starting job is up for grabs for whomever wants to step up and take it.
2. How can they continue to build? In 2014-15, they didn't win a conference game. The next season, they won one. Last year, they took four conference matches. That growth is so exciting to see and has to be huge for the players. MSU has updated their facilities, and recruits are taking notice of the idea that they can immediately help build something at this program. They need to keep showing that momentum to help recruit better players. It all ties together.
3. Will the experience matter? That young team has been playing together for two seasons now. It's time for them to show how much they've learned and grown. Every week is an opportunity to make history at MSU, and these players need to rise to the challenge and embrace it.
Crystal Ball
It would be surprising if Mankato finishes anywhere other than seventh.
Ohio State
Last season: 14-18-5, 7-16-5 (fifth). Lost to North Dakota in the first round of the WCHA tournament.
Names to know
Kassidy Sauve: She was truly stellar in net last season under the toughest of circumstances. She was absolutely shelled all season and continued to put up good numbers, all after recovering from hip injuries.
Jincy Dunne: Dunne was a highly touted recruit who sat out her first year and then didn't make quite the splash we'd expected last season. She was in pre-Olympic camp with Team USA in 2014 as a 16-year-old and then reportedly suffered concussion issues. The Buckeyes could really use her to reach her potential this season.
Milica McMillen: She is a former Minnesota player that's been playing in the NWHL. When Jess Koizumi left OSU for Vermont, Nadine Muzerall brought McMillen in as an assistant coach.
"We are very excited here in Columbus to start off a new year. We are grateful we are tied for third in the WCHA [poll]. It's been awhile since we've been ranked that high and that's the goal. We want to continue to strive to be better each year. Our team continues to grow with our new staff and our new direction." – coach Nadine Muzerall on the WCHA preseason call.
Three questions
1. Can they find an offense? Sauve and the defense can only do so much; the offense averaged just 1.86 goals per game last season, good for 29th in the country. It's simply not going to cut it. They are returning all of their top scorers; they lost just two players to graduation. That experience has to shine through.
2. Can they weather the first few weeks? They play Minnesota, Wisconsin, and UMD in the first five weeks of their season. By November 5, we'll know a lot about this team and how far they've really come. And then we'll know even more about them based on how they handle whatever those outcomes are.
3. Can they do more than just play spoiler? I actually asked this exact question last year and it stands true. Before I believe that OSU is indeed the no. 3 team in the WCHA, I need to see they can consistently win games, not just pull a few upsets. They had wins over North Dakota and ties with UW and UM last season, but swept just two series all year, against Lindenwood and Penn State. There were flashes of brilliance by the Buckeyes last season, but they need to find a way to win the games they should.
Crystal Ball
I love the growth the Buckeyes have shown, and Sauve hasn't gotten near the attention she should have, but I don't know if they can pass UMD. The potential is there, but they've not shown they can be consistent. For now, I have them fourth.
St. Cloud State
Last season: 9-23-4, 7-18-3 (sixth). Lost to Minnesota-Duluth in the first round of the WCHA tournament.
Names to know
Janine Adler: She was a revelation in St. Cloud last season. The sophomore was stellar in net for the Huskies, but now five of the team's eight defenders are new to the program. They need Adler to be solid more than ever.
Julia Tylke: She led the team in scoring and will be looked to as the leader of the offense.
Laura Kluge: She is an incoming freshman that played professionally in Sweden last season and for Team Germany at the 2017 IIHF Women's World Championships, where she tallied four points in six games. The Huskies will really enjoy her experience. At 5-foot-10, she also adds some size.
"We have 11 new faces, a lot of youth and enthusiasm and a lot of new things going on. We only have three seniors, so we'll rely on them. But we are bringing back our four top scorers. We are excited about our goaltending with great competition back there." – coach Eric Rud
Three questions
1. What does it take to make the next step? Rud pointed out that his team has finished ahead of where they predicted in each of his years at the helm. This season, they're picked below Bemidji State and there's certainly opportunity for them, but what does that look like? They had a couple of upsets and moments of brilliance last season, but now they have 11 new players.
2. Can they be consistent? The Huskies did not sweep a single series last season. When they shocked Colgate 7-5, they came back and only managed a 0-0 tie the next day. They've got to work on putting together complete weekends and being able to do more than shock a team every once in awhile.
3. How do they wake up the power play? The Huskies were 7-of-91 with the extra attacker, scoring at just a 7.69 percent clip. They were also one of just two teams to have fewer than 100 power-play chances. Special teams and working to earn the advantage should be a focus for this squad.
Crystal Ball
There's room to move up, but right now I have SCSU at sixth.
Wisconsin
Last season: 33-3-4, 22-2-4 (first). Lost to Clarkson in the national championship game.
Names to know
Abby Roque: She was the WCHA Rookie of the Year and finished fourth on the team in scoring. She's the highest returning scorer thanks to graduation and Annie Pankowski and Emily Clark being centralized. Aside from her scoring threat, she's solid and physical. The Badgers need her to be even better this season.
Baylee Wellhausen: She is a Badger who isn't always apparent on the score sheet, but will have a chance to really step up and be even more impactful this season. She upped all her scoring totals last season and is a tough, scrappy player in the corners. A captain this season, she's going to be important to their success.
Claudia Kepler: Kepler is a Madison-area native that transferred to Wisconsin from Ohio State. She sat out last season and showed such work ethic that the team named her a captain before she's ever stepped on the ice. She led the Buckeyes in goals each of her three seasons there and looks to be a big boost for a Badger squad short on seniors and experience.
"This is going to be without a doubt my youngest team since I've been here. We dressed eight freshman (during the exhibition vs. South Korea) and a transfer goaltender. The challenge will be trying to get our young players up to speed as quickly as we can, and as they mature and as they gain experience and most importantly as they gain confidence, we'll become a better hockey team." – Mark Johnson
Three questions
1. How do you replace Ann-Renée Desbiens? Wisconsin has had a long history of elite goaltending, and there's a big question mark in net right now. North Dakota transfer Kristen Campbell had limited time on the ice for the Fighting Hawks. Nikki Cece played well for the Badgers when Desbiens was injured last season, but she's starting out the season unwell. It's a wide-open contest for starter, and the Badgers may rotate through their options, something they've not had to do for quite a few years.
2. Can they solve the scoring situation? Wisconsin lost their top four scorers to graduation or the Olympics, but they had a much more spread out offensive attack last season. There will be an impact, but it's not as big of a hit as Minnesota is taking. But the Badgers have also have the more abstract issue of solving why they struggled to score at times last season. With the power they had up front, they scored just once in the Frozen Four, and that's not going to cut it for most any team.
3. Have they solved the Minnesota conundrum? The Badgers were snakebitten against the Gophers for a long stretch. They shook the monkey off their back during the 2015-16 season, and the meetings have been more even, but Wisconsin can't let the Gophers get in their head, and they have to continue to be able to compete with Minnesota if they're going to be successful this season.
Crystal Ball
Much like with Minnesota, the coaches and the recruits here are too good to be too worried. The biggest concern for Wisconsin is that they struggled to score at times last season, and that was with one of the most talented lineups Madison has ever seen. Now they have to rely on youngsters and they don't have Ann-Renée Desbiens. Until we see more on how they'll adapt this season, I have to pick them second.