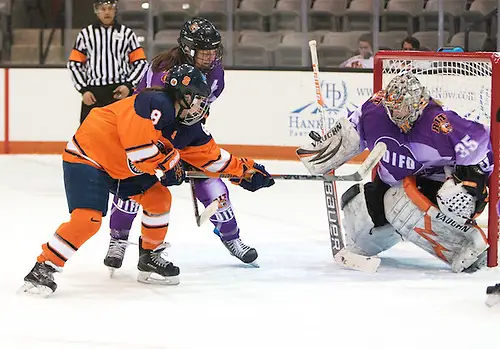 Folks that have overlooked the CHA in the past may be surprised to watch these teams this season. The conference is on the rise, with much more competition within its ranks than in years' past and a lot less clarity about how the whole thing will shake out. Teams picked to finish in the bottom half have shown they have the ability to pull upsets, and it doesn't feel like anyone is safe in the top half. I'd be completely unsurprised if Robert Morris, Syracuse, or Mercyhurst wins.
In an Olympic year, everything is a whole lot more wide open nationwide, and the CHA wouldn't mind playing upstart and causing a little upheaval. These teams are fun to watch, and they're proving that the game really is growing. There's a ton to build on here, and it should be spectacular to watch.
USCHO women's columnist expects Robert Morris to repeat as conference champions and earn the league's NCAA auto-bid, but knows Mercyhurst and Syracuse might have something to say about it.
Lindenwood
Last season: 6-25-2, 3-16-1 (sixth). Lost to Robert Morris in the semifinals of the CHA tournament.
Names to know
Brittania Gillanders: A 5-foot-10 forward who led the team in scoring last season. She's a huge presence in front of the net, and the Lions have to get her some support.
Jolene deBruyne: She had some pretty big shoes to fill after Nicole Hensley graduated, and she handled herself rather well, putting up a .911 save percentage.
"We still have 14 underclassmen, but the majority of those are sophomores, and you can tell that they are more comfortable. They were put in a lot of situations early in their career and I hope to see the benefits of that this year. I want to see us improve offensively this season. We obviously struggled scoring and are hoping to see large gains in that with power play improvements and creating more chances from our back end." – Coach Scott Spencer
Three questions
1. What did they learn last year? Lindenwood was incredibly young last year, and the transition to the college game was tough for their freshmen. How their younger players use what they learned last season will make a big impact on their season.
2. Can they finish strong? The Lion travel to Robert Morris, host Syracuse, and visit Penn State to end the season. They'll need to get some points from those series.
3. Can they score? Lindenwood was last in the country, averaging just 1.09 goals per game last season.
Crystal Ball
It's a steep learning curve in the CHA right now, and I don't see much changing from last year's standings. The Lions need to find small victories to build and grow on.
Mercyhurst
Last season: 15-18-2, 11-8-1 (third). Lost to Lindenwood in the opening round of the CHA tournament.
Names to know
Emma Nuutinen, Vilma Tanskanen and Kennedy Blair: They transferred to Mercyhurst from North Dakota after the program folded. All three have high-level experience and the opportunity to make an immediate impact. Nuutinen played for Finland at the last Women's World Championships, and she and Tanskanen were on Finland's 2014 Olympic roster. Blair redshirted last season, so she has a full four years of eligibility left.
Brooke Hartwick: She led the team in goals, assists, points, and shots last season. She is one of just four seniors on this year's squad.
"We're pretty optimistic.The team is looking forward to working hard and getting back to our roots. I'm looking forward to seeing our compete level. Last year was probably the first year in the existence of our program we didn't have the consistency in our compete level. That's something this team wants to never happen again and they're committed to making sure it doesn't. Early on, we want to be prideful and work hard every game regardless of the score and putting the building blocks together to hopefully building a championship season." – Coach Mike Sisti
Three questions
1. Can they return to the top? Mercyhurst finished first in the CHA 11 of the past 13 years. Last season's third-place conference finish was their worst ever. The Lakers are incredibly proud of their accomplishments as a program and the legacy they've created. No one there will be happy with how last season went, and I expect them to be a formidable foe this year. That being said, RMU and Syracuse have done nothing but get stronger; unseating them now that the door has opened is not going to be easy.
2. Can McConnell bounce back? (0r is someone else going to take the starting role?) As a freshman, she received the CHA Goaltender Trophy for the lowest goals-against average (1.75) in conference play. Last season, she played just 16 games and ended with a 6-8-1 record. Her battery-mate transferred to Minnesota-Duluth. It would seem McConnell's net to lose, but two freshmen are certainly going to try and win the starting job.
3. How will they handle their schedule? Mercyhurst plays eight of its first 12 games against teams that were ranked last season, including three NCAA tournament teams. They start at Wisconsin, the no. 2 team in the country before hosting No. 6 St. Lawrence and a few weeks later, No. 3 Minnesota. No team in the country would want that schedule. It's a tall order for a team that's looking to rebuild confidence and momentum.
Crystal Ball
Mercyhurst has a storied program and I don't expect Sisti to take the recent slide from the top well. Add in the influx of talented North Dakota players, and I think we see an invigorated Lakers squad. It's hard to give them the benefit of the doubt without having hit the ice, so I place them third now, but much like I said about Robert Morris last year at this time, I'd be completely unsurprised if they end up on top.
Penn State
Last season: 9-21-5, 8-10-2 (fourth). Lost to RIT in the opening round of the CHA tournament.
Names to know
Jeff Kampersal: The new coach comes to Happy Valley after a long stint with Princeton. I expect his hiring to be a sign of improvement and increased buy-in at Penn State. The Nittany Lions were inconsistent, but showed promise last season, and the addition of Kampersal is only going to help.
Brooke Madsen: She was a 2016-17 All-Rookie selection in the CHA and is the highest returning scorer. She's got a lot to take on as a sophomore, and she needs to find a way to lead the offense.
"We are excited about the upcoming season and playing top competition in the CHA and nationally. The Nittany Lions are cohesive and committed to working hard in the weight room and on the ice. Our goal is to be a physically and mentally tough team that competes like crazy until the final buzzer sounds." – Coach Jeff Kampersal.
Three questions
1. Can Kampersal have an immediate impact?
2. Can Penn State find consistency? They haven't set themselves an easy path, opening the season at No. 5 Minnesota-Duluth and then hosting reigning national champions Clarkson two weeks later. They swept just two series last season. They have flashes of brilliance, but have to find a way to sustain it.
3. Who's going to score? The Nittany Lions had eight players in double digits last season, but only three of them return this year.
Crystal Ball
I think Penn State is a program on the rise; it's just unfortunate for them that the timing comes while other programs are stepping it up as well. I expect big things from them, but I don't think this is the year. They finish fourth.
RIT
Last season: 7-27-2, 4-14-2 (fifth). Lost to Syracuse in the semifinals of the CHA tournament.
Names to know
Kendall Cornine: She is the only player on this year's roster that scored in the double digits last season.
Stella Haberman and Kaleyn Johnson: They are two talented freshman I expect to make an impact early on. Haberman spent time in USA Hockey development camps, and Johnson has strong hockey sense that should help her adjust to the college game.
"We're excited to get the season started and like the direction that we're headed in. The team is eager to get back to its winning ways and understands we have to work harder on and train harder off the ice." – Scott McDonald on the RIT website.
Three questions
1. Who's going to step up? The Tigers have just two seniors this season, though they do have 17 returning players overall. With eight newcomers to bring up to speed, RIT has to have some leadership from sophomores and juniors in order to find success this season.
2. Who's going to score? Just three players on last year's roster tallied double-digit points, and two of those players are no longer on the roster. Cornine can't do it on her own.
3. Can they win on the road? RIT has just five home games after the winter break. It's going to be a tough enough season on it's own, so they have to find a way to steal some road wins and build on that.
Crystal Ball
I'd really, really like to see RIT bounce back this season. They earned an NCAA bid in 2015. They had a young team last season, but they've got a year under their belt. Unfortunately for them, the conference just keeps improving. They finish fifth.
Robert Morris
Last season: 24-5-6, 15-3-2 (first). Lost to Wisconsin in the opening round of the NCAA tournament.
Names to know
Rebecca Gebhard, Brittany Howard and Amber Rennie: They were responsible for 42 percent of the team's points last season and return to lead the reigning conference champions.
Kirsten Welsh, Maggie LaGue, and Katherine Murphy: They were three of the top four scoring defenders in the league and helped Robert Morris have the no. 5 penalty kill unit in the country.
Three questions
1. Can the Colonials be solid in net? The graduation of Jessica Dodds leaves room for someone to step up, and RMU will need it if they are going to take the league.
2. Can they build on last season? After their NCAA loss to Wisconsin, coach Paul Colontino spoke of how much his team had grown and learned over the course of last season. Now that they've been there before, they need to prove they can sustain their success and build a perpetual contender.
3. Can they stay out of the penalty box? Robert Morris ended the season tied for second in penalty minutes. They now have the target on their back, and it's a lot harder to stay on top; they can't be giving their opponents so many extra-attacker opportunities.
Crystal Ball
Both Syracuse and Mercyhurst will be gunning for them, but the conference crown is theirs to lose. They have the experience, and they need to prove they can turn that into future and continued success.
Syracuse
Last season: 16-13-5, 14-4-2 (second). Lost to Robert Morris in the CHA tournament final.
Names to know
Allie Munroe: The junior defender is the reigning CHA Defender of the Year and she led all defenders in the CHA in scoring, averaging .69 points per game.
Stephanie Grossi: The senior led the team in goals, points, and shots and tied for the lead in assists. Syracuse has to score more, and Grossi is their main playmaker.
Abbey Miller: The senior was a top-10 goalie in the league last year, and the Orange defense allowed just 1.74 goals per game.
"We're counting on our senior class to carry us in the early going with Grossi and Burriss up front, Quinn and Derrer on the blue line, and Miller in goal. Given time, we expect our seven freshmen to help fill the void from last year's graduating class and our returning underclassmen to step into primary roles." – Coach Paul Flanagan
Three questions
1. Can they take it to the next level? They were picked second in the coaches' preseason poll, and since joining the CHA in 2008, they've played in six CHA Championship games, including three consecutive appearances since 2014, but they've yet to break through to the top spot.
2. Can they start strong? They struggled to get series sweeps at the beginning of the season, but swept four of the final six weekends, all of which were against conference opponents. They can't afford a slow start if they want to keep up with RMU.
3.  Who else is going to score? Grossi can't do it on her own, but she took almost twice the shots as the other double-digit scorers on the team last season. Defense is definitely Syracuse's strong suit, but they need to find more goals to really move ahead.
Crystal Ball
Robert Morris returns almost their whole team, including their top line. I don't see how the Orange can overtake that. They finish second.