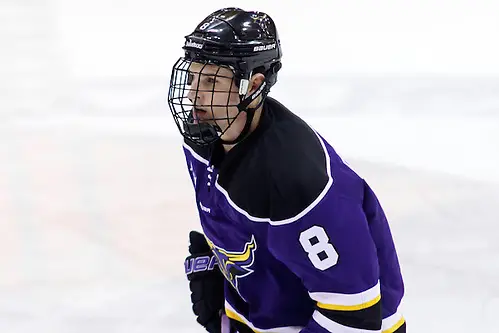 Ever since realignment in 2013, the WCHA has been the "Wild West" of college hockey conferences: It's big. It's volatile. And you never quite know what's going to happen from one year to the next.
Case in point: Bemidji State came from nowhere to win the MacNaughton Cup by 10 points last season. Nobody picked the Beavers to win the league, but solid goaltending and defense propelled them to their first WCHA title.
This year, however, the general consensus seems to be that Minnesota State is going to be a force to be reckoned with. MSU was picked to finish first by both the coaches and the media, and for good reason — the Mavs have an absurd amount of firepower returning to the lineup.
Mavericks sophomore forward Marc Michaelis and junior defenseman Daniel Brickley were named the league's preseason players of the year. They're just two of the team's returning scoring leaders — all six of MSU's top scorers are back.
MSU coach Mike Hastings said he likes that his team is getting accolades but knows it won't matter once the season starts.
"Obviously, we're appreciative of the recognition but if you ask any coach, it doesn't give us a lead on the scoresheet," he said. "What we have to focus on is what we can control, and we've tried to do that since they've started school this season."
Defending league champion Bemidji State was picked to finish second this season. The Beavers were chosen to finish sixth in the preseason in 2016, but went on to win it anyway.
"We're in a league that is so tight, that has so much parity, that I don't think it matters," Beavers coach Tom Serratore said. "I look at us last year, I think we were the sixth-placed pick. We were fortunate enough to win the WCHA. Somebody else this year is going to start off hot. Somebody else is going to be the team to beat after four or five weekends."
Indeed, although the Mavs look stacked, there are a few teams that could challenge them.
The Beavers return their entire defensive corps as well as their All-American Hobey Baker finalist goaltender, Michael Bitzer.
Michigan Tech has a new coach and lost a boatload of seniors, but have a solid forward group, including Brett Baltus.
Bowling Green will look to reload after losing to Tech in the WCHA finals, but boasts veteran defenders Chris Pohlkamp and Alec Rauhauser, as well as scorer Mitch McLain.
"This league has gotten better since I've been in it, and I think it's going to be an exciting time for the entire league," Michigan Tech head coach Joe Shawhan said. "I think a lot of the teams have geared their cycles to be extremely strong this year."
Shawhan is one of three new coaches in the conference this season, along with Alaska's Lance West and Northern Michigan's Grant Potulny.
Potulny is new to the league after spending eight years as an assistant at Minnesota. Shawhan and West both were promoted within their respective programs.
"I've been around college hockey for a while, and I have a lot of respect for the coaches that are in our league," West said. "So I know what kind of challenge I had ahead of myself here, and I want to thank all the guys who did reach out to me and congratulate me and give me some advice. So I appreciate and have a lot of respect for those guys."
Whichever team ends up taking home the MacNaughton Cup (or the Broadmoor Trophy), one thing is clear to all the coaches in the league.
"When teams come out of our league, they're battle-tested and I don't think that's going to be any different this year once the WCHA is done," Hastings said.
TEAM PREVIEWS (in alphabetical order)
Alabama Huntsville
Last Season
9-22-3, 9-16-3 (9th in WCHA). Missed WCHA playoffs.
Names To Know
Junior blueliner Kurt Gosselin, an All-WCHA third teamer last season, anchors what should be an experienced Chargers defensive corps. Gosselin shared the team's goalscoring lead (nine) last season with senior forward Josh Kestner, who led UAH with 22 points.
Three Questions
1. Will the Chargers' goaltending hold up? Last season UAH had a team save percentage of .887 after a pair of down years from the now-departed tandem of Carmine Guerriero and Matt Larose. Jordan Uhelski wound up playing the majority of minutes in net last season and he'll be their go-to guy this year.
2. How good will that defensive group be? Chargers head coach Mike Corbett touted his defense as the strength of the team, and it's easy to see why: aside from Gosselin (a preseason all-league selection), the Chargers have experience on the back end with seniors Brandon Parker and Richard Buri and juniors Cam Knight and John Teets. The Chargers will be counting on that defensive unit to make up for any goaltending issues they might have early.
3. Who can score? UAH will want to find ways to get Kestner the puck, but they won't be able to rely on one guy. Max McHugh and Brennan Saulnier both return, while freshmen forwards Connor Merkley and Andrew Dodson could see some playing time right away.
Crystal Ball
The Chargers have a solid defensive group and a few scorers, but goaltending is going to be the question. They'll be a bubble team for the WCHA playoffs, and it will likely depend on how good they are at keeping the puck out if the net.
Alaska
Last Season
12-20-4, 11-13-4 (6th in WCHA). Lost to Minnesota State in WCHA first round.
Names To Know
New Alaska coach Lance West has been with the program since 2008-09, so his ascension to the head coaching gig after Dallas Ferguson departed for the WHL is a natural one. But two of the most notable names to know are guys who have battled back from injury and illness. Senior captain Justin Woods missed his entire 2014-15 season when he was diagnosed with a rare form of bone cancer. He's now the team's best defenseman. And junior defender Kyle Froese hasn't played in nearly two years after suffering various ailments, but West says he's healthy and will be one of the team's anchors on the blueline.
Three Questions
1. How good can their defensive corps be? Anchored by Woods, Froese and all-WCHA honorable mention Zach Frye, West said the Nanooks have nine defensemen on the roster, all of whom have played important roles in some time in their Alaska career. West said his biggest challenge will be deciding who has to be a healthy scratch every night.
2. Who plays in goal? The Nanooks find themselves in the precarious and unique position of having zero games played in the nets. Davis Jones graduated and Jesse Jenks left the program somewhat late in the game. That leaves sophomores Niko DellaMaggiore and Anton Martinsson, neither of whom appeared in a game last season (although DellaMaggiore does have one stat line from last season — he was penalized for his role in a post-handshake skirmish). West said both have been solid in practice and that Martinsson especially could be a No. 1-caliber player for the team.
3. Will Nanooks make the most of their tough (and brief) nonconference schedule? Alaska has just two true nonconference series this season, and both come early in the season — they host Air Force to start the season before heading to St. Cloud State. If they can win even one or two games it would go a long way toward improving their mediocre record.
Crystal Ball
The Nanooks were sixth in the conference last season but, as a testament to how close this league usually is, were only four points behind home ice. If they can figure out their goaltending they could be a tough team to beat and could again be fighting for that home ice space.
Alaska Anchorage
Last Season
7-21-6, 6-16-6 (10th in WCHA). Missed WCHA playoffs.
Names To Know
Senior goalie Olivier Mantha had a .913 save percentage last season, which was rather impressive on a team with a sub-par record. Senior Matt Anholt had a team-high 22 points as a junior, while Jarrett Brown had 15 points from the blue line.
Three Questions
1. How will the Seawolves replace key player? Anchorage lost a larger part of its core as Aleksi Ainali, Sean MacTavish, Mason Mitchell, Chase Van Allen, and Eric Roberts all left the program early for a variety of reasons. Add in four key losses to graduations and a young team will be asked to step up.
2. How good can Mantha be? The goalie was good under heavy fire last season and he'll be asked to handle a similar workload this season. His ability in the net could be key to Anchorage sneaking into the playoffs.
3. Who will score? Only one player (Mitchell) had double-digit goals last season and he signed a pro contract after the season. There seems to be a severe lack of offensive punch and the Seawolves will have to score by committee.
Crystal Ball
Mantha can only take his team so far and steal so many games. The Seawolves will likely be on the outside of the playoff race at the end of the season.
Bemidji State
Last Season
22-16-3, 20-6-2 (first in WCHA). Lost to Bowling Green in WCHA semifinals.
Names To Know
Hobey Baker finalist Michael Bitzer returns for his senior season in goal and will be a key player as the Beavers try to repeat as MacNaughton Cup champions. And who could forget the "Baby Genius" line of Gerry, Myles and Leo Fitzgerald? They're seniors now, too, with Gerry being the team's top returning scorer.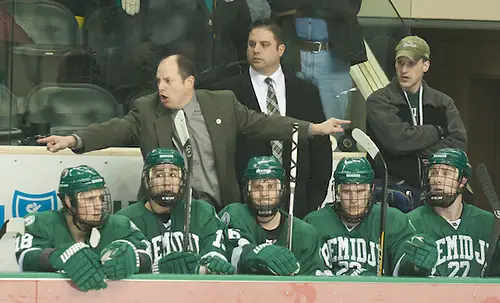 Three Questions
1. Will defense be able to carry them again? Bitzer's numbers last season were eye-popping — 1.71 goals against average, a .932 save percentage and six shutouts in 39 games played. He played nearly every minute for the Beavers — 2,355:22, to be exact — and sat out just two games. That's a lot of work to put on a goalie, but the Beavers have one of the league's better defensive corps to pick up the slack. All six players who were in BSU's main rotation return, including all-rookie team selection Zach Whitecloud. BSU ended up finishing second in the country in scoring defense, allowing just 1.93 goals against.
2. Will they be able to score? BSU's main downfall last season was scoring. The Beavers netted just 94 goals in 41 games (2.29 goals per game). But they lost three of their top five scorers to graduation (Phil Marinaccio, Brendan Harms and Charlie O'Connor), which won't make scoring any easier. BSU does return the Fitzgeralds as well as the speedy Kyle Bauman. They also add a pair of high-scoring freshmen in Brendan Harris and Charlie Combs, both of whom lit up the BCHL last season.
3. Will BSU be able to get over the hump? If not for some nonconference hiccups, the Beavers night have been able to secure an at-large bid to the NCAA tournament. However, they ended up going 0-7-1 in nonconference play. They then lost to Bowling Green in the WCHA semifinals. Their schedule does them no favors again this year, but a couple more wins might go a long way if they can take care of business in the conference.
Crystal Ball
The Beavers surprised just about everybody last year when they went on a 12-game unbeaten streak to start the season. That helped them win the league fairly handily. They won't surprise anyone this year. If Bitzer and the defense stay consistent and the Beavers can find some players to step in and replace those departed scorers, expect them to be in the mix for the MacNaughton once again.
Bowling Green
Last Season
19-17-2 overall, 14-13-1-1 (fourth WCHA). Lost in WCHA Championship
Names To Know
The Falcons have some re-loading to do after a run to the WCHA championship game last season, but a majority of the defense returns. Alec Rauhauser and Chris Pohlkamp will anchor the defense, while Mitchell McLain will be asked to spearhead the offense.
Three Questions
1. How do the Falcons look in goal? Chris Nell signed a pro contract with the New York Rangers, leaving a void in the crease. Ryan Bednard is a Florida Panthers draft pick and appeared in seven games as a freshman last season. How well will he transition to a full-time starting role in Bowling Green?
2. Where will the goals come from? Kevin Dufour and Matt Pohlkamp are gone, so are reliable defenders Mark Friedman and Sean Walker — who both provided some zip from the blue line. The Falcons do have nine of their 12 forwards back from the WCHA championship game last season, and the window of opportunity is wide open after BGSU averaged 2.93 goals per game last season.
3. Can they stay competitive? Bowling Green has made major strides under Chris Bergeron, but is still seeking that elusive WCHA title. Can they stay in the title hunt in a re-building year? That's often the mark of a strong program.
Crystal Ball
The Falcons will have some struggles early with all the changes, but they should still be in the running to host a first-round playoff series before finishing fifth and traveling in the first round.
Ferris State
Last Season
13-19-15, 12-12-4 (fifth in WCHA). Lost to Bowling Green in WCHA first round.
Names To Know
The Bulldogs have a nice tandem in net with Justin Kapelmaster and Darren Smith, while Kapelmaster should get the lion's share of the starts after posting a .930 save percentage last season. Corey Mackin had 26 points last season and seems primed for a breakout season.
Three Questions
1. Who helps Mackin? While Mackin is back Ferris State did lose Gerald Mayhew and Jared Van Wormer. Their absence will require other players to step up, while it will also create new opportunities on the Bulldogs power play.
2. How good can Kapelmaster be? It's one thing to have a strong season without any expectations, it's another thing to build on it and live up to those goals in the second season. Kapelmaster seems to be in a good spot with a reliable defense in front of him.
3. Can the improve in non-conference play? This is a question for the entire conference, but Ferris State was one of the prime examples. While they were a playoff team and .500 hockey team in the WCHA, the Bulldogs went 1-6-1 in nonconference action.
Crystal Ball
Bob Daniels has the reliable goaltending and defense to compete for a title, while the offense is a little suspect. The Bulldogs may not win the regular season title, but they'll be hosting a first-round series at the fourth-place team.
Lake Superior State
Last Season
11-18-7, 8-13-17 (fourth in WCHA). Lost to Michigan Tech in WCHA first round
Names To Know
J.T. Henke, Gage Torrel, and Max Humitz should be the offensive leaders for the Lakers, who pack some scoring punch. Nick Kossof should take over the starting role in net and has a reliable defense in front of him.
Three Questions
1. Which Kossof be the Lakers' answer in net? Two seasons ago, Kossof had a .918 save percentage as a freshman in a 13 games. As a sophomore, he struggled in a more reduced role with a .881 save percentage in six games. How will he seize the starting role?
2. Can the Lakers start and finish strong? Last season, Lake State was one of the better teams in the WCHA for the first half of the season, but things cooled down and they stumbled to the finish line. How consistent can this group be throughout the season?
3. Can Henke hit 40? Henke had a team-best 30 points last season. With another year of experience and a potent lineup around him, could Henke hit the 40-point marker this season?
Crystal Ball
The Lakers have the firepower to outscore their problems early, but will that be enough of a cushion for the defense and goaltending to catch up? They'll compete for a top-four spot, but will finish sixth and travel in the first round.
Michigan Tech
Last Season
23-15-7, 15-7-6 (second in WCHA). Beat Bowling Green in WCHA championship. Lost to Denver in NCAA first round.
Names To Know
New head coach Joe Shawhan takes over after spending three years as an assistant to Mel Pearson. Fifth-year senior captain Brent Baltus will return to lead a team that lost a good chunk of their roster from last year's NCAA tournament team.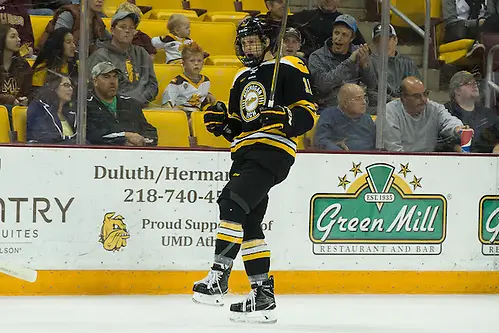 Three Questions
1. Will Tech be able to absorb all of their personnel losses? Pearson wasn't the only notable departure from Michigan Tech in the offseason. The Huskies also lost seven seniors to graduation and saw the early departure of defenseman Matt Roy and goaltender Angus Redmond, both of whom went pro. That Baltus, who played in just 14 games last season before suffering a season-ending injury, was able to return for a fifth year will be a big boon for Tech, who will need some solid leadership after losing so many.
2. Will Packy Munson be the answer in the net? Losing goalie Angus Redmond after his freshman season was a big blow for the Huskies, but the addition of Munson, a transfer from Denver, will give the Huskies an experienced option this season. Munson started his career at Vermont and went 9-10-1 as a freshmen there before transferring to Denver, where he didn't play. The Huskies also have the option of Devin Kero, who appeared in nine games as a sophomore, and freshman Robbie Beydoun.
3. Will the Huskies be able to score like they have in the past? Last season, Tech netted 2.91 goals per game, but four of their top six scorers are gone. Top scorer Joel L'Esperance does return, as does defenseman Mark Auk, but who else will be able to step in and fill the void?
Crystal Ball
The Huskies have been very consistent for the past four seasons, but are now faced with a bit of a rebuild after losing so many talented players. With a new head coach and a new group, I think they'll finish in the middle of the table this season.
Minnesota State
Last Season
22-13-4, 15-9-4 (third in WCHA). Lost to Michigan Tech in WCHA semifinals.
Names To Know
The preseason league favorite, the Mavericks have no shortage of big names on their roster. Sophomore forward Marc Michaelis and junior defenseman Daniel Brickley were the preseason players of the year. Also of note: C.J. Suess is not a new addition to the Mavs. The senior forward was the team's second-leading scorer as a junior but changed legally his surname from Franklin to Seuss in the offseason.
Three Questions
1. Can the Mavericks live up to the hype? Minnesota state was the consensus pick to finish first in the WCHA, and for good reason — they have a deep forward and defense group with plenty of high-end talent. They've been here before, but they've got some challenges right off the bat — a single game against St. Cloud, followed by trips to Boston University and Bowling Green. If they can get off to a good start in both nonconference and conference seasons they'll be in a good spot.
2. How many goals can they score? The Mavericks return all of their top six scorers in Michaelis, Brickley, Suess, Brad McClure, Zeb Knutson and Ian Scheid. All six tallied more than 20 points, with the first three reaching the 30s. MSU is the only team in the league that really seems to have an unambiguous scoring punch. They could be really fun to watch if you like high-scoring, up-and-down hockey.
3. Will goaltending be an issue? The only thing that might be MSU's downfall is lack of experience in the nets. Cole Huggins graduated, and while senior Aaron Nelson and junior Jason Pawloski have had their moments, they haven't shown themselves to be among the elite goaltenders in the conference. If the Mavs can score in bunches, it might not matter, but if one of them can become a solid No. 1 they'll be a tough team to beat.
Crystal Ball
The Mavericks seem to be one of the most talented teams in the WCHA, at least on paper, since realignment. They'll almost certainly be in contention for the MacNaughton Cup again this season, and don't be surprised if they're in the running for a top seed in the NCAA tournament come March.
Northern Michigan
Last Season
13-22-4 overall, 10-15-3 (eighth in WCHA). Lost to Bemidji State in WCHA first round
Names To Know
Like any first-year coach, Grant Potulny is the big name this season. After 15 years under Walt Kyle there will be a new boss in Northern Michigan. Atte Tolvanen is one of the better goalies in the WCHA.
Three Questions
1. How will the new system fit? After 15 years of one coaching staff, making a change at the top is never easy. Potulny seems to have the right energy and has brought a nice vibe campus already.
2. Is this the best goalie tandem in the WCHA? Atte Tolvanen has been known for his lengthy shutout streaks and there are times he's simply looked unbeatable. He also has a more than capable back-up in Mathias Israelsson, meaning NMU should be set in the crease each night.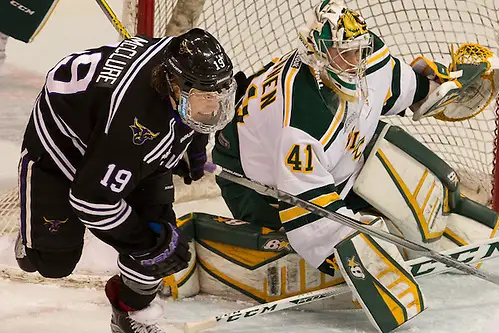 3. Which young scorer steps up? Northern Michigan lost three of its top-five offensive players from last season. Who will fill that void and will it be enough?
Crystal Ball
Northern Michigan has the defense to be one of the better teams in the WCHA, but the offense is severely lacking. They'll finish seventh, but could be a sneaky pick to pull off a first-round upset with strong defense and goaltending.