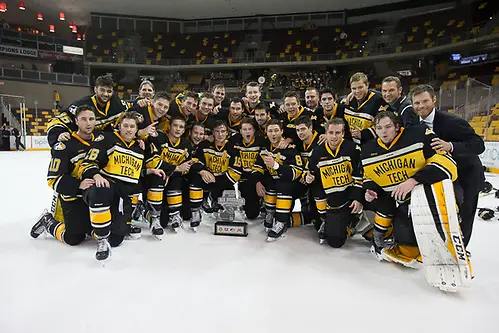 Michigan Tech deservedly grabbed national attention this week.
The Huskies won the Ice Breaker tournament and picked up back-to-back wins against No. 16 and Union and No. 6 Minnesota-Duluth.
Mark Auk was named WCHA Defensive player of the week and Justin Misiak was named the WCHA rookie of the week after scoring game-winning goal against Duluth.
On top of all that, the Huskies made their season debut in the USCHO poll at No. 15.
That should be a nice confidence boost for the Huskies heading into WCHA play this week against Lake Superior State.
It was also a nice moment for the WCHA, which has struggled with out-of-conference games the past few seasons and has been all but locked-in as a one-bid league for the NCAA Tournament.
While the league celebrated the Huskies success, it was also a reminder of how much the rest of the WCHA has struggled when playing outside of its conference.
After Bowling Green lost to Western Michigan 3-1 in a Tuesday night tilt the WCHA is now 3-8-2 against other conferences.
Northern Michigan and Lake Superior State each technically have non-conference wins from a non-WCHA series this past weekend, but Ferris State joins Michigan Tech as the only team with a true non-conference victory.
Alaska did pick up a 3-on-3 overtime win against Air Force, which officially counted as 1-1 tie, and that softens the blow. But the WCHA has major work to do this week if it wants any hope of landing a second team in the NCAA tournament this season.
Minnesota State travels to No. 2 Boston University, a team with seven, yes seven, NHL draft picks on defense and a first-round pick in goal. Bemidji State hosts Duluth, and Bowling Green battles a Big 10 foe in a home-and-home with Michigan State.
Both Alaska schools hit the road for games at St. Cloud State and Colorado College.
If the WCHA can put last week's results in the past, there is a big opportunity this week for the conference as a whole to improve pairwise rankings and potentially build momentum for a second team in the postseason tournament.
Shawhan, Potulny, net first career wins
Two of the WCHA's three new head coaches officially put their names in the record book this week, earning their first-ever victories.
Michigan Tech's Joe Shawhan and Northern Michigan's Grant Potulny each got in the win column this past weekend.
The Huskies, who had lost to Wisconsin in the U.S. Hockey Hall of Fame Game two weeks ago, rallied to win the Ice Breaker Tournament in Duluth, making Shawhan 2-1-0 in his career as a collegiate head coach.
Shawhan, who was previously the head coach and general manager of the Soo Indians from 1995-2005, had never before been a head coach at the college level. Before taking over at Tech, he was an assistant to Mel Pearson from 2014-2017. Pearson was hired at Michigan, which allowed Shawhan to take the job.
"It was a great way to start things off and get some early buy-in by our players," Shawhan told USCHO Live! on Tuesday.
As for Potulny, his NMU Wildcats beat Upper Peninsula rivals Lake Superior State 4-1 on Saturday night in Marquette, Mich., and he did it with NMU coaching legend Rick Comley in attendance.
Comley had his name placed at center ice at Berry Events Center; the rink will now be known as the Rick Comley Rink.
"I'm really happy for the guys," Potulny told the Mining Journal after the win Saturday night. "I'm happy that they could see some reward though for the hard work that they put in. It was a good moment in the locker room for them after a huge night for our program."
Ice Chips
— Alabama Huntsville's Tyler Poulson and Josh Kestner both played a big part in UAH's series against Notre Dame last week. Poulson scored two goals and Kestner added a pair of assists in their 5-3 loss on Friday night. Kestner had eight shots on goal in the two games, too, to help lead their offensive attack. The Chargers are off this weekend before heading to Michigan Tech for their conference openers.
— Alaska went 0-1-1 against ranked Air Force last week and has a tough task ahead of it when it travels to top-10 St. Cloud State for a nonconference series. The Huskies lead the all-time series against the Nanooks, but are just 7-6-0 against them. Additionally, UAF head coach Lance West is still searching for his first career victory.
— Alaska Anchorage goalie Olivier Mantha nearly helped his team upset North Dakota in back-to-back games at home. Mantha made 32 saves in a 1-1 tie (that North Dakota won in a shootout) and then made 42 saves the following night as his team fell 3-2 in double overtime.
— Bemidji State is the lone league team that has yet to play a game. The defending league champions didn't even play an exhibition game, but they start the year with a tough matchup — a home-and-home with defending national runners-up Minnesota Duluth. The Beavers went 0-1-1 against the Bulldogs last season but BSU leads the series with a 12-8-2 record since 2005.
— Bowling Green's Cameron Wright became the first Falcon player since 2015 to score in his first NCAA game. Wright scored on a power play in Bowling Green's 3-1 loss to Western Michigan on Tuesday. John Schilling was the last player to score in his college debut in a 6-3 win against Ohio State on Oct. 9, 2015.
— Minnesota State was shut out by instate rivals St. Cloud State 4-0 on Saturday night despite outshooting them 42-26. Junior forward Charlie Gerard led MSU with eight shots on goal in the game but couldn't convert on any of them. MSU will try and fix their offensive issues this weekend when they travel to Boston University. The Mavericks and Terriers are meeting for the first time in the history of both programs.
Players Of The Week
This week's WCHA players of the week were Northern Michigan senior forward Robbie Payne (offensive), Michigan Tech senior defenseman Mark Auk (defensive), Alaska Anchorage senior goaltender Olivier Mantha (goaltender) and Michigan Tech freshman forward Justin Misiak (rookie).