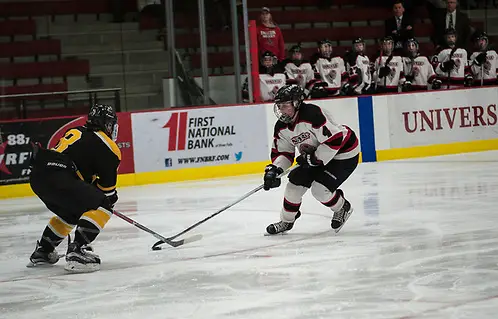 Wisconsin-River Falls won the conference and a bid to the NCAA tournament last season, but fell in the opening round to Gustavus Adolphus. It took overtime for the Falcons to beat Wisconsin-Eau Claire in the conference championship game.
The favorites
Wisconsin-River Falls earned a bid to the NCAA tournament for the ninth consecutive season, and 10th time in program history last year. Though they lost Laura Hurd Award winner Dani Sibley to graduation, they still have Carly Moran, who has to be a preseason favorite for all kinds of awards. The Falcons return much of last year's team and are the favorites to repeat.
The dark horse
Wisconsin-Eau Claire fell to Wis.-River Falls in its first ever trip to the WIAC championships last season. They lost just three players to graduation and took one of three meetings against Wis.-River Falls last season. They return their 10 top scorers from last season, as well as goalie Erin Connolly.
Players to watch
Wisconsin-Eau Claire: Elizabeth Bauer, forward; Holly Turnbull, defenseWisconsin-River Falls: Carly Moran, forward; Hailey Herdine, forwardWisconsin-Stevens Point: Cara Lemirande, forward; Ellie Punnett, defenseWisconsin-Superior: Mikayla Goodin, forward; Renee Schmaltz, goalie
Predicted finish
1.    Wisconsin-River Falls2.    Wisconsin-Eau Claire3.    Wisconsin-Stevens Point4.    Wisconsin-SuperiorIt's Wis.-River Falls' conference to lose, but both Wis.-Eau Claire and Wis.-Stevens Point have shown great growth in the past two seasons. They return a lot of talent and have the ability to make River Falls have to play their best to win it all.