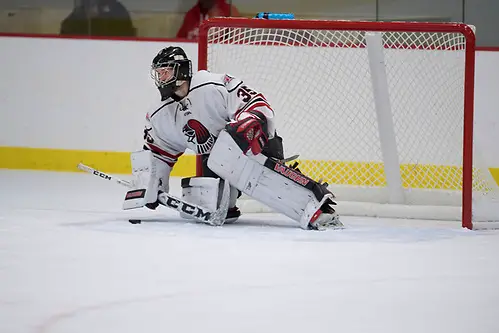 Change is in the air in the WIAC this season, especially at Wisconsin-Stevens Point, which is under the direction of interim head coach Tyler Krueger, who takes over after Chris Brooks accepted a job as an assistant coach at Michigan Tech.
Krueger is no stranger to the Pointers. He played for them earlier in the decade and has spent the last three years as an assistant, which means a drop-off isn't expected for a Pointers team that won the regular-season title a year ago and played in the NCAA championship game for the fourth consecutive year.
Wisconsin-Eau Claire will certainly be in the mix and is the favorite in the league's coaches poll. Look for the WIAC to be a two-team race when it's all said and done.
The favorites
Wis.-Stevens Point is the team to beat until proven otherwise. It returns 15 letter winners, including goalie Max Milosek, who is an experienced senior who went 18-4-3 a year ago. He fashioned a 2.32 goals-against average and is a two-time honorable mention All-WIAC selection.Four other returnees who earned all-conference honors are back as well, including senior defenseman Tanner Karty, who scored 10 goals and dished out 16 assists a year ago. Senior forward Willem Nong-Lambert is back as well and will build off a season where he scored eight goals and tallied 17 assists.
Wis.-Eau Claire should be right on the heels of Wis.-Stevens Point as the Blugolds begin their 11th season under the direction of Matt Loen.Wis.-Eau Claire returns 19 letter winners and is hunting for its first title since 2016. Colton Wolter and Todd Koritzinsky put the Blugolds in a position to contend after finishing second and fifth in points, respectively, last season. Wolter led the way with 11 goals and 13 assists. The big thing for the Blugolds is finding a goalie who can rise to the occasion and fill the void left by Jay Deo. David Johnson is the only one with experience, and he played in only one game.
The dark horse
Wisconsin-River Falls has had success in the past, winning the league tourney title in 2015, but won only 12 games a year ago. The Falcons are hoping for a bounce back year and will look to Joe Drapluk to fuel the return to the top of the standings. He scored eight goals and dished out four assists last year. Goalie Zach Quinn is among the 10 returning letter winners as well and was one of the best in the league last season. His GAA (1.89) was the best in the WIAC, and he racked up nearly 500 saves.Don't rule out Wisconsin-Stout either. The Blue Devils have 13 letter winners back and won 12 games last season, their most victories since the 2010-11 season.
Players to watch
Wisconsin-Stevens Point: Max Milosek, goalie; Tanner Karty, defenseman
Wisconsin-Eau Claire: Colton Wolter, forward; Todd Koritzinsky, forward
Wisconsin-River Falls: Joe Drapluk, forward; Zach Quinn, goalie
Wisconsin-Stout: Joe Kleven, defenseman; Mathias Ahman, defensemen
Wisconsin-Superior: Daniel Litchke, forward; Ian Ecklund, forward
Predicted order of finish
1) Wisconsin-Stevens Point
2) Wisconsin-Eau Claire
3) Wisconsin-River Falls
4) Wisconsin-Stout
5) Wisconsin-Superior
Anything can happen on any given night, and while Wis.-Stevens Point and Wis.-Eau Claire are a cut above everyone else, the remaining three teams are not going to be pushovers. Every team in the league has at least 10 letter winners back, and experience is valuable. Look for the Pointers to be standing with the trophy at the end of the year, but don't expect their run to the title to come without its share of challenges along the way in what should be a highly competitive WIAC.