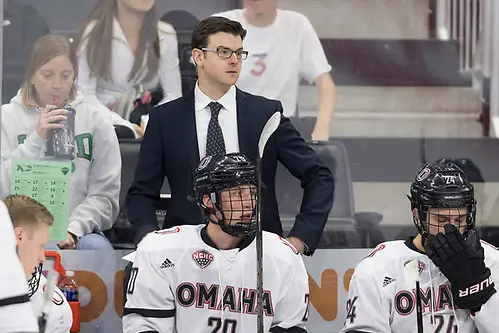 It's been an extraordinarily rewarding week for Mike Gabinet and his family.
After Omaha completed a road split last weekend against Colorado College, the Mavericks' coach caught a plane Sunday headed for Toronto.
On Monday, when Clare Drake was among seven new inductees into the Hockey Hall of Fame, Gabinet was there to honor his grandfather.
Drake is tantamount to royalty in Canadian college hockey. In 28 years with Alberta, his Golden Bears teams won 17 Canada West titles and six national championships, making him the most successful coach in Canadian Interuniversity Sport (CIS) men's hockey history.
He helped develop the sport for over 40 years and was a member of the Canadian coaching staff for the 1980 Winter Olympics. Earlier, he coached the Edmonton Oilers in 1975-76.
Health reasons kept Drake, 89, from being in Toronto for Monday's ceremony. On his behalf, Gabinet addressed the audience in a short speech.
"Gramps has always believed in lifelong learning and the value of sharing," Gabinet said. "In the spirit of sharing, Gramps would like to share this award with the University of Alberta, his many coaching colleagues and players, and most importantly his close family and friends, especially Grandma Dolly, who has been by his side for the last 66 years.
"I know Gramps believes you get more fulfillment out of life if you contribute something bigger than yourself, and it is great to see him being honored for that here tonight."
Gabinet's head hit the pillow at 1:45 a.m. Tuesday morning. By 6, he was on his way south to Omaha for the Mavericks' practice later that day.
Time well spent, indeed.
"It was a great couple of days for the family, for myself and my aunt who were there, and it was a great honor for Gramps to be included with all those special people that are in the Hockey Hall of Fame," Gabinet said Wednesday from Grand Rapids, Mich., where he and his UNO team were ahead of their series this weekend at 15th-ranked Western Michigan.
"It was nice to meet some of those people who we have so much to learn from and hear their stories, so it's nice to be able to share some of those with my players. In all, it was just a humbling experience for our family."
Gabinet is in his first season as the head coach at his alma mater after having coached in the Canadian collegiate ranks himself at the Northern Alberta Institute of Technology. Coaching may be in the blood, and Gabinet will only keep learning how to properly hone his craft.
"He's almost 90 now so he's getting up there, for sure," Gabinet said of Drake, "but especially when he was in better health, we talked all the time and talked hockey all the time and I learned a lot of stuff from him, and now I'm fortunate to learn a lot of stuff from some of his friends who are still in the game. A lot of the knowledge he passed onto them, they're passing onto me.
"I think that was (Toronto Maple Leafs coach and Drake protégé) Mike Babcock who had a quote about how Gramps is kind of the John Wooden of Canadian hockey, so it's just an honor, and especially with all the people that he touched and all the people that he influenced, it's unbelievable. To have that knowledge for the game and then be willing to share it and to help people get better, I think that speaks a lot to his character and how he's grown the game."
Now, at long last, the game has returned the favor.
"It's a great reward to have him recognized, and we're just really proud of him," Gabinet said. "It's nice to see a guy who hasn't worried about getting the recognition get recognized."
Freshman contributing for Pioneers
College coaches often don't throw freshmen into high-profile positions right away, but top-ranked Denver has found a defenseman well suited for it.
Heading into this weekend's home series with No. 3 North Dakota, Ian Mitchell is riding a five-game point streak, with six assists in that span. He also leads NCAA defensemen in power play points (seven, all on assists) and is tied for first among NCAA skaters in power play assists.
Mitchell wasted virtually no time recording his first collegiate point, assisting on a Henrik Borgstrom power play goal in the Pioneers' season-opening tie at Notre Dame, and he's done more than enough to remain a factor within DU's first power play unit.
Last weekend against then-No. 1 St. Cloud State, Mitchell provided helpers in both games' third periods. He assisted on Jarid Lukosevicius' game-winning goal 40 seconds into the third in Friday's 4-2 win before feeding Dylan Gambrell, again on a power play, during DU's convincing 5-1 sweep-clincher on Saturday.
With eight assists in all so far, he's yet to score a goal but that's just about the only way he hasn't contributed to his new team, and he's certainly lived up to expectations placed upon him.
They've been there for a while, too.
"Mitchell first came onto our radar as a 16-year-old playing in the AJHL Showcase for Spruce Grove," Pioneers coach Jim Montgomery said, "so it's just over two years ago now but (DU assistant coach) Tavis (MacMillan) saw him and after he first saw him, he just said, 'I just saw a defenseman that fits perfectly with the way we love to play.'
"His ability to see the ice and his ability to skate and how versatile he is as a skater and the way he competes, when we recruit defensemen and when I think someone looks at a Denver defenseman, I think that's what they kind of think of."
Montgomery envisions his entire nine-man freshman class blossoming after DU's Thanksgiving weekend bye, and Mitchell's no exception.
"We just think Ian's going to continue to get better and better," Montgomery said. "He's just the type of player that makes the people around him better, and that's why we thrusted him into the first power play unit right away, because we may have had to live with some bumps and bruises early, but as he becomes in tune with how we play, in time, we just think his game's going to take off even more than what he's doing right now."
Players of the Week
Offensive: Mason Bergh, Colorado College. A junior forward, Bergh posted five points last weekend in a home split against Omaha. He recorded a season-high three points with a goal and two assists in CC's 4-0 win on Saturday.
Defensive: Adam Plant, Denver. The senior blueliner had his first career multi-goal game in Saturday's rout of SCSU and finished the weekend with two goals and two blocked shots while helping DU kill 10 of the Huskies' 11 power plays.
Rookie: Grant Mismash, North Dakota. The freshman forward had a goal and two assists in a win and tie at home last weekend against Miami. Mismash had five shots on goal in the series and finished plus-three.
Goaltender: Ben Blacker, Western Michigan. Blacker, a sophomore, stopped 66 of the 69 shots he faced during Western's road split with Minnesota Duluth and made 31 saves in the series finale to mark his first shutout of the season and fourth in a Broncos sweater.