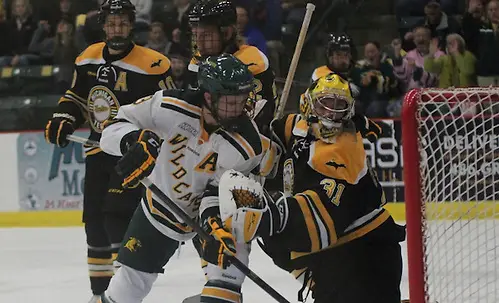 The rivalry between Northern Michigan and Michigan Tech transcends hockey.
The two Upper Peninsula campuses are separated by just 100 miles.
Marquette and Houghton, the cities in which they are located, share a similar climate as well as a Lake Superior maritime history. Both are hubs for their region within the UP.
In actuality, the schools are probably more alike than they are different.
That's what makes their rivalry so intense.
Last weekend, the hockey fans of the UP came out in full force as the Huskies and Wildcats faced off for the 145th and 146th times in their history.
In Friday's game in Houghton, 4,058 fans packed into the John J. MacInnes Student Ice Arena to watch the Huskies beat the Wildcats 4-1.
On Saturday, the Wildcats returned the favor. In front of a raucous crowd of 4,260 at the Berry Events Center — the first sellout for an NMU game since 2015 — No. 20 NMU blanked Tech 4-0.
Although sellouts in Houghton are far more commonplace these days — Tech's program resurgence, coupled with two NCAA tournament appearances in the past three years will do that for you — sellouts in Marquette have been few and far between. NMU's series against Minnesota State had an official attendance of just 3,782 — combined — for the two games against a top-10 opponent. The last time a game that wasn't against Michigan Tech that sold out was Nov. 3, 2012 — a 4-3 victory over then CCHA foe Michigan.
But the atmosphere for Saturday night's game against the Huskies — fitting for a contest between two archrivals — was like little else in college hockey. Both team colors were well-represented. Tech brought a sizable student section, which was cheering back-and-forth against NMU's band and student section. It resembled a very heated high school rink (or gym) for an important state tournament game.
One doesn't see that very much in college athletics.
With the way the Wildcats have been playing lately, maybe we'll see more of that fervor for every series in Marquette. They're just 6-4-0 under first-year head coach Grant Potulney with have wins over Minnesota State and Wisconsin under their belt so far.
Plus, they have one of the most entertaining scorers in the nation in Robbie Payne, a senior who leads the WCHA with nine goals through 10 games. He scored twice on Saturday and leads NMU with 12 points.
The Wildcats hit the road the next two weekends — a series in Fairbanks this week to take on Alaska followed by a nonconference battle with Omaha Nov. 24-25.
Bulldogs get key sweep
With one series, Ferris State may have fixed its WCHA season.
The Bulldogs lost their first four games in WCHA play and a pair of losses this past weekend at home against Alaska would have created a deep hole for Ferris State to climb out of.
Instead the Bulldogs swept Alaska, and sophomore goalie Justin Kapelmaster stopped 53 of 57 shots as Ferris State won 3-1 and 5-3.
This follows up a 3-2 non-conference win the Bulldogs had against Michigan on Nov. 3. In that game Kapelmaster made 42 saves on 44 shots.
Overall it's been a good month of November for the Bulldogs, who only won twice in eight October games.
The sophomore goalie and the Bulldogs have a chance to extend their win streak this weekend with a home-and-home weekend against Michigan State.
After the nonconference series the Bulldogs have key WCHA matchups with Alabama-Huntsville and Alaska-Anchorage, a pair of teams that Ferris State is hoping to pull ahead of in the WCHA standings.
Players of the Week
This week's WCHA players of the week were Minnesota State sophomore Marc Michaelis (offensive), Minnesota State junior Daniel Brickley (defensive), Ferris State sophomore Justin Kapelmaster (goaltender) and Bowling Green freshman forward Max Johnson (rookie).
Ice Chips
— Alabama Huntsville took four points from Alaska Anchorage in their first home games at Von Braun Center last weekend. That extended the Chargers' unbeaten streak to three games. Last week's combined attendance was 6,200, which according to the folks at UAHHockey.com was the best attended home series for the Chargers since 2014.
— Bemidji State junior Jay Dickman scored three goals in Saturday's game against Minnesota State (an 8-6 loss) — the first hat trick of his collegiate career. It was also the first hat trick by a BSU player since Oct. 25, 2013.
– – Minnesota State scored 13 goals in last weekend's road sweep of Bemidji State. And Michaelis, a sophomore forward, was a big reason why. He scored five times and tallied an assist in the series. Michaelis' had a hat trick in Friday's game — one of three in the series. BSU's Dickman had one Saturday, as did MSU junior Max Coatta, who also scored three times Saturday.