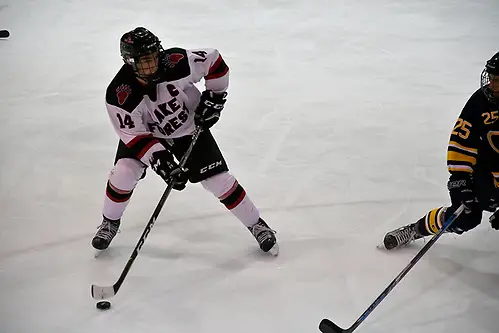 Shawn Nelson didn't get a chance to play in Lake Forest's game against Aurora at Johnny's West IceHouse, the practice facility of the Chicago Blackhawks, but the senior forward still enjoyed the experience.
Out with a concussion, the experience of playing in that building meant a great deal to the Forresters captain, who happens to be a native of Illinois and was the state's player of the year as a senior at Naperville High School.
"It was definitely a good atmosphere and really cool to be there," Nelson said. "I almost felt like not playing, I wouldn't say it was more fun, but it was interesting because I had a chance to catch up with alums, including some I had never met. It was just a great thing to bring college hockey to downtown Chicago. And, we won the game."
Nelson has battled injuries throughout his time with the Forresters and played in just seven games a season ago. He's appeared in four games this season and has seven goals and 13 assists in his career.
He's hoping to return to the ice within the next week or two.
"This one (injury) has been the toughest, especially with it being my senior year and being a captain," Nelson said. "I'm just trying to stay positive, get back into a routine and be ready to get back on the ice."
Nelson originally planned to attend a school out East after playing two years of junior hockey in New Hampshire. He had visited Lake Forest prior to that, but wasn't sure if it was the right fit.
In time, he realized playing hockey at Lake Forest made sense. His family could come see him play, he was close to Chicago, which will benefit him after he graduates, and the rink is one of the best in small-college hockey.
What's even better is that he gets to play alongside his brother, Troy, who is a freshman on the team this season and has come through with one goal.
"That's been a lot of fun; we've even played on the same line together," Nelson said. "We have good chemistry on the ice. We're both competitive, and he gets fired up if I take the puck from him or miss him on a pass. It's pretty cool and unique to have your brother on the same team."
Hockey has always been in Nelson's blood. His dad, Jeff, played hockey at Illinois-Chicago and came through with 83 goals and 111 assists in his career before going on to play overseas.
His father's background sparked his interest in the sport.
"I used to play baseball, too, but hockey was always the dominant force in our house," Nelson said. "The Blackhawks games were always on, and he's a big fan and a big advocate of the sport. But he always left it up to us if we wanted to keep playing it."
Nelson leads on the ice by example, working hard in practice, playing with all-out effort in games and bringing positive energy to the team.
In terms of playing the game, his knowledge of the sport and his speed has fueled his success.
"I have good hockey sense, and I'm a pretty solid skater," Nelson said. "I use my speed to get open and know where to go. I just work as hard as possible on every shift."
The Foresters entered the week 5-2 overall and 3-1 in the NCHA. They finished 16-10 a season ago and are hopeful for another league playoff appearance.
"We feel like we are underrated a bit because we play in the same conference as St. Norbert and Adrian, but we feel like we can be competitive with them, and we know to win the conference we have to go through them. We just have to continue to grow and get better and have the confidence we can compete at their level."
MIAC
Gustavus Adolphus has won three of its last four, including two in a row, to surge to the .500 mark. The Gusties are 3-3-1 overall and own a 2-1 record in the MIAC, and they won't play again until Dec. 1 when they begin a series against Bethel.
Solid defense has been instrumental to the Gusties' success as of late. They've given up just four goals in their last three wins, and Chris Amsden and Robbie Goor have both seen a significant amount of time in goal.
Amsden has started four games, racking up 112 saves. Goor has tallied 64 saves. Both goalies have two wins apiece. Gustavus won only five games last season and is well on its way to being one of the most improved teams in the MIAC this year.
WIAC
Winless after its first six games, five of which ended in losses, all Wisconsin-River Falls does now is win. The Falcons have strung together three consecutive wins, the latest a 4-2 win over Hamline Tuesday in their final game before Thanksgiving break.
Wis.-River Falls has scored 12 goals during the stretch, one goal less than what it scored in its first six games, and Eddie Matsushima and Peter Karavos have been a formidable one-two punch for the Falcons. Matsushima has racked up five goals and four assists and leads the team in points. Karavos has tallied three goals and five assists. He ranks second on the team in points.
Wis.-River Falls has a break for the holiday before returning to action against Wisconsin-Stevens Point in its first WIAC game December 1.
In the poll: The top two teams in this week's poll are from the West, with St. Norbert still holding down the top spot and Adrian checking in at No. 2. Wis.-Stevens Point is also in the top 10, sitting in eighth this week. The Milwaukee School of Engineering is ranked 12th.