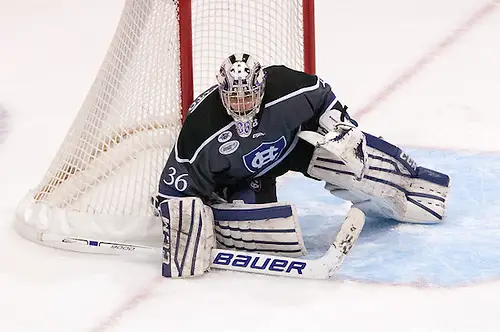 In a league where every point matters, it's imperative to open the season with a fast start.
It doesn't make or break the year, but it's important to set a pace rather than play catch up.
A bottom-line price is to simply "not lose" games since ties still add up points for the end of the season.
No team has been better at "not losing" than Holy Cross.
The Crusaders' four league wins are less than half of the rest of Atlantic Hockey, but they only have one loss. Having banked back-to-back three-point weekends, the school is once again positioned among the league leaders with 13 points.
"It's really important to get points," Holy Cross coach David Berard said. "We talk a lot during the season about putting total emphasis on the game right in front of us. We're not going to win championships in October or November, but you can accumulate points to set yourself up for playoff positioning in March. If you don't wind up in an advantageous position or don't have home ice, you can point to early games where a point slipped away. What happens early in the season really helps.
"The more you accumulate now allows for separation, and I think we've played a really difficult schedule. We've played Mercyhurst to Bentley to Robert Morris to Air Force to Army and to RIT next weekend. It's been competitive and difficult, so I'm happy with our ability to singular focus on the game in front of us and be where we're at."
It's no surprise that the Crusaders are one of Atlantic Hockey's models of consistency. They opened the season 3-0-2 before losing their first road game of the year at Princeton. Following a tie and loss at Robert Morris, Holy Cross bounced back by beating and tying Air Force, then repeating the feat against Air Force. They lost for just the third time overall on Tuesday in a hard-fought 4-2 game at Brown.
The consistency comes from depth in the scoring sheet. Eight players have three or more goals, and 10 players have 10 or more points.
Paul Berrafato enters this weekend ranked No. 7 in save percentage in the nation, but the defense does a good job of limiting many of the 32 shots per game to the outside perimeter. Only one regular skater has a plus/minus rating below zero.
The Crusaders combine that depth with star power atop the scoring sheet. Senior Scott Pooley is currently the only Atlantic Hockey player with more than 10 goals scored. He is averaging just under a goal per game with 12 scored in 13 games, a blistering pace compared to past years where Holy Cross' leading scorer in a season scored 17 or 15 goals. Not even at Christmas break, he needs just two more goals to match his career best in a season.
"I don't know if we expected someone to come out and have 12 goals in 13 games to start the year," Berard said. "But I'm not surprised that he's scoring because he's always been someone who scored for us. He's always had the potential to do more and produce more goals than what he's had. He's always been that 10-12 goal guy, so going into the year, I wouldn't have been surprised if he was near that 15-20 goal mark."
Pooley's ability is influenced by his linemates and his ability to get free in situational hockey. Linemates Michael Laffin and Logan Ferguson have 10 assists combined, while Pooley himself is now playing a natural position on the power play, where he has five of Holy Cross' 10 goals.
"He has a great chemistry with (Laffin), so five-on-five has been productive, and Scott's been really comfortable there," Berard said. "On the power play, we played him literally at every position besides where he's at this year, which is net front. I bet 40 of his 45 career goals or so in his career have been from five to ten feet in front of the net.
"So going into the year, we said that if that's where he scores all his goals, he's got a good stick with a good release, has shots up and tight, tight hands – let's try him there. He had a good summer (too), and he's a little bit quicker. He's always been a good skater but he improved a little bit and he's playing with confidence."
The Crusaders will spend Thanksgiving at home, hosting Arizona State. They return to league play next weekend when they travel to RIT.
Overseas Elite
One of my favorite storylines of the season has been the ongoing success of Niagara and American International.
Both schools remain at or near the top half of the conference through Thanksgiving break, and they'll meet each other this weekend in what should be a must-watch series. The fifth-place Purple Eagles have the best winning percentage in the league at 5-1-1, while the Yellow Jackets look to rebound with some home cooking after a weekend sweep at Robert Morris.
AIC's hockey revolution is perhaps lying in plain sight. A school named "American International College" has a decidedly foreign flair with more than a half dozen countries blending Americans, Canadians, and Europeans.
"The one thing that's constant (among players) is a desire to win," AIC coach Eric Lang said. "That doesn't change no matter where anyone's from. These guys have great work ethic, and I'm finding that our European players are so invested in what they're doing because they're so far from home. This is so important to them, and the education aspect is so important to them."
AIC's early-season success can be drawn from those players atop the scoring sheet. Its top three are all young defensemen and are from the United States, Latvia, and the Czech Republic, respectively. Brennan Kapcheck leads all scorers with 11 points, including eight assists, and has a +4 rating. Janis Jaks is right behind him with nine points but has four goals, and Patrik Demel has six points in nine games played.
The team's top two goaltenders are also international, with Swedish netminder Zackarias Skog seeing equal minutes with Canadian freshman Stefano Durante. Durante has a .922 save percentage with a 1.99 GAA in seven appearances, while Skog's played over 1,700 minutes through his first 30 games with the program.
It's buoyed an offense that's now showing offensive flair. The Yellow Jackets scored at least four goals in four different games this year and have scored less than three only four times in the first 14 games. Unfortunately, it happened twice last weekend, but they still peppered the Robert Morris net for 31 shots on Friday.
"The offense has gotten some help from a little bit of our European influence," Lang said. "Janis Jaks and Pat Demel are two really high end defensemen, and our freshman Brennan Kapcheck is really freeing things up. We're getting the puck to our forwards in good spots, so it really stems from the defensemen's contributions."
Though the sport blends cultures and provides common grounds, there are still growing pains with a roster built around such an international core. Many of the players don't speak the same first language, which can sometimes be an interesting challenge for a coach originally from the Bronx.
"One thing I'm finding is that things sometimes get lost in translation because English is either their first or second language," Lang said with a laugh. "So we do more with video and make sure there's more clarity. Last year, we had moments where the guys were nodding their heads, and I assumed they understood what I was telling them – and they weren't. So we have to do a good job with our international players to make sure they understand what we're talking about on the ice or in video or by using both."
Let's Talk Turkey
Thanksgiving weekend is a time for days off.
Students head home for a long weekend, and the bulk of us get days off from our day jobs. Some of us are even fortunate to receive Friday off as a holiday, which essentially means we're on a mini-vacation.
And then there's hockey.
Every Atlantic Hockey team will play this weekend in some capacity, and four series will feature western teams coming into the Northeast to battle for points:
— Canisius is at Army West Point in a series between two of the top four teams in the league. Preseason favorites, they'll battle on Friday on Saturday.
— Robert Morris is at Bentley in the league's longest road trip not involving Air Force. The Colonials will travel 620 miles from their campus in Moon Township, Penn. to take on the Falcons in Watertown, Mass. That's about the same distance between Boston and Halifax, Nova Scotia.
— Niagara heads to AIC in a meeting proving everyone in the media knows nothing about preseason predictions. The preseason prediction had this as a meeting between two of the league's bottom teams. Instead, it's a matchup centered around a potential home ice or bye slot.
— Air Force comes east to take on Sacred Heart. Points here are huge as the two teams battle lower down the standings. The winner of this weekend is in position to step forward, while coming away empty would create some ground to make up heading into the semester break time.
"I guess I'd rather be at home than on the road this weekend," AIC head coach Eric Lang said. "We have to take advantage of being at home and being in our own beds this weekend. We're going to be up against it against Niagara as it is. They're about as well-coached and they play as hard as anyone. Their conditioning level is elite to me."
Nonconference Branding
RIT, Mercyhurst and Holy Cross are also in action this weekend but will play nonconference games. All three teams have opportunities to score some key brownie points for Atlantic Hockey against nationally-recognized brands: The Tigers head to UConn to take on the Huskies, while Mercyhurst heads to Wisconsin for a Big Ten Network-televised game against the Badgers on Sunday.
Holy Cross plays Friday and Saturday against Arizona State.
"(Growth in college hockey) is great for the sport," Berard said of his matchup. "Arizona State is an independent. They need people to want to play them, and they need people to support their development as a program. I'm a big supporter of that, so I talked to (ASU head coach Greg Powers) and he decided to come out this year and we're going to go out there in a couple of years. It's a great opportunity (for us) against a quality opponent. Their record isn't where they probably want it to be, but they're a good hockey team. So it's important for us to rebound and play our best hockey."
Games against nationally-branded matchups build goodwill among casual fans.
For Atlantic Hockey, it's another opportunity to gain traction against the "power schools," especially for smaller schools who aren't entirely Division I throughout all sports. Holy Cross isn't one of those matchups; both the Crusaders and Sun Devils athletic departments are Division I. But you'll have a hard time finding other games between the Patriot League and the Pac-12.
"Arizona State brings a name brand, and that's pretty neat," Berard said. "You don't have Holy Cross athletics playing teams from Arizona State, so this is a unique opportunity and should be a fun weekend of hockey."
Players of the Week
From the league's front office, here's the release of this week's top performers:
Player of the Week: Robert Morris' Spencer Dorowicz: Dorowicz scored three goals as the Colonials swept AIC. He was also part of a penalty kill unit that went 4-for-4 against the Yellow Jackets.
Defensive Player of the Week: Robert Morris' Robert Powers: The senior recorded his first career and had two assists in the sweep of the Yellow Jackets.
Goalie of the Week: Robert Morris' Francis Marotte: The goalie made it a clean sweep of position players for the Colonials. He recorded his second shutout of the season with a .980 save percentage and 0.50 goals against average.
Rookie of the Week: Air Force's Alex Mehnert: Mehner scored his first career points against RIT by scoring three assists in two games.