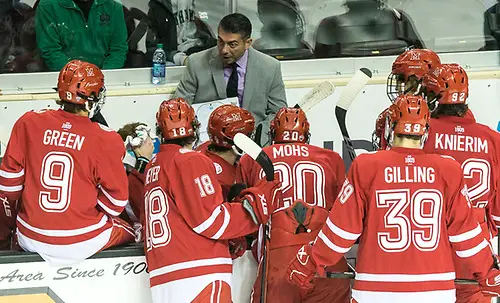 Last weekend, Miami provided a blueprint for how to have success as the visiting team at Western Michigan's Lawson Ice Arena, though the RedHawks' plan may not work for everyone.
Namely, Miami played within itself.
The RedHawks were outshot Friday 34-25 and conceded two power play goals, but Miami handed the Broncos only their third home loss of the season after four different players scored in a 5-2 win. Gordie Green had Miami's first and last, including an empty-netter. On Saturday, Miami led 3-1 midway through the second period before Wade Allison scored three unanswered and lifted the Broncos with his hat trick goal 3:53 into overtime.
Miami had been decidedly average (2-2-2) away from home before visiting Kalamazoo. Once the RedHawks got there, though, they went to work.
"It's one of those buildings where it's pretty lively as far as bounces and tight corners, and with the environment and the way the rink's set up, it just happens fast and we told our guys, 'You've got to be ready to play right from the get-go,' and we don't want to just react to what they're doing," Miami associate head coach Brent Brekke told USCHO this week. "We want to dictate the pace of the game and the physicality, and the mentality we wanted to play with wasn't the way they wanted to play, so the big thing was just being aggressive right from the start and not being reactive.
"If you change the game that way, you're going to find yourself in trouble a lot of times as an end result. It's really playing to how we want to play and not necessarily the opponent. If you get too concerned about what the opponent's going to do, you change your game too much. You've got to play with confidence and be who you are."
That extends to Miami's defense, one of Brekke's points of expertise on the RedHawks' coaching staff. At .500 (8-8-2), they aren't where they want to be, but a year after Miami was carrying 14 newcomers, it's giving up .36 fewer goals per game.
"I think we've done a better job as a collective group," Brekke said. "We're doing a good job as a five-man unit with guys working together and not just playing one-on-one or the guy that's closest to the puck. It's been a collective group, and when we've had a breakdown, Ryan Larkin's played very well in net for us to bail us out with some big saves at key times, but I think the commitment to team defense is probably the biggest thing where we've been better.
"It's not just D-zone coverage but tracking back on line-rush opportunities against to kind of squash those before they develop. That's better than last year, because I think we were inconsistent when we worked as a unit. We had some success, but when you have as young of a team as we did last year, it was tough at times, but I think from a maturity standpoint, the guys know that playing the game the right way is a big part of the game."
Gift ideas for the NCHC team in your life
As this is our last league column before the NCHC becomes fully immersed in its holiday break – most teams have already – now's a good time to take stock of the season to date. And it's been plenty interesting.
We hear all the time from coaches and players about how much of a grind playing in this conference is and how tough it is top-to-bottom. At this point in the season, it really can't get much tougher. All eight teams are in the top 19 of the PairWise Rankings. Omaha, currently three points adrift in last place in the NCHC standings, is 15th in the rankings that matter most come NCAA tournament time.
Still, as good of a place as the NCHC is in, each team is looking to reach further upward. What follows is one item that could be found on each respective club's holiday wish list. There's more than one to be had for each team; if we've missed what you'd put down for your team, tell us what it is in the comments section below.
Colorado College: Better power play success. CC has had an excellent first half of the season relative to what many expected from the Tigers. There's plenty of hockey left to be played, but with CC one spot below earning home-ice for the first round of the playoffs, little things could go a long way. CC's power-play units have been nothing special (13-of-86), but an improved showing there could see the Tigers playing at home in the second week of March.
Denver: More Gold Pan success. There's little to complain about with this DU team, but as with all teams, challenges lie ahead. One comes in mid-February when the Pioneers face another home-and-home series with Colorado College. DU had made a habit of owning this series in recent years, but two overtime games last week against the Tigers suggest that the gap is rapidly closing.
Miami: Fewer trips to the penalty box. The RedHawks are tied for second in the nation in penalty minutes per game, and while their penalty-killing units are decent (82 percent), the longer you have five skaters on the ice, the better. If anything, though, the flip side of man-advantage hockey is going pretty well for Miami, which is burying on a quarter of its power plays.
Minnesota Duluth: See above. UMD is nine points out of fourth place, and a 76 percent penalty-killing success rate isn't helping. This is still just about a NCAA tournament-caliber team – 16th in the Pairwise, but the Bulldogs need to find greater consistency in the second half.
North Dakota: A lights-out second half from Cam Johnson. UND's senior goaltender a long spell earlier in the season out with an injury, and the Fighting Hawks are generally hoping for a more comfortable second half of the season. That looks very possible, though, with UND's favorable remaining schedule. Five series against unranked opponents dot the slate, and the Hawks get No. 1 St. Cloud State and second-ranked Denver at home.
Omaha: A shored-up defense. Again, UNO is sitting relatively high in the PairWise, but the Mavericks haven't done themselves many favors lately in their own end of the ice. They've conceded five goals or more in each of their last five conference games – not exactly the kind of magic number you want to reach. What's worse, UNO is already 12 points back from a home-ice spot in the first round of the NCHC playoffs.
St. Cloud State: On this team? More of the same will do. If you're a Huskies fan, you're elated. SCSU hasn't lost in regulation in over a month, and even that came during a sweep at then-No. 1 Denver. The Huskies are the nation's top dogs now, and their schedule gets no easier in the second half, but a perfect nonconference record thus far and eight wins against ranked opponents leave St. Cloud fans with every reason to feel confident entering the season's second half.
Western Michigan: Away form to match. Western has largely been terrific at home so far. A 1-5 mark on the road, though, needs to be improved upon. Seven of their remaining nine road games (minus a trip to SCSU next month) are against unranked foes, though, so chances are good that the Broncos will pick up the pace when away from home.
Players of the Week
Offensive: Wade Allison, Western Michigan. The sophomore had a five-point weekend for the Broncos in their split with Miami, including three goals. He's now tied for second nationally in that department with 14.
Defensive: Scott Perunovich, Minnesota Duluth. Four points last weekend at Omaha helped show Perunovich made the U.S. National Junior Team preliminary roster. He ended his weekend in Nebraska with two goals and as many assists.
Rookie: Phil Knies, Miami. After getting just one point in his previous 10 games, Knies had a goal, an assist and a plus-two rating last weekend against Western Michigan. Scoring Miami's fourth goal on Friday in a 5-2 win gave Knies his third of the season and first since Oct. 28.
Goaltender: Alex Leclerc, Colorado College. The sophomore netminder was a big reason CC was able to take Denver to overtime twice last weekend. Leclerc stopped 71 of the 76 shots he faced and helped kill all seven Pioneers power plays in the series.