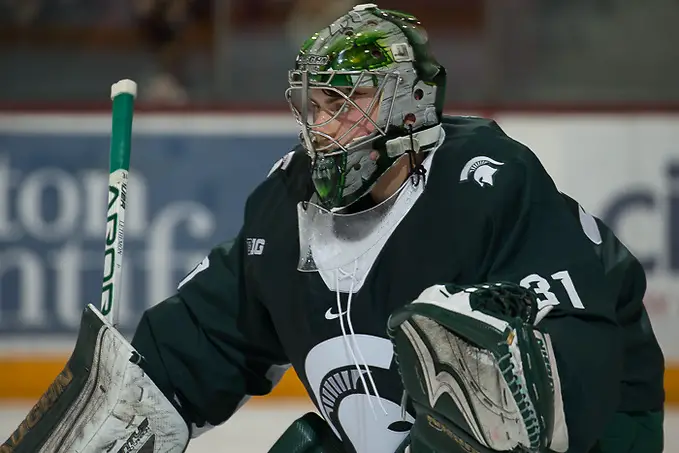 While many college hockey fans may enjoy seeing these once-mighty programs so diminished in recent years, for others this is downright depressing.
For the second consecutive year and the fourth time in six seasons, the Wolverines and Spartans battled for third place in the Great Lakes Invitational, something unthinkable a decade ago. Michigan State and Michigan have met in the title game of the GLI a dozen times dating back to 1989, but only twice in the last decade.
In the 1990s especially, the rivalry between these teams was fierce enough to earn regular mentions nationally, heightening the profile of college hockey in the nascent days of the internet and just as cable television was beginning to pay more attention to the niche sport we love.
Now each program anchors a league that in itself is underperforming. It's depressing. It's also temporary – at least according to Mel Pearson, who predicted after this year's GLI third-place game that sooner rather than later, the Spartans and Wolverines will again be regularly vying for GLI titles.
"Danton's done a real good job at Michigan State," said Pearson of his first-year counterpart in East Lansing, Danton Cole. "You can see that. They've won more games than they had all of last year. He's got that program going in the right direction and hopefully, we'll get there. I know we will. I know we will. We'll be there in front of a great crowd in Little Caesars Arena, playing for the championship."
If you've spent any time around Michigan or Michigan State hockey this season, you're probably inclined to agree with Pearson. Both the Spartans and Wolverines are improved, but each in significantly different ways. When Red Berenson retired from Michigan and Pearson was hired to replace him, there was a sense in Ann Arbor that a return to former glory was imminent. After all, Pearson spent 22 seasons on the bench beside Berenson as an assistant and then associate head coach and had just helped the Michigan Tech program reemerge. Under Berenson, there was an expectation of excellence that shaped the identity of Michigan hockey for over two decades. An entire generation of fans grew up watching the Wolverines make the NCAA tournament.
That expectation is Pearson's as well. He and the Wolverines were happy to come from behind to beat their rival Michigan State, 6-4, in that third-place game, but it was still a third-place game. Pearson expects more.
"We're used to that," said Pearson. "That's the Michigan way. We've won more GLIs than any team and we've got to get back there. I personally, fortunately, have been involved with 18 championship teams at the GLI and that's the expectation and that's what we talked about tonight.
"When we don't leave here with the championship, we're not happy about it. We got a little bit of consolation tonight. It's called 'consolation.' It's a tough game to play and I'm proud of these guys. We look forward to next year."
Sixty-four miles separate Yost Ice Arena in Ann Arbor from Munn Ice Arena in East Lansing. In the third-place game of the GLI this year, two goals separated the Wolverines from the Spartans. In the Big Ten standings, four points separate sixth-place Michigan from seventh-place Michigan State. The real distance between these two programs with first-year head coaches is more nuanced than that.
After the Spartans lost the third-place game, someone asked Cole about the forward progress Michigan State is making and how the program may look forward to participating in future GLI title matches.
"Well, we're pretty damned far away from the championship game," said Cole. "We just lost the consolation game."
It was typical Danton Cole – frank, without rancor and completely accurate.
"I like this tournament; I like coming down here," said Cole. "I think that we've got to get back on the right side of the league. We've got juniors that haven't won a game here [at the GLI]. Our seniors have won one game. We're going to come back next year with nobody that's won a game at the Great Lakes, so until it gets back to where we're coming down here and people are going, 'Oh, geez, I don't want to play Michigan State,' I won't be happy. That might be a ways off right now, but that's when I'll be happy. I'll enjoy it, but I won't be happy down here until then."
Both Pearson and Cole are aware that they're rebuilding, and each knows that the circumstances at each school that necessitated rebuilding differed, but to suggest that Michigan State expects less from its hockey program than Michigan does, that Spartan hockey is less proud than Wolverine hockey, would be grossly unfair. Yet there's a buoyancy surrounding Michigan State hockey this season, that exceeds the excitement that accompanies the rebuilding that Pearson and his staff are doing just down the road. Fans in East Lansing are ecstatic. They are packing Munn. They are loud. They are supportive and thrilled and optimistic. The Spartans' eight wins this season amount to one more than Michigan State registered for all of 2016-17.
Michigan also has eight wins this season, though, five shy of the Wolverines' total in 2016-17. They're at .500 now after finishing below that mark last year. The enthusiasm is great for Michigan State. It's less so surrounding Michigan, which seems unfair. Maybe all of this, too, is a reflection on how disappointing the Big Ten has been since its inception, even though the league as a whole is improved this year, with or without the inclusion of Notre Dame.
All of this having been said, it was fun to watch two WCHA teams battle it out for the GLI championship, especially seeing host Michigan Tech in the title game, and sweet to see Bowling Green capture its first GLI in its third-ever appearance. I'm an old softy, though; Bowling Green is the physical repository for the files and memorabilia of the Central College Hockey Association, so it felt a little like old times in the new home of the GLI.
But I'm with Pearson, too. I think it'll feel like old times – or at least the 1990s – sooner rather than later at the GLI.
A visit from a former captain
Before Tuesday's GLI consolation game, former Michigan captain and current Detroit Red Wing Luke Glendening talked to the Michigan players.
"I thought he gave a real good talk, from the heart – not just something made up, and I thought that was really good and I thought we had time to reflect on that [in a] discussion we had with our team before the game," said Pearson. "Not that that was a miracle pill or something like that, but I think it was important."
Glendening was a true walk-on with Michigan hockey in 2008. Glendening, a Grand Rapids, Mich., native, is a product of Hotchkiss School, a preparatory boarding school in Lakeville, Conn. He was offered a walk-on position at Michigan when a high school teammate was being eyed by the Wolverines. He served as captain at Michigan from 2010 to 2012, and he's been with the Red Wings organization since the 2012-13 season; he's been on the Wings' roster in Detroit since 2013-14.
"The coaches told him he may never get to play [at Michigan], and just with hard work and determination and the passion for Michigan, he was able to be a captain for two years and obviously all of us know he's had a great career in the NHL thus far," said forward Cooper Marody, who registered his second career hat trick in the 6-4 win over Michigan State. "He just passionately spoke about Michigan and about what it takes to be a Michigan man every day."
"He also told us after yesterday's loss to look in the mirror," said defenseman Cutler Martin, who netted his first goal of the season in the game against Michigan State after having missed a good deal of the first half of the year with an injury. "Yesterday, it was easy to point fingers maybe, but everyone has to do their own job and they should do it to the best of their ability. Look to yourself and to what you can do better."
Glendening wasn't the only one who stopped by for a chat with the Wolverines. Red Berenson was there, too, and I straight-up invoked him in the press conference following the third-place game.
Berenson had a habit during the GLI of talking about players who stepped up in the tournament – largely because there have always been Michigan players who make names for themselves during the GLI. Sometimes these players performed particularly at this tournament or in games once played in Joe Louis Arena. Sometimes these players launched great second halves in GLI play in Detroit. Michigan players often get this kind of opportunity at the GLI because there are usually Wolverines representing the U.S. at the IIHF World Junior Championship. This year, Wolverines Will Lockwood, Quinn Hughes and Josh Norris are competing at the event.
"It's interesting you bring that up because Red came down before the game and talked about every year at this time, someone steps up and you need someone to step up," said Pearson. "I thought we had some of the secondary scoring come from guys we needed it to come from. Mike Pastujov got a big goal, his first career goal at Michigan. James Sanchez scored his first goal. Those two goals were important, got us tied, and then Cutler scores a goal since being out since November and I thought he played extremely well. He's missed a lot of games and we didn't even really have practices these last two weeks, so for him to come in and play as well as he did was important."
My favorite quote of that game came from Cutler Martin: "Our team, we're not maybe as skilled as we were my freshman and sophomore year. This year, sometimes we have to play a little grindier game and just making sure we do that and holding each other accountable."
Grindier is a good word. I'm sure a lot of Michigan fans would love to see the Wolverines play some grindy hockey in the second half.
They'll have their chance to do so when they play a home-and-home series against Notre Dame this coming weekend. Before Friday's game at 6:30 p.m. in Yost Ice Arena, the Wolverines will dedicate the rink to Red Berenson. Notre Dame will host Sunday's rematch at the Compton Family Arena at 3:05 p.m.
This week, the Wolverines play a home-and-home, Friday-Sunday series with first-place Notre Dame, and they are chomping at the proverbial bit about it.
"It's a weird week," said Pearson. "You'd like to have a normal week to practice and prepare, especially for a team like Notre Dame, but maybe that's okay. We have to take a mandatory day off tomorrow [Wednesday], then a short skate Thursday and get after them on Friday. We've got to make sure that we're ready to go, which I think we will be, and we've got to get after them. I am looking forward to it. I'm really looking forward to the opportunity to play Notre Dame at Yost Ice Arena. It's a great opportunity for our team."
The Spartans need defense
"We've got to defend and defend better. That's the base and we're moving through this process of trying to be a better hockey team. If you don't do that, you can't move on to the second steps."
That was the accurate assessment that Cole provided in the 6-4 loss to Michigan. When a team scores four goals, it should have a realistic expectation of winning. Three consecutive goals that Michigan State surrendered, though, were right from defensive mistakes. Two straight hit goaltender John Lethemon before ricocheting into the net. Lethemon was good heading into the holiday break, but the Spartans' team defense allows 3.05 goals per game. That's improved from last year's 3.83 goals per game, but Michigan State is only scoring 2.45 goals per game this season.
This weekend, the Spartans host Ohio State Friday and Saturday nights at 7:05 p.m.
"We've got a really good Ohio State team coming in," said Cole. "Let's play two really good hockey games and move forward on that and learn from this. I get confidence out of something like this. That's what I'm going to try to get them to figure out, that when they do things right, things will go their way."
Casey Mittelstadt is a beast
Minnesota freshman forward Casey Mittelstadt is dominating play at the IIHF World Juniors in Buffalo. With four goals and six assists in five games, Mittelstadt leads all players in points.
He's working the city, too. Mittelstadt was chosen by the Buffalo Sabres in the first round of the 2017 NHL Entry Draft (eighth overall), and on Dec. 30 – the day before the Buffalo Bills miraculously made the NFL postseason playoffs after a 17-year drought – Mittelstadt shouted out to Bills fans via Twitter.
Bills Mafia 🇺🇸❄️ @ New Era Stadium https://t.co/WK3G0LFeSr

— Casey Mittelstadt (@CMittelstadt) December 30, 2017
For the record, Mittelstadt was a year old the last time the Buffalo Bills played in the postseason.
Some kudos
The Golden Gophers swept Army West Point in Mariucci Arena last weekend, 3-0 and 4-1, and the Saturday victory was Don Lucia's 450th career win behind the Minnesota bench. Lucia becomes the first coach in program history to hit that mark.
Kudos, too, to sophomore goaltender Mat Robson, who earned his first career win Saturday night.
Ohio State was the only other B1G team to have played last weekend, and the Buckeyes swept visiting Niagara. Not only did OSU's Tanner Laczynski score with seven seconds left in regulation Friday to give Ohio State a 3-2 win, but freshman goaltender Tommy Nappier earned his first collegiate victory with OSU's 4-1 win Saturday.
Three stars of the week
We have a first-time honoree this week.
First star – Michigan junior forward Cooper Marody
Marody (Brighton, Mich.) had four points in the Great Lakes Invitational Tournament, including his second career hat trick in Michigan's 6-4 win over Michigan State Saturday night. Marody has seven goals and 21 assists through 18 games this season after registering five goals and 10 assists in 18 games a year ago; he needs three goals to equal his career-high 10 of his freshman season. This is Marody's third career Big Ten weekly award and his second of this season.
Second star – Ohio State senior forward Matthew Weis
Weis (Freehold, N.J.) had three points in Ohio State's sweep of Niagara, including the assist on Friday's game-winning goal and the game-winning power-play goal in Saturday's contest. Weis has seven goals and 12 assists in 20 games this season after registering nine goals and 32 assists in 2016-17. This is Weis's second career weekly Big Ten award and his first of the season.
Third star – Minnesota sophomore goaltender Mat Robson
Robson (Mississauga, Ont.) stopped 25-of-26 shots in his first career win when the Gophers beat the Black Knights Saturday. In two games this season, Robson has allowed three goals for a .940 save percentage and 1.51 goals-against average. This is his first career weekly Big Ten Award.
My ballot
1. Notre Dame
2. St. Cloud
3. Clarkson
4. Denver
5. North Dakota
6. Ohio State
7. Minnesota State
8. Cornell
9. Minnesota
10. Northeastern
11. Boston College
12. Wisconsin
13. Providence
14. Western Michigan
15. Penn State
16. New Hampshire
17. Canisius
18. Bowling Green
19. Maine
20. Colorado College