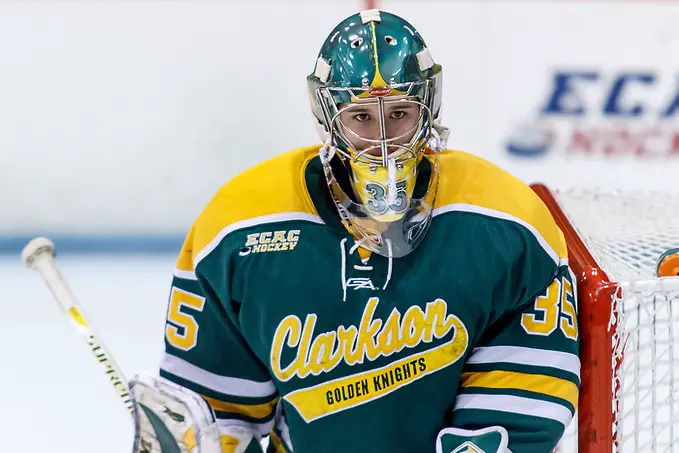 Clarkson senior goaltender Shea Tiley backstopped the Golden Knights to a 4-0-0 record last month and was named the Hockey Commissioners' Association National Division I Player of the Month for December.
Tiley's teammate Elizabeth Giguere was tabbed as the National Rookie of the Month for December, tying for the lead among all of her Division I rookie counterparts in scoring during the month with eight points on three goals and five assists in four games.
Tiley recorded three games where she allowed only one goal in each, and posted a shutout in another for best GAA (0.75) of any ECAC Hockey goaltender who played in more than one game. In those four games, she faced 82 shots and made 79 saves, recording a .963 save percentage.
Thus far in the 2017-18 campaign, the assistant captain has logged over 1200 minutes in net, allowing only 24 goals in 21 games this season, while leading the nation in shutouts with eight.
A seven-time winner of an ECAC Hockey weekly award winner and a two-time conference Rookie of the Month (October and December), Giguere led all conference rookies in points (eight) and plus/minus (plus-9) for the month and tied teammate Loren Gabel for most points among all conference players during December. She scored a goal in three of the four road games during the month to help Clarkson extend its win streak to six games to close out the 2017 calendar year.
Giguere is tied for the scoring lead in overall games among her league counterparts through her first 21 collegiate games, while ranking second in the nation in nearly every statistical category on offense among rookies, including points per game (1.67), points (35), goals (14), assists (21) and plus/minus (plus-26). She has also recorded two game-winning goals on the season.