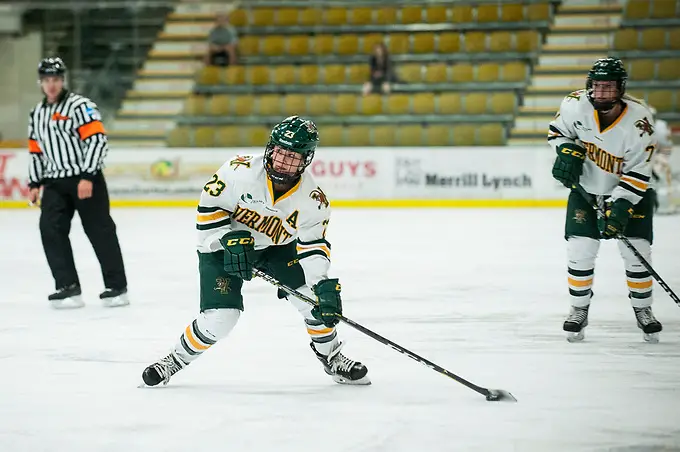 The college hockey season really only ends up being successful for a handful of squads, depending on their expectations and achievements. The nature of the season says that there's a single championship. The other top teams that make it to the Frozen Four, only to fall short, will be disappointed. There might be some programs that make the playoffs or advance to the NCAA tournament for the first time who will mark their season a success. Everyone else falls short.
How, then, does a player or a team or a program look at an unsuccessful season and find achievement?
There were bigger expectations on Vermont than they've been able to fulfill this season. They struggled to find themselves in the first half of the season, going 5-11-3. Without context, the team's current 6-16-4 record would be deemed disappointing by most everyone.
On the surface, their 1-4-1 record since the break doesn't look like an improvement, but every one of those games was against a ranked opponent — then-no.8 Providence, then-no. 5 Minnesota, and then-no. 2 Boston College. They upset Minnesota, took a tie from Providence, and pushed BC to overtime in their first game and to come from behind in the second. They held BC, who'd been averaging five goals a game, to just five goals on the weekend.
Beyond the confidence they gained from their performance in the past six games, it seems what Vermont has most learned since the last week in December is how to have fun and love the game again.
The turning point for Vermont this season came in a tournament the week of New Year's where they played three Canadian universities. It's had a huge impact on how the Catamounts are playing this season, and it will be totally unsurprising if we look back in a few years and see it as turning point for the program as a whole.
In a blog he published last week, Vermont coach Jim Plumer recounted how the trip to Canada looked far different from a regular Hockey East weekend (the teams didn't trade game tape or even line sheets). Without the pressures of league play and no tape to dissect from every angle, Plumer and his team relied on themselves, and it may just have changed what it means to play Catamount hockey. They played every player. They rolled all their lines. And they were successful.
"We went 3-0. We scored 12 goals in three games (mind you we had scored just 10 goals in our nine games to finish first semester). We played without pressure. We laughed," he said. "It was a great reminder that as coach, there is nothing more satisfying to me than making the sum greater than the parts. In order to do that though, you have to find meaningful roles for all of the parts and then let them play up to that role. And that is what I really saw in Montreal –- people given opportunities and rising to them. I can say that as much as humanly possible we are focusing on our team and what we need to do to play well."
No one wants to lose or fail to meet expectations. Players get in their own heads, grip their stick too tightly, and generally tighten up. The Canadian trip seems to have wiped the slate clean. The fun and easy tone that was set is directly responsible for the way the team is playing now. They are loose and relaxed. They're playing better. And they've never been more confident.
For their part, the players say the fun, relaxed atmosphere of that weekend in Montreal has carried through to the second half of the season and has made a huge difference for them.
"Do your job. Have fun. Trust everyone. (That's) been a more prevalent theme since the break," said Alyssa Gorecki. "The light and fun atmosphere has carried through to these bigger games. We really believe we can play with everyone. And it's just a lot more fun because we've really come to trust each other."
Maybe more important than anything else that's come from the past few weeks, there is no longer a fear of messing up. The players are comfortable and not afraid to make mistakes, said Gorecki. That freedom to try things — to have good intentions, even if they don't turn out well, has helped them become better individually and as a team.
"When everyone individually buys into their roles, when everyone follows the game plan and plays to their strengths, our team can be really successful," said freshman Kristina Shanahan. "We reached that point where we were ready to break through. (We're) focusing on our strengths. We're starting to come into our own and compete with anyone."
Now the Catamounts are putting the lessons learned in the past month into practice. Having the success against top teams has boosted the team's confidence, and they need to put those lessons to work and have the patience to let it pay off.
"I think we need to bring the same momentum," said Gorecki. "How close all the games have been, we know that our time is coming. We just need to play our game, and it will work for us. We just need to believe in ourselves."
That includes playing their style of blue collar hockey that Gorecki said involves playing all 200 feet of the ice and Shanahan said means putting together a full 60-minute game and playing as tough against a bottom-of-the-table opponent as they do against the no. 2 team. When they do that, they play consistently and find success.
One mantra of this squad is "Play, compete, finish, and grow." At different times this season, they've accomplished those things individually, and now the team is working to put it all together.
"We really embody the fact that we're a blue collar, hard-working group," said Gorecki. "Yes, we might play more skilled teams, but they will never outwork us. And we'll put a whole game together against them."