Happy Groundhog Day! Six more weeks of winter, four more weeks of regular-season hockey, and another day of looking at the progress that Drew Claussen and I have made with this year's picks.
Last week
Drew: 4-1-1 (.750)
Paula: 3-2-1 (.583)
This season
Drew: 77-42-11 (.635)
Paula: 82-37-11 (.673)
This week
Six teams play single-site, two-game sets this weekend with No. 12 Minnesota sitting out. All times are local.
Michigan State at No. 5 Ohio State
Drew: I think it's safe to say that the Buckeyes have solidified themselves as the second-best team in the conference. Ohio State opened up a six-point lead over third-place Wisconsin after sweeping Michigan last weekend and the Buckeyes still sit 11 points behind Notre Dame. I can't find a reason to pick the Spartans this weekend. Ohio State should be able to shut down Michigan State's offense and pick up the season sweep.
Paula: Ohio State is 9-1-0 in the last 10 games having swept Michigan at home last weekend, and the Buckeyes beat the Spartans twice in East Lansing at the beginning of the calendar year. Michigan State returns to play after last week's bye, and their last two games were consecutive losses to Minnesota, at home Jan. 18 and in Madison Square Garden Jan. 20. The Spartans are 2-8-0 in their last 10 games. I don't know if Ohio State can sweep the whole state of Michigan this season, but they do have a good shot at doing so. Both Friday's and Saturday's games begin at 7:05 p.m. and neither is televised.
Drew's picks: Ohio State 4-1, 4-2.
Paula's picks: Ohio State 3-2, 3-2.
No. 2 Notre Dame at No. 17 Penn State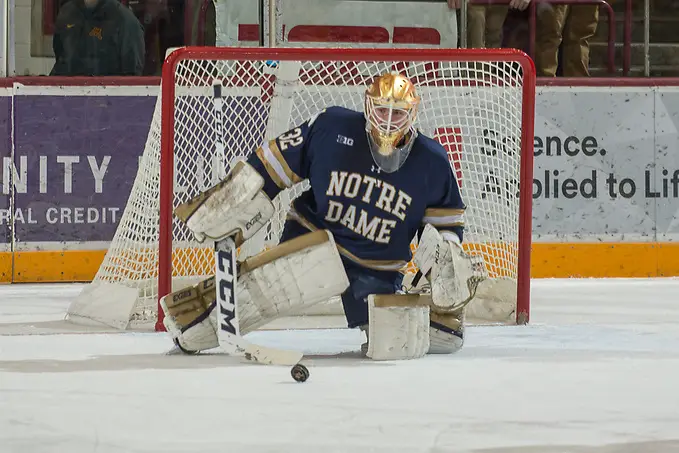 Drew: Notre Dame has now split its last two series, but the Irish haven't necessary slipped up since their winning streak ended. Wisconsin handled them in the 5-0 loss but the 1-0 overtime loss to Minnesota last week was anybody's game and Notre Dame rebounded nicely on Saturday. If Notre Dame can keep the scores low this weekend I think it can pick up a nice road sweep. Penn State probably needs the game to open up and turn into a track meet for it to find some success this weekend. I'll go with a Notre Dame sweep, but wouldn't be surprised if Penn State picks up a split.
Paula: I think Drew's assessment is completely accurate. The Fighting Irish need to shut down opponents to win, which is what they did Nov. 10-11 when they swept Penn State at home with 5-3 and 1-0 wins. Notre Dame's 11-point lead seems like an ocean to everyone else, but the Irish know how quickly that can evaporate when games are worth three points. I do think that Penn State can steal one here at home, and if the Nittany Lions do, it'll be Friday night. Friday's game begins at 6:35 p.m. and is televised by the Big Ten Network. Saturday's game starts at 4:05 p.m. and is untelevised.
Drew's picks: Notre Dame 3-1, 2-1.
Paula's picks: Penn State 4-2, Notre Dame 2-1.
No. 18 Wisconsin at No. 20 Michigan
Drew: There wasn't a whole lot of defense the last time these two met, with Michigan winning 7-3 the first night and the two teams tying 4-4 on Saturday. We could get another high-scoring series this weekend. Both teams have a top-15 offense and the Badgers are averaging 2.86 goals allowed per game while Michigan is averaging 3.15. I think this one is looking like a split.
Paula: The Badgers enter the weekend after a 3-3-2 January, having taken five points from Penn State last weekend. The Wolverines went 4-4-0 in January, swept by the two top teams in the league but with sweeps of Minnesota and Penn State. Michigan is one point behind Wisconsin in the conference standings, and a split seems like the logical pick. The Wolverines are 7-4-1 at home; the Badgers are 4-4-1 on the road. Everything this weekend depends on which team plays consistent hockey. Both Friday's and Saturday's games begin at 7:35 p.m., and both are carried by Fox Sports West.
Drew's picks: Michigan 5-3, Wisconsin 4-3.
Paula's picks: Michigan 5-4, 5-4.
The standings, according to us
Should Drew pick every game correctly, this is how the B1G standings will look Sunday, with points in paranthesis:
1. Notre Dame (48)
2. Ohio State (37)
3. Wisconsin (28)
4. Michigan (27)
5. Penn State (24)
6. Minnesota (23)
7. Michigan State (11)
If I'm right — and you know I won't be — this is how things will shape up on Sunday:
1. Notre Dame (45)
2. Ohio State (37)
3. Michigan (30)
4. Penn State (27)
5. Wisconsin (25)
6. Minnesota (23)
7. Michigan State (11)
Tweet me!
Once again, I return to Yost Ice Arena to luxuriate in a college hockey atmosphere and attempt to stay warm, as Michigan once again returns to the deep freeze. Holler at me (@paulacweston) and follow both Drew (@drewclaussen) and me on Twitter.