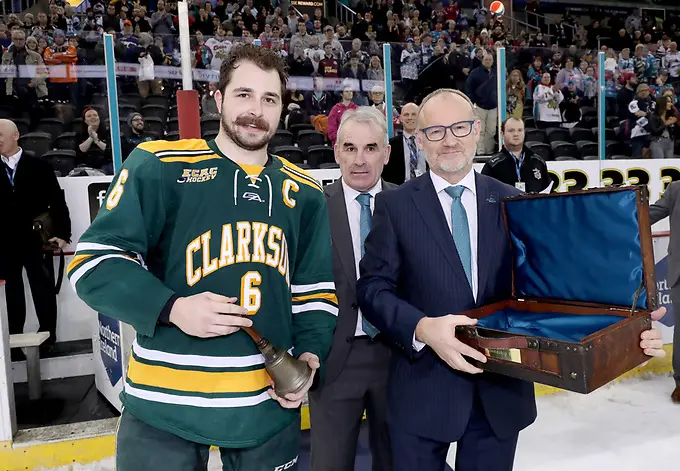 Clarkson senior captain Nic Pierog joined the program four years ago with a clear picture of what is expected of anyone who plays for the Golden Knights."Coming here as a freshman you learn the culture of what this program is all about, which is blue collar, hard working," he said. "Our coaching staff embodies that approach, and it kind of trickles down to the team."To put it another way, you play like Mike Morrison, a scrappy, relentless center who gave it his all for the Golden Knights from 1985 to 1989.Morrison joined the program as a walk-on and finished up as the team captain. Nearly 30 years later, he remains an inspiration.Morrison, a Massachusetts native, died on July 27, 1989, when he fell from some scaffolding while working a summer construction job. The Clarkson community mourned the death of one of its most respected student-athletes with a heartfelt loss of the person and everything he came to represent.To that end, no Clarkson player again wore Morrison's No. 6 jersey, a tribute that remained unchanged for 28 years before taking on a new form this season.
On Sept. 30, when the Golden Knights stepped onto the ice at Cheel Arena for an exhibition game against the University of Guelph, they were led by Pierog — wearing No. 6.Clarkson coach Casey Jones approached Morrison's brother, Pat, with the idea of having the number worn again by a deserving member of the team. Morrison talked it over with his sisters, Colleen and Maureen (their parents had passed away), as well as a few of Mike's Clarkson teammates.Everyone agreed that it would be an appropriate tribute."Nic embodies what Mike represented to Clarkson hockey," Jones said when the announcement was made. "He plays the game hard, is diligent in his school work and treats people the right way. With Nic being captain for his senior year, this is the perfect person to reintroduce No. 6 back into Clarkson hockey in the memory of Mike Morrison."Pierog, a power forward, considers it one of the biggest honors in his career so far. "Every time I put on the jersey I'm playing for Clarkson and honoring Mike," he said.Pat Morrison was in the stands for a game at Brown on Nov. 10 when he saw the No. 6 on the ice for Clarkson for the first time in 28 years. Yes, it was emotional, and it felt right."I'm so glad we did it," Morrison said. "We've gotten to know Nic, and he's an awesome young man."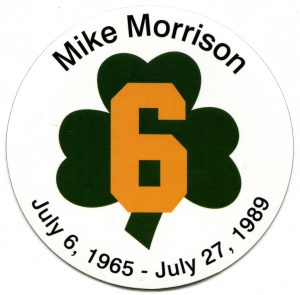 Mike Morrison graduated with a degree in marketing in the spring of 1989, and according to his brother, he was making some money that summer in advance of going to Finland to play professional hockey."He loved the game," Pat Morrison said. "He would have played as long as he could, and then he would have worked with children, coaching in some way."A year after Mike's death, the family started the Mike Morrison Memorial Golf Tournament, which continued for 20 years. The proceeds went to local charities, as well as a scholarship program at the local high school.Pat Morrison decided to start the Mike Morrison Foundation in 2004, the 25th anniversary of his brother's death, with the idea of keeping Mike's memory alive and giving back to the community.Morrison presented a $10,000 check to the Clarkson hockey program on Dec. 8 in a ceremony prior to the Golden Knights' game against St. Lawrence. The Saints, who are coached by Mark Morris, also were presented with a check. Morris is a family friend of the Morrisons, and was the first-year coach at Clarkson in Mike Morrison's senior season.The Golden Knights' weight room was renamed the Mike Morrison Memorial Training Center on December 4, 1999, and features a tribute wall that includes pictures from Morrison's playing days. His teammates from the 1988-89 season dedicated a plaque, which reads:"In loving memory of Mike Morrison, a man who led us by example. Hustle, hard work and enthusiasm were embodied in your every play. Your leadership and friendship won't be forgotten. Memories of you should inspire those who follow to give the extra effort that is needed to be a winner."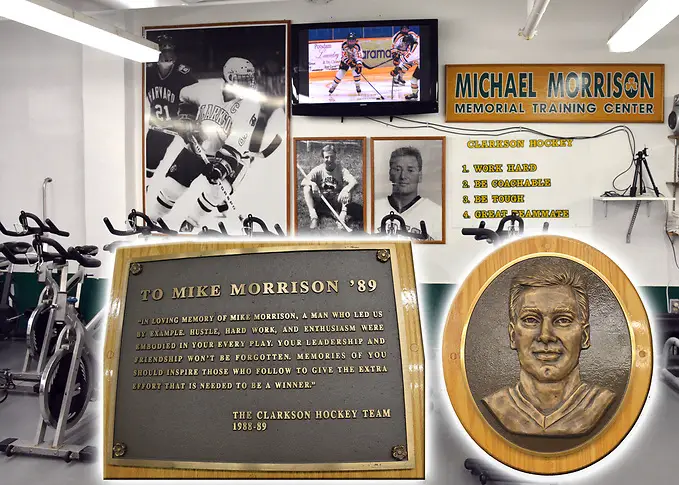 The Golden Knights have made it clear that the next player to wear the number will have had to earn it, which means that it won't necessarily be an annual honor."When we feel we have a player that exemplifies Mike we will have him wear No. 6," Casey said.The Golden Knights (19-6-3) are ranked seventh in the latest USCHO.com poll. Pierog and his teammates have talked about making this season even more special by winning an ECAC title and making some noise in the NCAA tournament.Pierog has earned his degree in finance and is scheduled to complete his MBA in the spring. Like Mike Morrison, his goal is to continue playing as long as he can."I've had a dream to play in the NHL," Pierog said. "So I'd like to give professional hockey a try after this year."The number on his jersey says he has the work ethic and commitment it takes to make it happen.