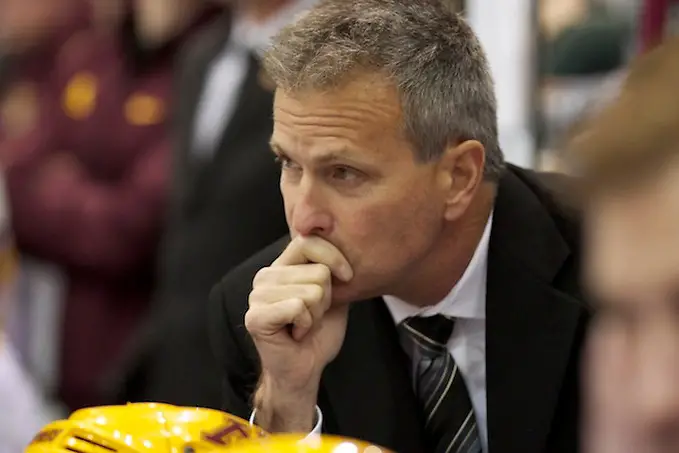 Don Lucia has stepped down as Minnesota's head coach after a 19-year run that included two national championships, the school announced Tuesday.
Lucia, 59, will finish his final season under contract at Minnesota as special assistant to the athletic director through the 2018-19 school year.
"Gopher Hockey is not just a college hockey program, it's a cultural institution in the state of Minnesota, built on more than 90 years of success and tradition. Few have contributed as much to that legacy as Don," Gophers athletic director Mark Coyle said in a statement. "He knows how much I appreciate everything he has accomplished in his 19 years as head coach, but he and I also agree that it's time for someone else to lead our program. From his program's commitment to academic excellence to the banners his teams raised into in our rafters, I can't thank him enough for what he's contributed to the success of Gopher Hockey."
Lucia's the second-winningest active coach of a Division I men's team at 736-403-102, behind only Boston College coach Jerry York's 1,053 victories.
In 19 seasons at Minnesota, Lucia posted a 457-248-73 mark, in addition to national championships in 2002 and 2003.
Lucia's Minnesota teams won eight league regular-season titles (four in the WCHA, four in the Big Ten) and four playoff titles (three in the WCHA, one in the Big Ten).
But the Gophers didn't qualify for the NCAA tournament in two of his final three seasons and had first-round exits in his last two NCAA appearances, in 2015 and 2017.
"I came to Minnesota because of the tradition, and I hoped to add to the tradition when I left," Lucia said in a statement. "I am proud of the 14 banners that have been added to the rafters of 3M Arena at Mariucci. I am forever grateful to all the coaches, staff and most importantly the players who have worked so hard to accomplish this over the years.
"Most importantly to me, we did it the right way. Our players all graduate and have always represented themselves to the high standards of Gopher Hockey on and off the ice. It has been a tremendous honor and privilege to be the head hockey coach at the University of Minnesota."