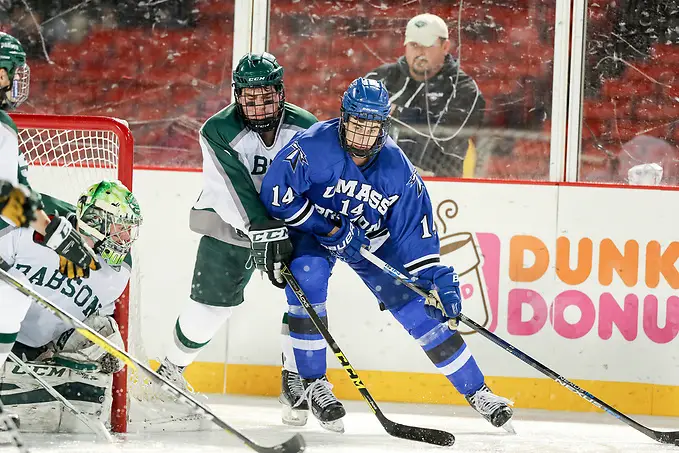 The Gridiron Club of Greater Boston announced Tuesday night that UMass Boston senior forward Colin Larkin is the winner of the 18th Joe Concannon Award, presented annually to the best American-born college hockey player in New England at the Division II/III level.
The Joe Concannon Award was established in 2001 shortly after the passing of the longtime writer for the Boston Globe, who had a great passion for the game of college hockey while always advocating strongly for amateur athletics.
Larkin, a senior from Waterford, Mich., finished his final season with the Beacons by recording 24 goals and 22 assists for 46 points.
During Larkin's four years, he played in 111 games and posted 64 goals and 84 assists for 148 points. He helped the Beacons earn their first NEHC title back in 2016 and first ever trip to the Frozen Four in program history. Larkin recently signed a professional contract with the Edmonton Oilers.
"This is huge for Colin and for our program," said UMB coach Peter Belisle in a statement. "Colin has been a cornerstone player in building the program here and has become a better hockey player during each of his four seasons. He is a terrific competitor and really was a leader on our team this season."
Larkin was also recognized as the NEHC Player of the Year and a First Team All-Star by the league coaches for his consistent performance on the ice. He was a Concannon Award finalist in 2016-17 as well.
"It is always exciting when you see players rewarded for their hard work and dedication to their sport," added Belisle. "Colin just loves playing the game and is continuing on in California right now in the AHL with the Bakersfield Condors. His signing of a professional contract coming out of the D-III ranks truly shows how much his game has developed and we are all rooting for him to be successful at the next level in the professional ranks."
Larkin outpaced five other finalists, including last year's winner, University of New England junior forward Brady Fleurent, in the final balloting. The other finalists were Endicott junior defenseman Logan Day, UMass Dartmouth senior forward Jonathan Ruiz, Fitchburg State junior forward Nick DiNicola and Colby senior goalie Sean Lawrence.
"This has been an incredible season at the D-II/III level with so many great players and teams accomplishing so much for the first time," said Gridiron Club Hockey Awards Committee chairman Tim Costello in a news release. "These finalists are truly the best representation of the superb level of play and individual excellence from across each of the conferences.
"This year showcased a season where there was great parity and high level of play across New England. For Colin, this season was truly a great culmination to a wonderful four-year career topped off by his NEHC Player of the Year recognition and now the Joe Concannon Award. He joins a growing list of worthy recipients."
The award will be presented to Larkin at the New England College Hockey Writers' Dinner on Wednesday, April 11, at the Prince Restaurant in Saugus, Mass.