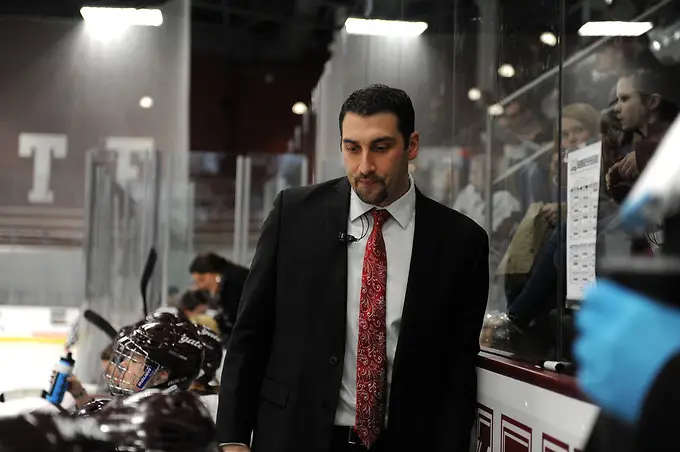 My first opportunity to speak with Greg Fargo was just before his inaugural game as Colgate coach. I'd never watched the Raiders in person before, but as he was coming from Division-III Elmira, he wasn't that much more familiar with his team than I was.
That opening weekend didn't go well for the Raiders. They didn't score and were unable to stop Minnesota from posting the first two of what would grow to 41 wins. In his comments after each game, there was neither panic nor awe, just a resolve to get better. Not in some future season after he'd recruited his own players, but steadily, week by week.
Colgate did improve. Wins came. Not by the dozens at first, but in its 17th game, Colgate traveled to Potsdam, New York, and upset a Clarkson squad that was just a year away from its first national title.
When I spoke to him on the phone two years ago, his team was different. The Raiders had grown from trying to find a way into the postseason to a team that could contend. Fargo's answers are always well-thought and candid, but one thing he was unwilling to do in that interview was put any limits on the possibilities for his team. Colgate earned home ice in conference play, and knocked off a Harvard team that played in the previous national championship game.
I didn't see Fargo again until after the media conference of the second semifinal of this year's Frozen Four, in the same building where his career as Raiders coach began. Colgate had just earned its 34th win of the year, a double-overtime upset of Wisconsin, undoubtedly the biggest victory in program history. As for Fargo, he was basically the same as he had been throughout his first series as the Raiders coach: calm, optimistic, respectful, appreciative for the opportunity, and believing in his team.
About 17 hours later, after what may have been the most painful loss for Colgate, he wasn't much different. Slightly subdued, to be sure. Anyone would be after being so close to seeing a championship dream realized, only to have it ripped away in overtime by a Clarkson team that has often bedeviled Fargo's squad. More than anything, he was proud.
Proud of how far his players had come, how well they had represented their university in their first opportunity in the spotlight, and how they had battled back when circumstances didn't seem to be in their favor.
Other programs also had tremendous seasons, and other coaches did great work. But Fargo pushed his team, one that he'd built, from outside the rankings before the season got underway to the second spot, despite not having any Patty Kazmaier Award finalists or All-Americans on his roster.
What Fargo had was a team that didn't panic, wasn't awed, and resolved to get better. The Raiders didn't let their lack of NCAA tournament experience limit what they could accomplish. All the while, they performed with the same commitment and passion for the game that Fargo brings to his position.
In recognition of his accomplishments, Fargo is this year's USCHO coach of the year.