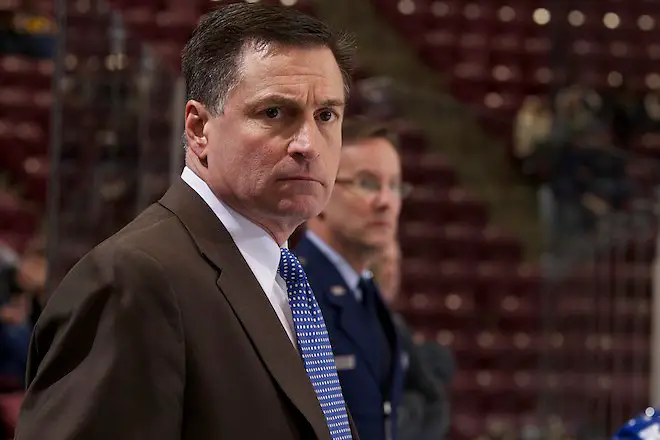 Air Force and head coach Frank Serratore have agreed to a new five-year contract through the 2022-23 season.
Serratore just completed his 21st season at Air Force and has posted an overall record of 379-335-81.
He has led the Falcons to seven Atlantic Hockey conference tournament championships, seven NCAA appearances, three NCAA Elite Eights and two AHC regular-season titles.
This past season, he led an injury-laden team to its second straight AHC tournament championship and an NCAA berth. At the NCAA West Regional, Air Force defeated the nation's No. 1 team, St. Cloud State, marking the academy's first-ever win over the overall No. 1 seed. The season ended with a 2-1 loss to eventual national champion Minnesota Duluth, but not before the Falcons won 20 games (23-15-5) for the third straight season, a new school record.
"Frank has built Air Force hockey into a nationally-recognized program both on and off the ice," said Air Force director of athletics Col. Jennifer Block in a statement. "Air Force hockey players are some of our best and brightest and we are thrilled to have Frank continue to lead our program and these young men as they become leaders or character for our Air Force."
"I will always be indebted to the academy for the opportunity they provided me with over 20 years ago," Serratore added. "I am both pleased and honored they want me to continue as their head hockey coach. I am proud of all we have accomplished and look forward to the challenge of taking the program to even greater heights."
The 2016 Atlantic Hockey Coach of the Year, Serratore owns more wins than any hockey coach in school history. He has led the Falcons to nine wins over teams ranked in the top five in the nation in the last 11 years.
Under Serratore, the Falcons have proven to be one of the best road teams and best second-half teams in the nation. Over the last two seasons, Air Force's 31 road wins are the most of any team in the nation. Over the last three seasons, Air Force's 45 wins after Jan. 1 are the second most of any team in the nation.