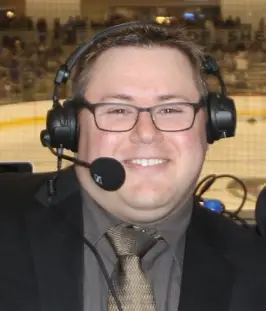 Time seems to drag by the end of summer.
There are a good share of bad golf rounds, and my neck's burned a couple of times over. The baseball pennant race is starting to thin out, and football is only in preseason mode. The lack of any real sports drama makes me itch for something new when the calendar hits the middle and end of August.
Luckily, that's right when I can ramp up my anticipation for hockey. Schedules drop left and right, and my excitement builds momentum from filling calendar dates with games. I get excited to think about who is playing where and when, and it's the time of year when "next year" starts to become "this year."
Scheduling always piqued my interest. The calendars drop around the same time every year, leading to conversations with Chris Lerch, my Atlantic Hockey cohort, about if we'll cross paths or how I'll jokingly weasel out of a trip to Rochester this year.
I'll hear from fans scattered throughout the different conferences as well, and everyone has an idea about which teams are matched up. Some like how things operate, and some want more games against particular opponents. Some want certain non-conference games while others simply go about their fandom.
There is nothing wrong to any of this, of course. That level of engagement is what makes college hockey great. It's a smaller sport with passionate supporters, and everyone can voice their own opinion. This year, though, the scheduling conversation made me wonder how exactly leagues create the system.
There are 60 Division I hockey teams in six conferences (with one independent). They somehow compile a roadmap for teams competing against one another while raising a collective profile against the other leagues. It's a mind-blowing matrix of collaboration, and I wanted to really dig to the bottom of how it's created.
So over the past month, I've talked with each conference and assorted coaches throughout the nation about how the college hockey season forms. I talked to leagues about the various opportunities and challenges they all face, and I found out how they work hand-in-hand with member teams to achieve goals.
It was one of the most educational experiences I've had in a long time. It's a complicated system, running as efficiently as humanly possible. I often called it an imperfect science, and that's exactly what it is. Each league is doing its best, and it's enabled a push forward for the game.
I hope everyone can enjoy the conversations and explanations as much as I enjoyed having them, both as a USCHO columnist and as a college hockey fan. I hope it drives some good engagement, and I hope that it starts filling the gas tank of excitement just a little bit more because the product of that schedule is just around the corner.
Stay tuned to USCHO.com in the coming days for Dan's six features on this topic.