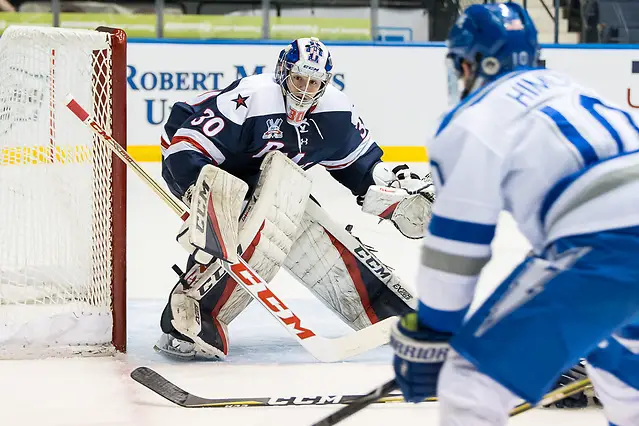 Editor's Note: This is the first of six in a series looking at each conference's schedule for the upcoming 2018-19 season.
Atlantic Hockey has always been a league based in attacking a good challenge.
It's been fighting since it formed as the Metro Atlantic Athletic Conference, and its battle for respect extends beyond on-ice play. It's adapted to the modern hockey game unlike any other era in its history, with each year clearing a hurdle placed in front of it.
"As our league continues to grow, we get a little bit better every year," RIT head coach Wayne Wilson said. "It was a little tougher in the beginning, but we're now accepted a little bit more amongst the other leagues. Our facilities have enhanced that, whether it's our rink (at the Gene Polisseni Center) or Bentley's new arena or Sacred Heart and AIC going to their new facilities.
"The growth of our league has helped everyone, and I think from a conference standpoint, the coaches and administrations of the individual schools have done a great job gaining more respect (in college hockey)."
The early days of the conference shifted more radically than the present day, and the AHC has seemingly found its foundation after its first decade. It's changed only twice since RIT and Air Force joined the league in 2006; Niagara and Robert Morris expanded the conference in 2010, with Connecticut leaving in 2014
It's a foundation allowed Atlantic Hockey to flourish and fine-tune its processes. The league has an odd number of teams, similar to other conferences like Hockey East and the Big Ten. But unlike other conferences, the AHC functions with two groups of five teams located near each other and an outlier in Air Force that's located in Colorado.
"There are two components that make scheduling very difficult," commissioner Bob Degregorio said. "The first is that we have 11 teams, and the second is that we have a 28-game schedule. With 11 teams, it's not balanced, and we have a team in Colorado, which as much as everyone loves having Air Force in the league, it's an expense into a travel budget when you have to go out there."
The geographical hurdle creates some interesting scheduling setups. The five eastern schools are separated by, at most, a four-hour bus trip, with three Massachusetts teams (AIC, Holy Cross and Bentley) located along the same corridor of highway. The five western schools are likewise close by, separated at most by a similar bus trip between RIT and Robert Morris on a stretch of highway passing by Canisius, Niagara and Mercyhurst.
The geography in between, however, is where it gets dicey. The RIT-West Point trip is only 300 miles, but a trip from Robert Morris to Bentley is double that.
"You don't want to go more than one year or two at the most without your fans seeing different teams," Wilson said. "If you don't have those teams (on the schedule), they can get lost in the shuffle from a fan perspective. You want to expose everyone to everyone else's fan base because the league is continuing to grow.
"We're in a good situation at RIT because we're the closest of the western teams to the east, so it hasn't been too much of a burden, but I know it's quite a haul for teams like Robert Morris to get to places like Bentley or Sacred Heart. So you wouldn't want to see a team like Robert Morris have to make those trips on back-to-back weekends."
The league addressed it through several different methods, adjusting until the right mode stuck. It used scheduling pods and a divisional format grouped by geography prior to Connecticut's departure. Pod teams played each other three different times with two games against teams from the opposing division. That resulted in the western teams owning the lion's share trips to Air Force, however, including RIT, which trips to Colorado every year in its first decade-plus after joining.
So after addressing some of its other needs, Atlantic Hockey was finally able to develop a system of travel to Air Force. It set up a draw where the 10 teams would play certain programs four times per year with home-and-away series against all remaining teams within a blind draw. The schedule was then extrapolated to ensure teams would limit their trips to Colorado.
"Everyone loves having Air Force in the league, but when you have to go out there every year, it's money that's in your travel budget," Degregorio said. "So we had a collegial discussion and decided that everyone needs to participate in the cycle. We tried different ideas like going into different divisions, but you have to consider the value of the entire league. In (a divisional format), the east extreme would be Army, but the western teams would still be going to Air Force (more frequently)."
"You can't predict where anybody is going to finish on any given year, especially in our league," Wilson added. "In the past, it did unbalance where we had to travel to Air Force every year, but now we have a system in place where won't have to do that. Atlantic Hockey is always so tight top to bottom that every point is going to be important. So it's important to balance the schedule from a travel standpoint, and we've addressed that as a league."
Addressing the league schedule combined with new facilities and coefficients to enable AHC teams to play more competitive non-conference games against a range of opponents. Mercyhurst will host the 2018 Ice Breaker Tournament in the same season that Canisius will host North Dakota for two games. RIT's Brick City Homecoming event has already seen the likes of Michigan and Boston College, and it will host Colgate in its annual game this year at Blue Cross Arena.
Bentley, with the newest arena in the league, is hosting four home games against Hockey East and ECAC opponents, including Harvard and UMass-Lowell. Sacred Heart opens its season by hosting Northeastern and Providence while AIC will host both Massachusetts and Quinnipiac. Both AIC and RIT will use unbalanced schedule bye weeks to play Arizona State.
"We try to do our scheduling three years in advance, and it gives us a chance to help out some schools around our area," Wilson said of RIT. "Schools like St. Lawrence, Clarkson, Union and RPI need 12 non-conference games. So we try to put those schools in with some Hockey East and Big Ten schools. We try to switch it around, but it's also very difficult to get up to the Upper Peninsula (of Michigan) during certain times of the year."
"We're in the driver's seat because we have a 28-game schedule," Degregorio said. "There are plenty of non-league games there (to schedule). Our teams only have to fill six non-league games, even though it's easier for some than it is for others for a number of different reasons."
Atlantic Hockey's undeniable growth is the result of its initiatives for facilities and scholarships. But the league's success, which ultimately ends with regular at-large bids to the NCAA tournament, now enters its next frontier. Able to schedule more teams at home, the league can take another step towards winning those games with more regularity, a necessity to move into the deep end of the college hockey pool
"There's a camaraderie among the coaches in the league because we're fighting the same fight dating back 10 years to get better schedules and to prove the league," Wilson said. "We've grown this together and it's a special bond amongst the programs for what we've accomplished in a small amount of time."