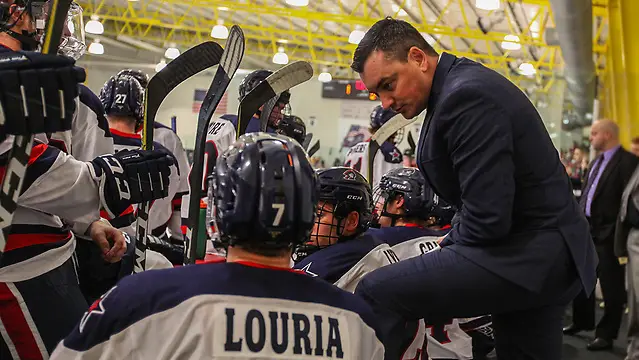 Robert Morris announced Thursday that Kody Van Rentergem has been promoted to associate head coach for the Colonials' men's team.
Van Rentergem is entering his seventh overall season with RMU, after serving the last three years as an assistant coach.
"I'm really happy to announce Kody as our associate head coach," Robert Morris head coach Derek Schooley said in a statement. "He and I have been working together at the collegiate level for six years and have had a tremendous amount of success while sharing the same goals for Colonials hockey. Kody is an outstanding communicator, very good teacher and is a great asset to our program. This is a well-deserved promotion for him and I look forward to continuing the standard of excellence we have established together already."
"I would like to thank Dr. Coleman and the athletic department, as well as Coach Schooley and the rest of our staff for allowing me this opportunity," Van Rentergem added. "I'm really excited to continue to work with this group and hopefully continue to achieve our goals. This is a very exciting time for the program and I think we're all looking forward to the upcoming season."
Van Rentergem's duties include recruiting, power-play optimization, and coaches the Colonials goaltenders. Prior to his September 2015 promotion to assistant coach, he served as hockey operations coordinator for three years.
While running point on the Colonials power-play systems the last three seasons, Van Rentergem has elevated RMU to one of the top teams in the nation on the man advantage. Robert Morris led the nation in power-play goals in 2015-16 with 49, ranked third in power-play percentage with a .283 mark. RMU has ranked in the top ten in power-play percentage in two of the last three seasons, scoring 129 power-play goals with a .234 percentage in that span.
Van Rentergem came to Robert Morris after serving as a team assistant at Fredonia. In his time there, he served as the goaltending coach after playing three seasons as a goaltender.