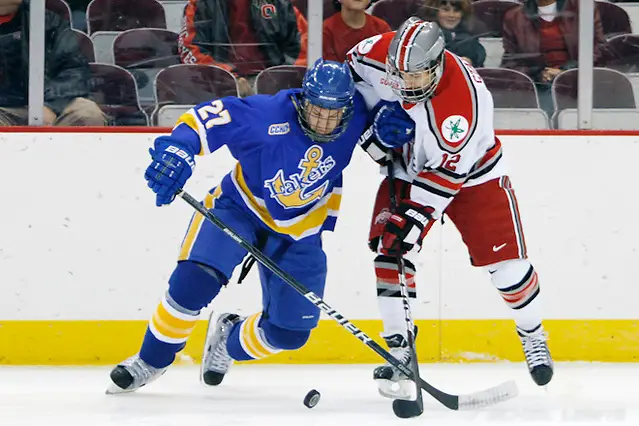 Alaska Anchorage has announced that Matt Bruneteau has joined the program as an assistant coach.
Bruneteau joins the Seawolves after spending the last two seasons as an assistant coach at Stevenson.
"As an inaugural player of the new WCHA, Matt understands the competitiveness of our league and the challenges that are associated with playing in it," said UAA head coach Matt Curley in a statement. "As a former captain, he brings a sense of leadership and dedication to our program along with the work ethic and responsibility that comes with that position. Fresh off of helping build a successful program from the ground up, I am confident that he will help in our rebuild here at UAA. We are thrilled to be adding Matt to our staff."
Bruneteau appeared in 146 games as a defenseman at Lake Superior State (2010-14) and served as captain of the Lakers. He earned the LSSU Jim Howie Unsung Hero Award three times and was a finalist for the Derek Hines Unsung Hero Award.
"I would like to thank Matt Curley and the rest of the athletic staff for giving me the opportunity to become a part of the UAA community," added Bruneteau. "After talking with Matt about the direction of the program, I am extremely excited to help aid in moving the program in the right direction."
Bruneteau played professionally for the Fort Wayne Komets and Greenville Road Warriors of the ECHL and spent two seasons with the Strasbourg Etoile Noire in Ligue Magnus.