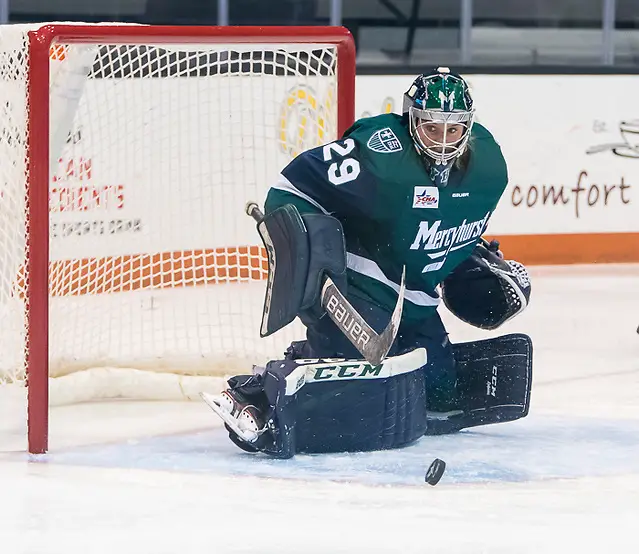 This is a conference that was dominated by Mercyhurst until Robert Morris won the past two regular season titles. The Lakers won the CHA tournament last season, however, and finished just two points behind RMU. Mercyhurst looks to be the team to beat again this season, with a strong, experienced team that did not lose much to graduation. The middle of the conference looks to be much stronger, as well. On paper, there doesn't appear to be much separating Robert Morris, Syracuse, and Penn State, and there's room for Lindenwood to insert themselves in that conversation as well.
It should be a very competitive season in the CHA in 2018-19, and that top spot — as well as the conference's auto-bid to the NCAA tournament — could be up for grabs.
Lindenwood
Last season: 10-20-1, 8-12-0 (fifth). Lost to Penn State in the opening round of the CHA tournament.
Names to know
The Lions are returning their top five scorers from last season. Taylor Girard was the only player to tally more than 20 points; she had 13 goals and 11 assists. Nikki Friesen from Harvard and Nicole Guagliardo from Mercyhurst are transfers that could make a big impact. Junior Erin Near led the Lions with 56 blocks last season.
Three questions
1. Can they take the next step? Last year, the story was more than a dozen underclassmen, so this year, with just two new players, can the Lions use that experience to move up?
2. Can the team support deBruyn? Goalie Jolene deBruyn was pretty great for Lindenwood last season, with a 0.926 save percentage, but the team gave up nearly three goals per game and scored just 1.97 goals per game.
3. Can they win on the road? Lindenwood closes the season with just one home series in February and was 4-10-0 on the road last year. If they want to make advances in the CHA tournament, they have to finish strong.
Crystal Ball
Until we see some game play, I have to put Lindenwood at fifth. I think there's room for them to make a move higher up in the standings, but they have to play more consistently than they have in the past.
Mercyhurst
Last season: 18-15-4, 13-4-3 (second). Won the CHA tournament. Lost to Clarkson in the first round of the NCAA tournament.
Names to know
The Lakers graduated just three players from last year's CHA-tournament-winning team. Maggie Knott is a 5-foot-11 junior who led the team with 29 points on 12 goals and 17 assists and was named second-team All-CHA. Coach Mike Sisti is just two wins behind Harvard's Katey Stone for the all-time coaching win record. Stone currently has 464 wins and Sisti has 462.
"As always, we will try to grow as team and improve throughout the season and strive to achieve as much as possible this year. We have accomplished many things over the years with dedicated staff members and players, so we hope this can be another successful season," said Sisti.
Three questions
1. Can they beat the big names? Mercyhurst has one of the most difficult nonconference schedules this year, facing Minnesota, Wisconsin, Ohio State, Cornell, and Colgate.
2. How will Blair handle the full-time starting job? Last year, Kennedy Blair basically split time with senior Sarah McDonnell. It's assumed Blair will be the starter this season — she was seventh in the country with a 1.57 goals-against average and eighth with a 0.934 save percentage.
3. Can they win the conference regular season title? Robert Morris has won the last two regular titles, and Mercyhurst was just two points behind.
Crystal Ball
Mercyhurst is the favorite this season with a strong roster and a hunger to get back to the top of the conference. I expect the Lakers to take the CHA crown, but they have to do well in their nonconference games if they want to advance beyond the first round of the NCAA tournament.
Penn State
Last season: 10-15-11, 6-7-7 (fourth). Lost to Robert Morris in the semifinals of the CHA tournament.
Names to know
Sophomore Natalie Heising was second in the conference with 19 goals and led the CHA with 10 power-play goals. She was named 2017-18 CHA Rookie of the Year and to the 2017-18 All-CHA Second Team. Goalie Jenna Brenneman is transferring from Clarkson. Jessica Adolfsson has been a member of the Swedish National Team since 2016.
Three questions
1. What's the goalie situation? Chantal Burke had just 70 minutes of game play last season. Brenneman did not see much time on the ice at Clarkson. Cam Leonard redshirted last season. It would appear the goalie race is wide open in Happy Valley.
2. Can they win the close games? They played 15 overtime games last season and won just one of them. Penn State needs to find whatever it is that can help them close out those games.
3. Can they finish strong? Last season, they struggled after the holiday break. The final few weeks were strong, but overall they were 5-7-3
Crystal Ball
No one quite knows what to make of Penn State. In the preseason coaches' poll, they received votes for every spot from second to sixth. There's a lot of potential in Happy Valley, but no one is quite sure how that will play out. For now, I expect a middle of the pack finish, but could see them playing spoiler late in the season. I have them finishing third.
RIT
Last season: 4-28-3, 1-19-0 (sixth). Lost to Syracuse in the first round of the CHA tournament.
Names to know
New coach Chad Davis comes from D-III Adrian, which he led to three consecutive berths in the NCAA Division III Championship, including national runner-up honors in 2016-17. Freshman McKinley Karpa led all Massachusetts High School players in scoring with 73 points on 37 goals and 36 assists. Fellow rookie Madison Itagaki was the 2017 Illinois High School Player of the Year.
Three questions
1. Will the experience make a difference? RIT graduated just two seniors, so this squad comes back with games under their belt and an understanding of what they need to do.
2. Who's going to score? The Tigers were last in Division 1 with just 1.20 goals scored per game.
3. Can they win on the road? RIT has just five home games after the winter break. It's going to be a tough enough season on its own, so they have to find a way to steal some road wins and build on that.
Crystal Ball
At the moment, I have RIT finishing sixth, but there's a lot of young talent here and a refresh with the new coach. Change won't be immediate, but I've got high hopes for the Tigers.
Robert Morris
Last season: 21-8-4, 14-3-3 (first). Lost to Mercyhurst in the CHA tournament final.
Names to know
The Colonials graduated seven seniors, including the program's all-time top scorer, CHA Player of the Year and Patty Kazmaier Top Ten Finalist Brittany Howard. Rookie Courtney Kollman won silver with Canada at the 2018 IIHF U-18 Women's World Championships. Sophomore Emily Curlett was on the CHA All-Rookie team last season and set an RMU record for most goals by a rookie defender (nine). She finished second among all freshmen in the country 70 blocked shots.
Three questions
1. Can the Colonials be solid in net? Lauren Bailey has played a handful of games in each of her first three seasons. Molly Singewald played in one game last season, and Arielle Desmet is a rookie. Robert Morris looks much different this season than we've seen in recent years, and they'll need solid goaltending to anchor them year.
2. Will they return to the tournament? Robert Morris eked out the regular season title with a two-point lead, but Mercyhurst topped them in the CHA tournament to earn the NCAA auto-bid.
3. Can they be better on the penalty kill? The Colonials were 25th in the country with a 83.10 percent penalty kill. They were also sixth in the country in penalty minutes, with more than 10 minutes per game. They need to find the discipline to clean up both those stats.
Crystal Ball
It was a great past few years for the Colonials, but I'm not sure they can top the Lakers this season. It's clear that being a contender for the top spot has become standard at Robert Morris, which is huge, but I think they finish second this year.
Syracuse
Last season: 13-21-2, 11-8-1 (third). Lost to Mercyhurst in the CHA tournament semifinals.
Names to know
The Orange return 13 upperclassmen this season. There are six forwards on the Orange roster that are 5-foot-9 or taller. Anonda Hoppner transferred from Colgate and brings her 5-fot-10 frame to help lead that outsized scoring corps.
Three questions
1. Can they stay out of the penalty box? Syracuse tied with Mercyhurst for second in the country with near 11 penalty minutes per game. They had a fairly strong penalty kill, but would do themselves some favors by not having to play down a skater for that much of each game.
2. Can they start strong? The Orange start the season with a game against Boston College followed by a series against Mercyhurst and have games against Cornell and Clarkson before Halloween. It's a tough stretch by any measure.
3. Who else is going to score? Stephanie Grossi can't do it on her own, but she took almost twice the shots as the other double-digit scorers on the team last season. Defense is definitely Syracuse's strong suit, but they need to find more goals to really move ahead.
Crystal Ball
Syracuse is a team that has a lot of promise, and they need to deliver. There is a chance for them to step up, and I could see them finishing second with a strong push toward the end of the season, but the likelihood is we'll see them vying for third with Penn State. At the moment, I'll pick them fourth.