The Minnesota Duluth Bulldogs and all their rowdy friends will be there on Saturday night when the 2017-18 national championship banner is raised at AMSOIL Arena in downtown Duluth.
And who better for the Bulldogs and their fans to share the experience with than the Minnesota Gophers?
The truth is, the Bulldogs have grown accustomed to enjoying in-your-face moments when it comes to their most avid rivals, and while they are enjoying the highest of highs the Gophers find themselves in need of a reboot. The self-proclaimed "State of Hockey" hasn't experienced anything like it for quite some time.
The Gophers enter Saturday night's non-conference game, the first of a home-and-home series, having beaten the Bulldogs only once in the past 11 meetings (1-9-1). It contributed to growing unrest around the Gophers program, which culminated with Don Lucia resigning as coach after 19 seasons.
In comes Bob Motzko, a former Gophers assistant under Lucia who spent the past 13 seasons at nearby St. Cloud State as head coach.
"We've got work to do," Motzko said in regard to the Gophers' losing ways against their so-called little brother. "The one thing about a rivalry is that it means that both sides are capable of winning. If not, it's not a rivalry. We have too many rivalries right now. This region has a lot of good programs."
The Gophers finished fifth in the Big Ten last season and failed to qualify for the NCAA Tournament for the second time in three years. At the March press conference announcing Lucia's departure, Minnesota athletic director Mark Coyle said that he and Lucia "had agreed that it was time for someone else to lead the program."
Motzko had earned praise for the job he did at St. Cloud State, and he gained international prominence when he guided the U.S. junior team to the World Junior Championships last season.
The Gophers' recent downturn doesn't change the fact that Minnesota is one of the premier coaching jobs in college hockey, and for Motzko, a Minnesota native, it is at the top of the list. He addressed the high expectations that come with coaching the Gophers at his initial press conference and vowed to work hard to make Gophers fans proud.
Meanwhile, Minnesota Duluth coach Scott Sandelin reacted to the upheaval with the equivalent of a yawn. Asked recently about his take on the coaching change at Minnesota, Sandelin said, "I didn't really care. They're the enemy."
It had to be music to Bulldogs fans' ears. UMD is ranked No. 1 in the preseason USCHO.com poll, and figure to remain in the mix for a national title throughout the season. The Gophers are seen as another middle-of-the-back team in the Big Ten by most prognosticators.
"The cupboard's not bare," Motzko said. "We have strong upper-class goaltending, and we need that history to play out. And I like our forward depth. The question is on defense, where we are inexperienced."
While AMSOIL Arena is sure to be sold out and as raucous as has come to be expected, the Gophers are not expected to have the same kind of home-ice advantage on Sunday night at Mariucci Arena. Dwindling attendance and a general sense of apathy has best the program of late, something that has coincided with the creation of the Big Ten hockey conference. Minnesota fans miss the WCHA, with its in-state rivalries with UMD, St. Cloud State and Minnesota Mankato, and the border battles with North Dakota.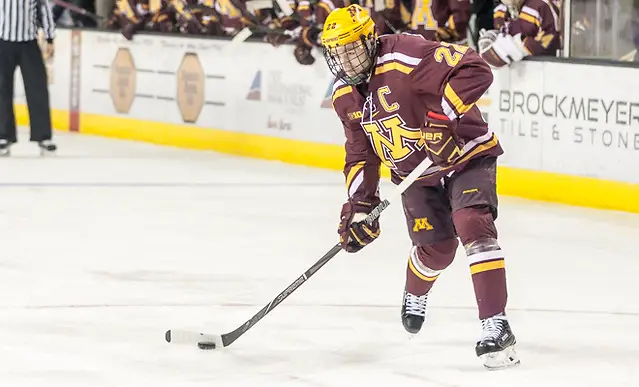 Part of Motzko's responsibilities is to once again make Gophers hockey a tough ticket in Minneapolis.
"It's been six years since what I call the breakup of college hockey," Motzko said. "There was a lot of negativity coming Minnesota's way, not only in the region but nationally, for being the reason for it. I was among the people throwing bullets from the other side (while at St. Cloud State).
"It was a tough breakup, but the scabs are starting to heal. Three Big Ten teams played in the Frozen Four last season. [Every conference] is on solid ground now."
Winning will certainly help get more people in the stands, and Motzko has a track record that suggests he will make it happen. In many ways he will follow the blueprint used at St. Cloud State.
"We want to be a tenacious team," Motzko said. "Find the puck and hold onto it. Our battle level is going to be high. The talent will feed off the battle level. But there will be a lot of similarities, too. The transition game will still be key, and we have players who can make plays."
Recruiting will be another area that bears watching. Brett Larson, Motzko's replacement at St. Cloud State, spent the past three seasons as a Minnesota Duluth. He also played for the Bulldogs, so he knows what the Gophers have been all about as a program.
"At Duluth we very rarely were fighting Minnesota for a recruit," Larson said. "They tended to go out and pick their guys and we battled with a lot of other schools. We kind if went after the kids that were passed over a little bit. Kids that maybe haven't been told how great they are and have had to work to continue to develop.
"And I think there's a little bit of that blue collar attitude at Duluth — and St. Cloud — that put those programs where they are. It will be interesting because [Motzko] will always have the pressure to take the best guys. It will be interesting to see if he can (take more blue collar players) there."
When asked if his approach to recruiting will be different than that of Lucia, Motzko made reference to the increase in early recruiting, with kids committing in some cases before they are old enough to drive. The so-called cream of the crop gets scooped up fast, and that has been a key component to Gophers recruiting. That won't change — at least no completely.
"There has to be room for the developing player," Motzko said. "The guy who has paid his dues and works his tail off to become a good player."
Minnesota Duluth will line up a lot of those types of players on Saturday night when the championship banner is raised.