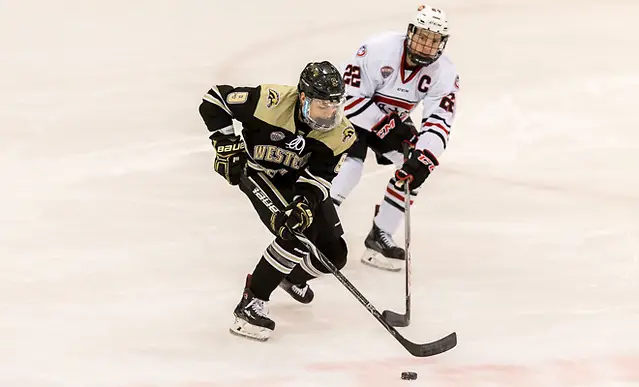 It's finally here – opening weekend for men's Division I hockey.
Each week, USCHO.com columnists will pick the winners of that weekend's games in their respective conferences.
Atlantic Hockey
Saturday, Oct. 6
Bowling Green at Mercyhurst – The Lakers are hosting the Icebreaker Tournament next weekend but really break the ice against Bowling Green. Mercyhurst lost a ton of offense and may need some time to get things rolling. Bowling Green wins.
Army West Point at Union – The all-time series between the schools is knotted at 16-16-2, with Army West Point's last win coming in the 1992-93 season. I think the Black Knights will have to wait at least another year. Union wins.
AIC at Providence – The Yellow Jackets are coming off their best finish ever in Atlantic Hockey, but I think the fifth-ranked Friars will prevail on home ice.
— Chris Lerch
Big Ten
Minnesota at/vs Minnesota Duluth (Saturday, Sunday) – Games that happen right after a team raises a championship banner can be tricky. The team being honored can be pumped up and come out of the gates quick or the opponent can get annoyed and look to quiet the crowd as soon as possible. I'll take Minnesota Duluth to win on Saturday and Minnesota on Sunday in a close game.
Vermont at Michigan – Anything can happen, but it's hard to predict that a team picked to finish near the bottom of Hockey East will snag an early-season road win against a team coming off of a Frozen Four appearance. I'll take Michigan.
— Drew Claussen
ECAC Hockey
Saturday, Oct. 6
Army at Union – The Dutchmen will face the Black Knights who have some solid players returning to West Point. Union should have the edge in the crease and I think that will be the difference. Union wins.
— Nathan Fournier
Hockey East
Saturday, Oct. 6
American International at Providence – Non-league struggle for Hockey East aside, the Friars should prevail. Providence wins.
Lake Superior at Merrimack – Ironic for Scott Borek to face his old team in game one, but I like the Warriors. Merrimack wins.
Vermont at Michigan – I'd love to pull for an upset here, but Michigan is still a strong team. Michigan wins.
Sunday, Oct. 7
Lake Superior at Merrimack – It would be a good showing for Borek to get two wins out of the gate. Merrimack wins.
— Jim Connelly
NCHC
Minnesota vs. Minnesota Duluth (Saturday, Sunday) – This is always a marquee matchup, and there are some interesting substories here as well. Last year, the Bulldogs edged the Gophers by the slimmest of margins to qualify for the NCAA tournament. They then went on to win the NCAA tournament before a home crowd in St. Paul. In addition to that motivation for Minnesota, the Bulldogs have owned the rivalry of late, going 9-1-1 in their last 11 games daying back to 2013-14, including beating the Gophers in the NCAA tournament in 2015. Minnesota hasn't beaten Minnesota Duluth since Oct. 10, 2014. The Bulldogs also return perhaps the best defense in college hockey; they will be tough to score against. Picking against the Bulldogs has gotten me burned before, so I'll pick the Bulldogs to sweep, though it won't be easy. Minnesota Duluth 3-2, 3-2
Colorado College at Alaska Anchorage (Saturday, Sunday)  – Frankly, I'm higher on the Tigers than the coaches and some of my fellow media. I think they've got a devastatingly tough first line and an excellent goaltender. If the defense can improve, CC will be a tough out. I like the Tigers to sweep this one. Colorado College 3-2, 4-2
Alabama Huntsville at Miami (Saturday, Sunday) – The RedHawks have struggled in the NCHC of late, finishing last and seventh the last two years, and they lost Kiefer Sherwood to the pro ranks and Carson Meyer to in-state rival Ohio State. However, much of the rest of the team is back, and the team has seemed to be focused on wanting to improve their standing. I like the RedHawks to sweep. Miami 4-2, 3-2
Tuesday, Oct. 9
Bowling Green at Western Michigan – I got grief for picking the Broncos sixth in my preseason picks. I had to put them somewhere, but I felt like most of the other teams were a bit more solid coming in. Looking back on it, maybe I should have had them ahead of Denver. That's neither here nor there at this point. These two teams will play again in two weeks at Bowling Green. The Broncos swept two last year, and I expect them to again. Western Michigan 4-2
— Candace Horgan
WCHA
Bowling Green at Mercyhurst (Saturday) – A one-off game in Erie, Pa., sees Bowling Green take on the defending champs of Atlantic Hockey. This should be an entertaining matchup — Bowling Green lost virtually nobody from last season while the Lakers are without their top goalie. I think the Falcons take this one.
Lake Superior State at Merrimack (Saturday, Sunday) – It's always hard to judge how these early-season nonconference matchups are going to go, so this especially is something of a crapshoot. The Lakers have all three goalies back and five of their seven main defensemen. Merrimack seems to have lost a lot — including their top four scorers. I think the Lakers are actually going to get the road sweep here.
Alabama Huntsville at Miami (Saturday, Sunday) – Like last season, Alabama Huntsville opens on the road. But unlike last season, UAH doesn't have to play a top-ranked team on the road. Miami presents a challenge, sure, but I think the Chargers have enough to get a split. Miami wins Saturday before UAH wins Sunday.
Alaska at Arizona State (Saturday, Sunday) – New coach Erik Largen and the Nanooks get a trip to Arizona State to kick things off. It's a very reasonable first series for a team filled with a bunch of youngsters. I think the Sun Devils win Saturday and the Nanooks get one Sunday.
Colorado College at Alaska Anchorage (Saturday, Sunday) – Matt Curley has a lot of work to do to get the Seawolves back to the top of the standings but being at home for this first series as head coach is a nice advantage. This one feels like a split to me. Seawolves win Saturday, Tigers win Sunday.
— Jack Hittinger