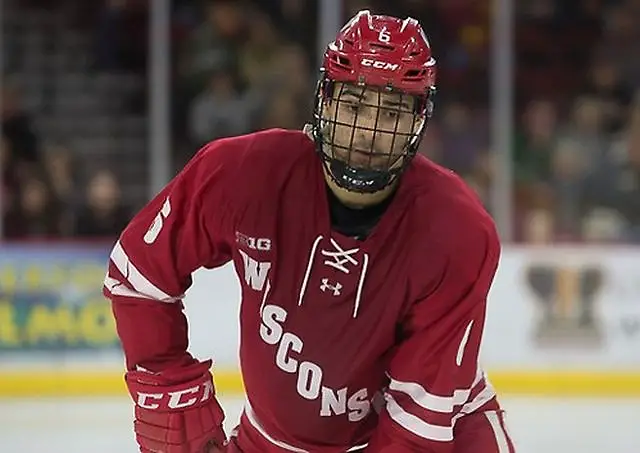 Senior defenseman Peter Tischke has been through quite a bit during his tenure at Wisconsin.
His freshman year was an eight-win season that ended with the departure of Mike Eaves.
Sophomore year, with Tony Granato at the helm, the Badgers rebounded by going 20-15-1 and were one goal away from making the NCAA tournament.
Last season, Wisconsin regressed and finished sixth in the conference.
So, as a player who has seen many ebbs and flows during his collegiate career, Tischke isn't going to hang his hat on the Badgers' 4-2 start to this season.
"We have had a good start," he said. "But we could have had a better start because both Friday games these past two weekends, I don't think we came out prepared and I don't think we had the work ethic that we usually do.
"I'm excited to see where this group continues to grow. These next two weeks will be a big test for us, but they should be exciting to see where we stand."
One of those tests is a road trip to North Dakota to play the Fighting Hawks this weekend.
"They usually have a lot of skill, skilled forwards and skilled defensemen," Tischke said of UND. "They work really hard and obviously, their fans get really into it. It's a packed barn every night; it's an unreal college experience. I'm excited to have everyone else who hasn't got to play there get to play there and experience that."
The "everyone else" that the senior captain is referring to are the nine freshmen and seven sophomores that weren't with the team the last time it made the trek to UND in 2015. While having that much youth on the team could be perceived as a dicey situation heading into the season, Tischke has been impressed with the freshmen through six games.
"They've all done really well, I think they've all exceeded our expectations," he said. "They've contributed in their own way and are bringing new energy to the team, which gives us energy. Overall, it's just a great atmosphere here."
As a captain, Tischke said he prefers to lead by example and that the whole team helps out with helping players transition to the college game and lifestyle.
"I'm not the most vocal guy so I tend to try and lead by example," he said. "We have a bunch of great leaders in the locker room, so everyone's just showing (the freshmen) the ropes and showing them what it's like to be a college hockey player and what it's like to go to a big school like Wisconsin."
Tischke said that the team actually started to come together well before the season started.
"I think that right as we started summer workouts the team started gelling there," he said. "We have a really tight-knit group of guys and we're all brothers and we all love each other and love being around each other so it's really fun playing here."
As is to be expected with the amount of youth on the roster, Tischke is the old man out of the group of blue liners. The Badgers typical three lines of defensemen this season have consisted of him, sophomores Wyatt Kalynuk, Tyler Inamoto and Josh Ess and freshmen K'Andre Miller and Ty Emberson.
Tischke said that the group has put in extra work to make sure they gel early this season.
"We go out probably once or twice a week before practice with (associate head coach) Mark Osiecki and work on the basic fundamentals like puck retrievals, making the first pass and all that stuff," he said. "I think that we've all come together as a group and really gotten comfortable playing with each other no matter who's with who. I think that our defensive corps has really grown throughout the year and I think that we're strong back there."
Tischke has been partnered with Miller and Ess in games this season.
"I love playing with both of those guys," he said. "They're both versatile and they both bring a lot of offense and high skill, so it's fun playing with them and it's good to play with different people."
Adding offense to his own game has been a point of emphasis for the Hinsdale, Ill., native. Through six games, he has yet to find the back of the net, but is averaging two shots per contest. He averaged around a shot and a half per game last year and one during his sophomore year.
"I've been trying to get my shots through more," Tischke said. "I've worked a lot during the offseason on my shots, just not getting it blocked and getting it through to the net and letting our forwards do the work down low. That's been kind of an emphasis."
Another emphasis has been to avoid complacency, which Tischke mentioned multiple times. That was a lesson learned during the past three seasons of ups and downs.
"I learned to never get complacent with yourself or with the team because that can really come back and hurt you," Tischke said. "Once you get complacent, then other guys start catching up to you because there's always someone out there that's working just as hard, or harder, than you.
"So you have to make sure that you're working harder than them so they don't steal your spot."