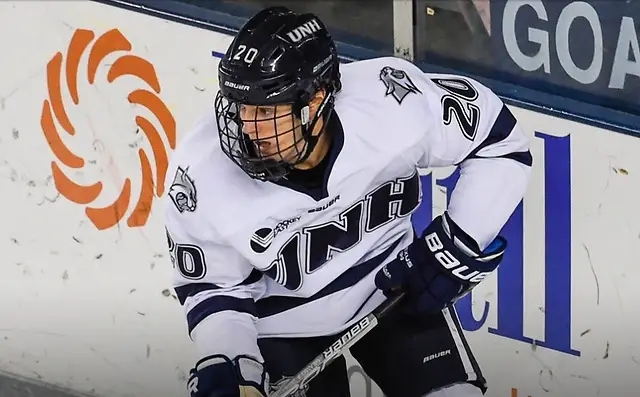 When Benton Maass buried a perfect feed from Charlie Kelleher in overtime last Saturday night, giving New Hampshire a 3-2 come-from-behind victory over Vermont, it marked the first win for Mike Souza, who took over as head coach this season after the retirement of veteran bench boss Dick Umile.
Souza calmly shook the hands of his assistant, and most likely let out a sigh of relief.
That sigh, though, wasn't to get win No. 1 behind him as much as it was to get in the win column for his players.
You see, wins haven't been easy to come by for the Wildcats.
A 4-3 loss to Army West Point on Dec. 6, 2017, started a skid for UNH. Between that time and last Saturday, the Wildcats had mustered just a single win, a 3-1 victory over Massachusetts on Feb. 3.
In other words, the last 11 months have been trying times for UNH.
"[Losing] starts to wear on you," said Souza, who had served as an associate head coach on Umile's staff last year and was all too familiar with the struggles. "It's certainly not from a lack of effort on the kids' part or the coaches' part. It just is what it is."
This season, wins have felt attainable. Though sitting a 1-3-1, UNH has never lost by more than a goal this season, pushing Colgate to back-to-back 2-1 losses on the road to start the year before earning a 3-3 tie and suffering a 4-3 loss at Colorado College.
That gives Souza and his team a sense of hope.
And Saturday, after giving up two early goals to Vermont, the Wildcats scored twice in the third to force overtime before getting the overtime victory.
That, said Souza, can be a confidence builder.
"If you look at our third-period scoring this year, while it's exciting and we've shown a ton of resiliency and resolve, we've had a never-say-die attitude," said Souza, whose team has outscored opponents 7-4 in the third period and overtime thus far, but always have been coming from a deficit. "I told the guys it would be nice to start out with a couple of goals one night."
The first period has pretty much been the death of the Wildcats this season, being outscored 8-2 in the opening frame and outshot 60-40. From that point on in every game, UNH has held the advantage in both categories, which makes one wonder what this team has to do to get out to a quicker start.
For Souza, even that is a difficult question, as he feels in many games his team has played well out of the gate but still seems to fall behind.
"Sometime I think [getting a faster start] is just hockey speak," said Souza. "I know out in Colorado College, we took two penalties early in the game. So you're never into a rhythm.
"The ebbs and the flows of the game can contribute to how you start. It's hard to pinpoint it. We just try to talk about it at practice. We try to make sure guys are dialed in and focused from the very first drill we do. I think that carries over.
"Some guys it's coming up with one or two things you need to do. Whether it's get a hit, get a blocked shot.
"I think it has more to do with the ebbs and the flows, whether there's icings or what have you. We haven't been awful [out of the gate], but we haven't scored first either."
If there has been one strong positive early on in the season it is the back end – defense and goaltending. Through five games, UNH has allowed just 13 goals, with four of those coming in a 4-3 loss to Colorado College. Sophomore goaltender Mike Robinson's numbers have been strong with a 2.07 GAA and a .927 save percentage.
Add to that the play of the UNH defense, particularly junior Andrew Wyse, and Souza feels his back end is a very strong element of this team.
"[Wyse] is not a guy who is going to show up on the scoresheet every night, but he leads our team in ice time every night," said Souza. "He's really stepped his game up early on in the year here."
If UNH wants to find out where they are in Hockey East, this weekend's series against upstart Massachusetts may be their best early test.
The Minutemen are off to a 5-1-0 start and have shown a significant increase in overall team speed, something that will likely be on display on the Whittemore Center's Olympic-sized ice sheet this Friday night.
"I think every program is starting to get their play faster and play with pace, and [UMass] does a great job of that," said Souza. "A lot of their pace and a lot of their offense starts at the back with those two players that have in Cale [Makar] and [Mario] Ferraro. They're two special players.
"Greg [Carvel] is a great coach with a long track record. They've got some guys who get your attention. Our guys have to be aware when they're on the ice.
As you hear so often from coaches, Friday's game may come down to doing the little things right.
"They play fast, they play hard. They're detailed," Souza said. "They've got a really good group.
"It's no surprise to me that they're off to the start they're off to."