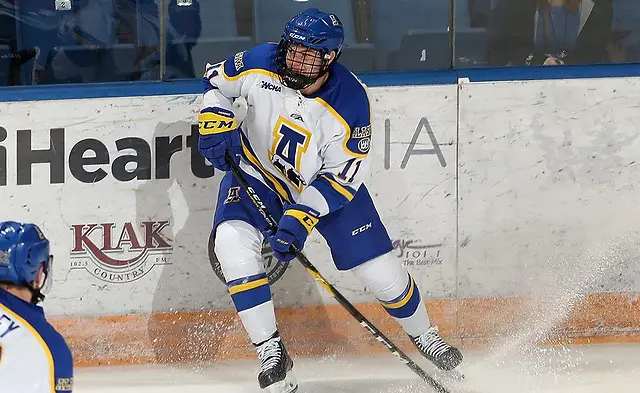 CrossFit Prince George, a gym in British Columbia, has strength programs that cater specifically to hockey players.
For the past few off-seasons, the Jandric brothers of the Alaska Nanooks have spent time there, working with trainer Rachel Denshaw to improve both their strength and agility and prepare for upcoming seasons.
While the Nanooks are off to a tough 0-7-1 start (0-7-1, 0-2-0 WCHA), a bright spot has been freshman Chris Jandric, the younger brother of sophomore Steven Jandric.
Chris has burst onto the scene as a standout defenseman. Entering last week's bye, he had the third-most points among blueliners in the WCHA, with five assists. He said he owes a lot of his early-season success to his work with Denshaw in the CrossFit gym.
"We started trying out CrossFit a couple of years ago," he said. "They've been awesome to us, and they've really helped us improve our strength.
"Rachel breaks it all down for us to make it more hockey specific. There's more weight training, and I need to gain weight to play college hockey. My brother has done the same thing. You can call it CrossFit, but Rachel has customized it just for us hockey players. It's been pretty great."
A typical training week for the Jandrics has them making three or four trips to the gym, doing on-ice work three or four times per day with 10 local buddies and then spending the weekends at the lake.
"You can tell it's helped a lot," UAF coach Erik Largen said. "(Chris) knew what expect coming in, and that's given him some comfortability to allow him to be eased into the program. Steven has done a nice job preparing him in the off-season for college hockey. Chris really has the pace and the feeling of comfortability down."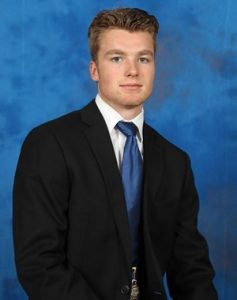 Chris Jandric is no stranger to working hard either. Largen noticed that when he recruited Chris to be one of the crown jewels of an impressive nine-member freshmen class. In 2017-18 alone, Chris registered four goals and 26 assists for a career-high 30 points for the Vernon Vipers in the BCHL. He tacked on five assists in 10 postseason games, too. He had just 21 points (19 assists) with the Vipers the previous season.
Part of that success comes from his determination to get better. The other part comes from trying to keep up with Steven, who is a year older, so every other year, the two have played for the same youth and junior teams. But the odd years when the two are separated, Chris is working to ensure he belongs alongside his brother the next season.
"We've always had the same goals, even when we were in juniors," Chris said. "We've played every second year together, and to see how far we've come along together, it's awesome. He's been showing me the way throughout my life, always telling me what's next for me during the off-season and helping me slide right through to the next team."
Steven was the only Nanook to make the WCHA's All-Rookie Team in 2017-18, so Chris said his main individual goal is to ensure he can replicate what his older brother did as a freshman.
"Just takes working hard in practice and showing the coach that even though you're a freshman, you don't look out of place out there," Chris said. "From Year 1 to Year 4, you just got to keep improving. Just like my brother is doing."
UAF has played a challenging schedule already, with games against St. Cloud State, Denver and Minnesota State. To turn things around and get its first win, Chris Jandric said he and his teammates just need to keep working hard. The Nanooks hope to get in the win column when they visit Lake Superior State for a WCHA series this weekend.
Largen said he's not worried about Chris' work ethic. The freshman has already started to prove himself.
"I think he's come in and done a nice job of working hard every single day," the first-year coach. "He didn't demand anything off the bat. He had a good attitude and was very competitive for us. He's earned it more and more.
"He's had a lot of success, moving pucks and defending well. It's nice to see him get some recognition."
And to think, a lot of Chris' college success started, in all places, a CrossFit gym.
Editor's note: This feature is not an endorsement for CrossFit Prince George.