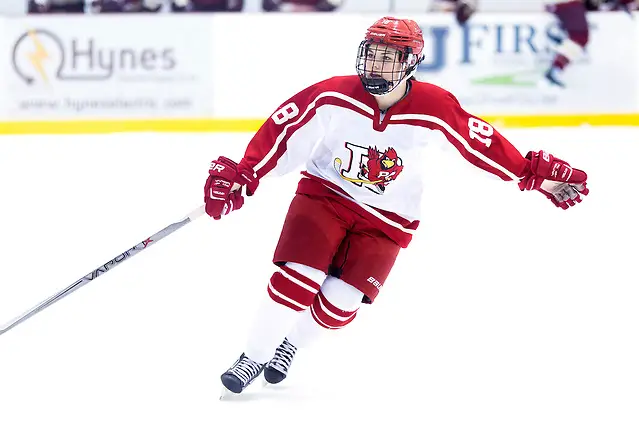 The Northeast Women's Hockey League is entering its second season. The reigning conference champion, Plattsburgh State, went undefeated in the NEWHL's inaugural season. Next year this conference should be more competitive with the addition of Morrisville State and SUNY Canton. For now, Plattsburgh has the NEWHL on lockdown.
The Favorite
Plattsburgh State is the favorite with most notable returning players being Courtney Moriarty and Hannah Kiraly. Both women earned All-American honors and led their team to another NCAA tournament. Moriarty, entering her senior year, will be the Cardinals' go-to player. Out of her 30 goals last season, 14 were game-winners. The Cardinals senior goalie, Kassi Abbott, returns to lead from the net. After playing a season high 17 games last year, Abbott should be expected to play more this year as well as mentor freshman goalie Ashley Davis. Expect Plattsburgh to come back strong this year.
The Dark Horse
Oswego is slowly becoming a strong program and had many close games last year. Returning two seniors and five juniors, this team is young and has potential to make a mark in the league. All-conference first team recipient Kate Randazzo enters her junior season, and the expectations for this defenseman will increase. Randazzo led the defense on her team in goals and led the team in plus/minus with a plus-14. The Lakers have no shortage of goalies with two freshmen, one junior, and one senior. Transfer goalie Rachel Farmer has the most collegiate experience; however, the depth in the roster will not make the position easy to earn. Oswego is the only team to tie Plattsburgh last year, so don't be surprised if they upset the Cardinals.
USCHO Predicted Order of Finish
1) Plattsburgh State
2) Oswego
3) Buffalo State
4) Potsdam
5) Cortland
Players to Watch
Plattsburgh State: Courtney Moriarty — forward; Hannah Kiraly — defense
Oswego: Kate Randazzo — defense; Rachel Farmer — goalie