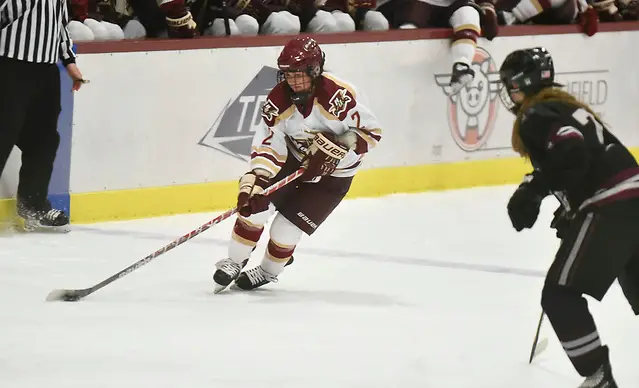 The New England Hockey Conference holds the latest NCAA champion, but don't expect the teams in this conference to roll over for the Norwich Cadets every game. Last season, Norwich and Plymouth State had two close games, and with a new season upon us anything is possible.
The Favorite
Scoring five goals or more in almost every conference game last year makes Norwich the easy favorite. The Cadets return five forwards that scored at least 15 goals, the most known being Amanda Conway. Conway led the entire league in scoring with 34 goals and 25 assists. Along with being named as a first team All-American, she earned player of the year for her conference. Defensively, key returning players for the Cadets are Robyn Foley, Samantha Benoit, and Carly Menges.
Norwich will need to name a new starting goalie, as they graduated their starter from last year. Sophomore Emily Lambert is the only returning goalie for the Cadets. She played eight games last year and had a .930 save percentage. Rookie goalies Alexa Berg and Kate Winstanley are viable options for the starting position as well.
The Dark Horses
UMass-Boston is the dark horse of the NEHC conference. Senior forward Kaleigh Beauregard and junior defensemen Brianna Colucci look to lead their team to a better season. Breaking even with a 50/50 season record, the Beacons will need to work on defense in the last two periods as a majority of their goals were scored against them in the last two periods of their games. Goalie Rachel Myette will look to have a strong senior year and lead her team to a conference championship.
USCHO Predicted Order of Finish
1) Norwich
2) UMass Boston
3) Plymouth State
4) Castleton
5) Southern Maine
6) New England College
7) Salem State
8) Suffolk
9) Johnson & Wales
Players to Watch
Norwich: Amanda Conway — forward; Samantha Benoit — defense
UMass Boston: Kaleigh Beauregard — forward; Rachel Myette — goalie