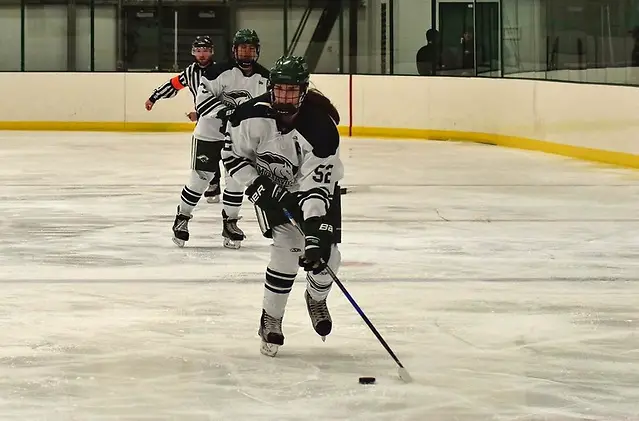 Established in 2015, the Colonial Hockey Conference continues to grow, and the teams get better every season. Morrisville State has won the CHC championship two years in a row and will be looking to three-peat and claim the title. Endicott, hot on Morrisville State's heels, will try to end the streak and take the title for themselves.
The Favorite
Morrisville State is the favorite to win the conference. Morrisville State returns with a young on-ice leadership group. Offensively, the Mustangs' point leader, Alexziz Glannamore, returns as a sophomore. She had a total of 19 points with 15 goals and four assists. Behind Glannamore, Maria Dewilde, a current senior, and Maddison Devlin, a current junior, both tied for second in the lead for scoring on their team with 16 points. Morrisville's offensive future continues to look bright with these three powerhouse forwards on the ice.
Defensively, Morrisville's leaders are young as well. Jessica Ujcik and Chyne Kennedy, a junior and sophomore, had a notable season last year and should be expected to lead the defense to another conference title. Sophomore goalie Karoline Arvik, a Norway native, had an outstanding rookie season last year as she played 28 games for the Mustangs. During her first year, she had an impressive 1.40 goals-against average and earned first-team all-conference honors. The Mustangs have a young team that already has a feel for winning. However, making it to the NCAA tournament and winning the conference title from this group of women will be difficult.
The Dark Horse
Endicott is the dark horse for this conference and must rely on upperclassmen leadership to guide the way. First team all-conference recipients Jillian Gibbs, Jacie Meier, and Ellen Carter look to claim their first CHC conference title. As Gibbs enters her junior season, she has had an impressive two years for the Gulls already. As a freshman, Gibbs scored 14 goals and assisted on six others, and as a sophomore, she improved and had a total of 29 points from 13 goals and 16 assists.
The Gulls will be relying on senior goalie Vendela Jonsson to keep the puck out of the net. Jonsson has been a solid goalie for Endicott all three years, and the expectations for her this year will be nothing less. The Swedish native's goals-against average was higher her junior year than her previous two years, but still at an impressive 1.50 as she led her team back to the CHC championship game. With key upperclassmen leading the way, don't be surprised if this group of women call the conference title theirs in March.
USCHO Predicted Order of Finish
1) Endicott
2) Morrisville State
3) SUNY Canton
4) University of New England
5) Salve Regina
6) Becker
7) Nichols
Players to Watch
Endicott: Jillian Gibbs — forward; Ellen Carter — defense; Vendela Jonsson — goalie
Morrisville State: Alexziz Glannamore — forward; Jessica Ujcik — defense