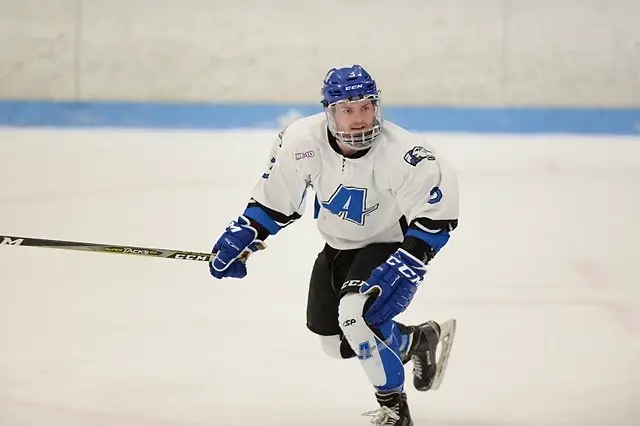 Assumption is off to the races with a 5-0-0 start to the season, which has first-year coach Michael Looney fired up about his team and the way they are approaching each and every opponent. The five wins have not come easily and include two overtime thrillers over Massachusetts-Dartmouth and Stonehill to open conference play on Tuesday night.
"I am having a blast," said an excited Looney. "I have told the kids that after their classes, coming to the rink and playing hockey should be the most fun part of their day. We mix up the practices daily to keep it fun and focus on things we need to be better at. Our four captains (Dante Tomassini, Peter McDonagh, Matt Damelio, and Kieran Peters) have done an amazing job in getting everyone focused and have been particularly good in bringing our freshmen along quickly. They have a lot of experience, including winning the championship just two seasons ago, so they have been a big part in helping to build a strong culture for working hard and having fun. So far, it is showing on the ice."
The captains have also been leading by example, as Tomassini leads the team in points while Damelio and McDonagh are also in the top four in scoring. McDonagh also has two game-winning goals to his credit, including the overtime winner against Massachusetts-Dartmouth last Thursday. The team has fed off the performance and leadership, and a couple of key freshmen have been key contributors already this season.
Robert Holyoke already has four goals, while Dante Maribito has scored a key goal and added a couple of assists. Christopher Stalmok, with a little help from Damelio and McDonagh, scored the overtime winner against Stonehill this week. The early key performances from the young players have their coach pretty excited about the remainder of the season.
"We love the good start," noted Looney. "It is a confidence boost for everyone in the program, but this is definitely a marathon and not a sprint. All the freshmen have come in ready to contribute and were in great shape from the beginning of practice. They have speed and skill and are only going to get better as they continue to adjust to the college game.
Another factor in the Greyhounds' early success, especially in tight games, has been the stellar play of junior goaltender David Zulauf. Zulauf is 4-0-0 with a 2.19 goals-against average and .926 save percentage in his first four games while coming up with some key saves to give his teammates a chance to win the close games early in the season.
"No doubt that David turned up his battle level in the off season," noted Looney. "He has come in with a different approach, and you can see the results on the ice."
This weekend, the Greyhounds travel to St. Anselm for a critical NE-10 game with last year's defending champions.
"As I mentioned earlier, the conference is so tight that every conference game is going to be a benchmark game," said Looney. "We have played four of our first five at home, so it will be good to see how we respond to playing a strong team on the road in front of a hostile crowd. For sure a benchmark game and one that can be a big stepping stone for this team moving forward."
The excitement is very tangible, in the new coach's words. As a former player, school alum, and assistant coach, he will tell you that he bleeds Assumption blue. If his players play with the same enthusiasm, commitment, and attention detail as demonstrated by his captains, assistant coaches, and himself, Assumption may just be more than a dark horse threat to play for another NE-10 championship this season.
"Our league is very competitive with a lot of early games that have been decided by a goal or went to overtime. We really want to focus on the day-by-day approach and games in a shift-by-shift, period-by-period manner. We are showing we can play in tight games, and the kids still look pretty loose in those tight battles that we expect to see a lot more of during the rest of the season."