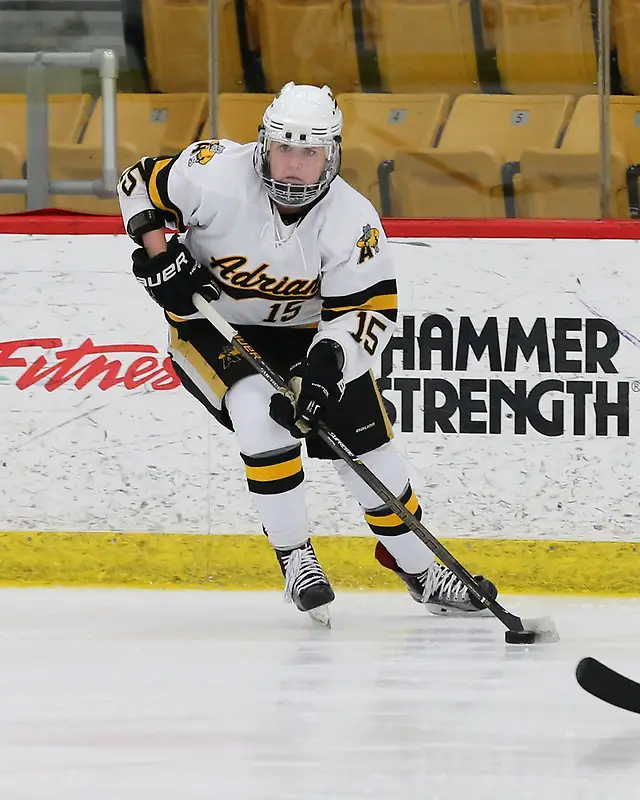 Kelly O'Sullivan has had quite the career so far during her time at Adrian College. Her freshman year, she helped her team make it to the NCAA championship game while earning first team All-American honors. Her sophomore year, she led her team back to the NCAA tournament and again earned first team All-American honors. With these great accomplishments already, coach Shawn Skelly is counting on her again this season.
"Expectations for Kelly haven't wavered from day one as a freshman to now," Skelly said. "She comes to the rink everyday and works. She's a very good example of the type of player you must be to be successful in Division III women's hockey. Her complete level is high everyday and helps bring the best out of the rest of the team. This year she has become an assistant captain, which is just a bonus from already leading our team on and off the ice for the past few years.
"Kelly has an infectious attitude and is one of those players that everyone wants to be around all the time. She is a sponge on the ice when it comes to learning and getting out of her comfort zone, which allows her to get better in any way possible everyday."
Skelly may not have changed his expectations for O'Sullivan, but she still feels the natural pressure that comes with becoming an upperclassman.
"As an upperclassman this year, I feel a bit more pressure to be a leader for the team and set a good example, but I do not think I have approached the season any differently," O'Sullivan said. "I have the same goals that I had when I came in as a freshman."
The Illinois native is humbled by all her accomplishments and agrees that her time at Adrian has been nothing short of memorable.
"Overall, my experience at Adrian College has been great. I love the culture of the team and the coaching staff. I think it helped that my freshmen class was so big, and we are all very close. When I came in as a freshman I wasn't sure what to expect, but the team welcomed us with open arms and made us all feel at home. The leadership in the locker room from our senior class also helped. The energy that our team brings on and off the ice every day made it more exciting to come to the rink and want to work toward winning a national championship."
The Bulldogs came close to winning a national championship in the 2016-17 season, but fell short in overtime to Plattsburgh State. Although the Bulldogs have never won a national championship, O'Sullivan said the goals for this year have not changed.
"Our team goal is to win our NCHA league and ultimately win a national championship," she said. "I think another team goal of ours is to have good team charisma. We feel it is important to be a close-knit team. Personally, my goal for the season is to be a leader on the team and really step up this year on and off the ice."
Adrian's goal of a national championship seems very likely with this group of women and new coaching staff, according to O'Sullivan.
"I think our roster is very strong this year. We have a lot of depth on our team and a lot of fresh new talent. We are all very competitive with each other, which makes us better as a whole at the end of the day. As for our coaching staff, I think Skelly and (assistant coach Kaylyn) Schroka are a perfect fit. They both know the culture of our program, due to experience, and how our team works very well. Both Schroka and Skelly played a huge part on why we made it so far in the tournament my freshman year. With that being said, I think they add to the passion of how much our team wants to win a national championship and bring Adrian their first."
As well as O'Sullivan, Skelly also noted that the coaching change for the Bulldogs this season as gone incredibly easy.
"The transition from Chad Davis to myself has been fairly seamless," said Skelly. "I will forever be thankful for Chad giving me my first opportunity to coach our women's team two full seasons ago, and now having the opportunity to take over our program is beyond humbling. He left me with a wealth of talent to work with, and it's been great getting to know all our freshmen and growing those preexisting relationships with players I already had the pleasure of coaching in the years prior."
Adrian spilt their games opening weekend with then-No. 8 Wisconsin-River Falls. The players and coaching staff are content now with the outcome, but know the team has more potential for future ranked opponents. Skelly elaborated more on the first weekend and getting the young players more experience.
"I think our team is just tapping into the well at the moment. We had a daunting task of starting the year on the road against a top 10 opponent in Wisconsin-River Falls and were able to split on the road, which we will take. Lots to work on and get better at in the coming weeks as some of our younger players get more experience and grow more confident. Our coaching staff couldn't be more excited to see where our group can go this year and will work hard to get to our end goal."
Despite not receiving the outcome they wanted from opening weekend, the Bulldogs will continue to work toward their goals. Adrian is ranked sixth overall and will look to climb the rankings this season.