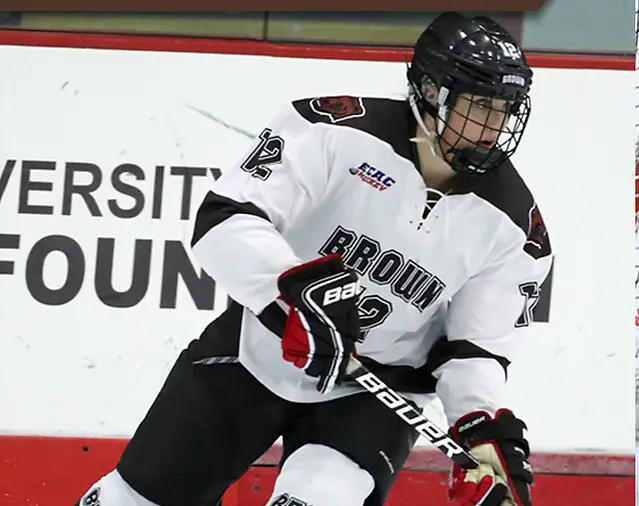 The Brown Bears women's hockey team pulled off a shocking sweep of two ranked teams, No. 9 Colgate and No. 6 Cornell, this past weekend, and new coach Carisa Wahlig admits the wins were unexpected.
"My head is spinning a little bit," she said.
The Bears are a program with a deep history, but little recent success. The weekend wins over ranked opponents were the first in more than a decade. After winning just two games all of last season, Brown opened this year with a weekend sweep of Holy Cross before coming from behind to beat Connecticut. With the two wins this weekend, they're now 5-2 and off to their best start since the 2000-01 season.
Though she was thrilled with the tangible outcomes for her players, for Wahlig, it wasn't so much the wins, but how her team accomplished them.
"Getting those wins are great, but I think for me, it was the way we won," she said. "We made the adjustments with our defense and talking to our forwards about blocking shots and limiting where those shots are coming from."
According to junior Sena Hanson, the team's leading scorer with six goals and three assists, the change in Brown's play can be directly attributed to the culture, work ethic, and atmosphere that Wahlig has instilled in Providence.
"I really respect coach Wahlig; she knew what she was getting into when she got hired," Hanson said. "She knew there was going to be a lot of work to do when she got here because there were a lot of bad habits formed, there wasn't really a whole lot of structure to our team. She came in ready and with a plan. I really respect the effort she's put into the team."
Part of that plan was reminding the players what it meant to be not just a member of a team, but a Brown Bear. Hanson said she spent almost no time with teammates away from the ice last year, noting it meant there was not much team unity.
Wahlig was determined to not only change that, but to make it so the team genuinely enjoyed their time together. She never imagined the kind of instant success the team has found, but she did know that the women's hockey season is long and grueling, and all that's magnified and compounded when you're on a losing team.
"When you create a family atmosphere, it makes it fun. Even if you're not winning games, you're still enjoying being around your teammates, and you're still enjoying coming to the rink," said Wahlig. "If you can create that two hours of hockey where it's not the source of their stress, it's actually their stress relief, when they get there, they can actually enjoy being here."
Knowing who their coach was back in April and knowing that there would be a whole new staff come September made a difference for the whole team, said Hanson, who noted it meant that everyone was getting a fresh start. There was a sense of urgency and competition awakened that may have dwindled by the end of last season.
It helps that Wahlig has made clear from the get-go that she and her staff would be holding everyone to the same standard. Everyone had a fair shot at earning ice time, and no player was immune from getting benched. Wahlig wants the game to be fun, but she also needed to instill a sense of pride that had been lost from this storied program. That means anything from poor performance to untidy locker stalls can result in time on the bench.
"It's not about you, it's about the team, and if you're not willing to put the team first, you don't get the ice time," said Wahlig. "The girls that want to go out and work for each other are the ones that are going to play. It doesn't matter what their talent level is, it matters what their heart is and what their work ethic is."
The structure and accountability have been new, but welcome, said Hanson, who has grown immensely as a player in the early part of the season. Wahlig and assistant coaches Melissa Paluch and Jordin Pardoski have been helping Hanson find her voice as a team leader. Hanson already has half-as-many points as she's scored in each of her first two season through just seven games played.
Hanson admitted to being an inconsistent player in the past, but noted that it often had to do with the mental part of her game. Prone to overthinking things, she struggled to stay loose and let her talent shine.
So though she's embarrassed to admit it, one big change on the ice for Hanson is that she's singing nearly every time there's a stoppage in play. If she's by the bench or in a huddle, others may join in. It's a trick Wahlig taught her to help stay in the moment and not get bogged down in self-doubt or apprehension.
"She told me when she was in college she used to sing 'Wonderwall' between her shifts. I'm not that old, so I'm not going to sing that song," said Hanson. "Just working on the mental side has been helping a whole lot. It's really calming me down."
None of this would have been possible if the Brown players weren't open to what Wahlig, Paluch, and Padolski wanted to teach them, but it's clear in the excitement with which Hanson talks about this season that there was a ton of potential here just waiting to be exposed. The buy-in from the players is what has made the team's early success possible, said Wahlig.
"We know that the program's been struggling. We were going to start at the base level and go from there," she said. "The girls have responded quicker than I would have hoped and expected. That wasn't really what I was thinking of when I thought about how the start of this year would go."
Though the wins are attention-getting and groundbreaking for the program, Wahlig knows Brown's work is far from over. It's a long season with many highs and lows, and it's likely there will be more lows. She doesn't really believe in dwelling on a game once it's finished. Win or lose, that game is in the past. She does, however, understand the last impact these wins will have on her team's psyche.
"After the first game we were all just sitting there for a little bit in shock," said Hanson. "After the second game, we were saying, 'Maybe this isn't a fluke, after all. Maybe things are working out for us.' It really gave us so much hope. It was really one of the best weekends I've ever had in hockey."
It was a revelation for Hanson, who admitted that there were times where she thought the team would never get better. So much so that part of her philosophy heading into this season was, "It can't be any worse, so let's make it the best we can."
So no, it's not about the wins, per se, but it is about the confidence boost that comes with winning. The collective team mindset can't be changed overnight, and it wasn't going to change simply because Wahlig said it should. Sure, the players had committed to the systems and the culture Wahlig has instilled, but there's no better reward than seeing the work they've put in pay off.
"These girls have been hungry to have this success; it doesn't come as second-nature to them," said Wahlig. "We can build on that, going into a weekend expecting success rather than of hoping for it. For me, that's the next step."
The Bears are realistic. They don't think this weekend means there won't be struggles this season, but it's also likely that we'll look back on this past weekend as a major turning point for Brown women's hockey. Hanson was already talking about tightening up on defense and working to not get outshot, but she also noted that this team is the real deal.
"We're coming up and we're working really hard right now. We're not going to win every single game, but look out for the Brown Bears."