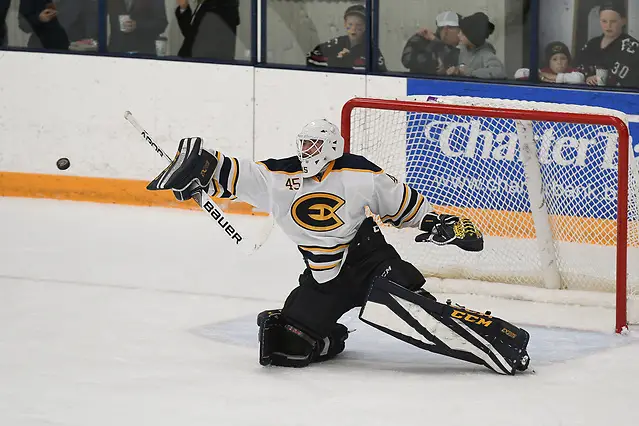 Zach Dyment wasn't always a goalie. He started out away from the goal, but always found himself coming back to it.
"I started out playing when I was little and always drifted back to the net," Dyment said. "I wanted to get in front of the puck and block them. Eventually, my dad decided to buy me a pair of pads, and I never looked back."
Dyment is now one of the best netminders in NCAA Division III hockey. A sophomore at Wisconsin-Eau Claire, Dyment has played a key role in helping the 10th-ranked Blugolds get off to a 6-0 start. He has allowed only seven goals and has made 76 saves in 320-plus minutes between the pipes.
Dyment is quick to give credit to the defense in front of him as a big reason for his success. It has limited the number of shots he's had to face, with opponents getting off an average of only 15.7 shots per game.
"I've felt like I haven't had to do a whole lot," Dyment said. "The D core has been shutting down the other teams. They get so many blocks, especially in key scoring opportunities. It has made my job a lot easier."
The native of British Columbia played junior hockey in the BCHL before coming to Wis.-Eau Claire. A year ago, he won eight times in 15 appearances. He already has six wins this season.
Without question, a year of experience under his belt has been a difference maker.
"I've gotten used to the style of play and have gotten used to going up against older guys," Dyment said. "They put the puck in tough spots and get good shots off, but I've been able to make plays."
The fact that he puts in the work to get better each week doesn't hurt either.
"I look at things that I struggled with over the weekend and then take that into practice and work on it," Dyment said.
It's not just the work that has led Dyment to success early on his college career. His junior hockey experience has proven beneficial as well.
"My last year of juniors I was fortunate to play a decent number of games, and that prepared me to come in and play right away," Dyment said.
Of course, the routine changed for him, and that was a bit of an adjustment.
"You have to get used to not playing as many games as you did in juniors," Dyment said. "It's about keeping yourself in game shape and sharp throughout the week in practice."
The tradition of success at Wis.-Eau Claire helped sell him on the decision to play there.
"A couple of guys reached out to me before I committed and convinced me to come visit and they told me about the school," Dyment said. "Not only the hockey side, but academics as well. I'm really happy I decided to come here."
He loves playing in the always-rugged WIAC, where every game truly does matter.
"It feels like every game is a playoff game. Something is always on the line. Those are fun games to be in," Dyment said.
Dyment is hoping to help the Blugolds contend for a league championship and berth in the NCAA tournament, but it's still early in the season. There is no time to look ahead.
"Moving forward, we just have to keep working hard, take it weekend by weekend, game by game," Dyment said. "We can't look ahead. We have to focus on our opponent and what we can do to be successful. If we focus on the little things and do those right, we'll be in good shape."
Jacobson off to hot start
St. Olaf standout Sawyer Jacobson scored two goals in the Oles' 2-1 win over Gustavus Saturday night. The goals were his first of the season, and it also marked the first time the senior has scored two goals in a game.
Jacobson scored only one goal as a sophomore and finished with five goals last season.
Noah Parker helped the effort by Jacobson hold up as he recorded his second consecutive 40-save night. He made 42 shots in the win. The Oles improved to 2-1-1 overall and to 1-0-1 in the MIAC.
Surging Spartans
Aurora picked up its third consecutive win Sunday with a 5-3 win over Northland. The Spartans improved to 3-1 overall and are 2-0 in the NCHA.
Shawn O'Malley paved the way as he recorded the first hat trick in program history. O'Malley is only a freshman and also dished out an assist in the win.
The goals were the first three of his career; he also has two assists on the season. The play of O'Malley has put Aurora just three wins away from topping last season's win total. The Spartans have never won more than five games in a season, a mark they hit last year.
In the Poll
Wisconsin-Stevens Point is the top-ranked team in the nation. St. Norbert is third, and Adrian is fourth. Wisconsin-Eau Claire is 10th, giving the West region four teams in the top 10. Marian (12th), Augsburg (14th) and St. Thomas (15th) are also in the poll.