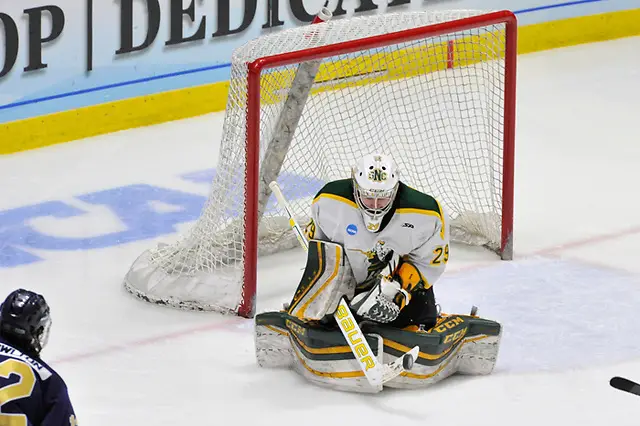 Two nationally ranked teams will square off Friday night when Wisconsin-Eau Claire plays host to St. Thomas. The Blugolds come in ranked 10th in the nation, while the Tommies are 15th. Both teams are undefeated, and getting off to a quick start is critical, especially for St. Thomas, which is playing on the road.
Wis.-Eau Claire has scored three or more goals in every game and is 2-0 against the MIAC this season. It's equally tough defensively, giving up just six goals. Lucas Kohls is one of four players who has scored at least two goals — he's punched in three — and Zach Dyment is unbeaten between the pipes.
Brett Gravelle will look to get the Tommies rolling early. He has already scored four goals and dished out four assists. Gavin Payne and Luke Radetic will play key roles as well offensively, combining for seven goals on the season. Andrew Rohkohl has seen the majority of time in goal, playing in three games. He's allowed eight goals. Wisconsin-Eau Claire 3-2
The other big game of the weekend is St. Nobert's showdown with Adrian on Saturday. The third-ranked Green Knights hit the road to take on the fourth-ranked Bulldogs. There is never a dull moment when these two teams play.
St. Norbert has gotten a big lift from Pete Bates, who has five assists, and it has an ace in goal with T.J. Black, who has won twice and owns a goals-against average of 1.60.
Like St. Norbert, Adrian is coming off a loss. The Bulldogs will look for a big game out of Bryan Yim, who has tallied four goals. Kevin Entmaa has won three games and has a 1.26 GAA. Adrian 4-3
Friday, Nov. 9
St. Olaf at Wisconsin-Stout
The Oles are playing well and are unbeaten over the last three games. They don't score a lot of goals, but they are tough to score against and that could bode well for this team on the road. Noah Parker has been solid between the pipes, stopping 134 shots. He has won twice. The Blue Devils have been up and down and have scored 12 goals while allowing only 11. Arturas Lukaitis leads the offense with three goals and an assist. The key to their success is grabbing the momentum early, especially being the home team. St. Olaf 5-3
Saint Mary's at No. 1 Wisconsin-Stevens Point
The Cardinals play a big game on the road against the No. 1 team in the nation. This might not be the game to find their first win of the season.The defense has to be on point against a potent offensive team like the Pointers. The Cardinals have allowed 13 goals in four games. The Pointers have scored 14 goals in their last two games and have 20 in all. Five players have at least two goals, and Luke McElhenie leads the way with three goals and a pair of assists. Carter Roo has come through with two goals and leads the team in assists with three. The Pointers are tough no matter where they play, especially at home. Wis.-Stevens Point 5-2
Concordia at Wisconsin-River Falls
This two-game series begins Friday. The Cobbers go into it having won three of their first four games. Concordia is dangerous offensively, especially with Aaron Herdt in the lineup. He has punched in three goals to go along with five assists for a Cobbers team playing a true road game for the first time this season. Speaking of dangerous offensive teams, the Falcons went off for seven goals against Augsburg last week and have 15 in all on the year. Eddie Matsushima is as good of an offensive player as any in college hockey and comes in with six goals and an assist. When he's on top of his game, the Falcons are tough to beat. Wis.-River Falls 5-4
Saturday, Nov. 10
Aurora at No. 12 Marian
The surging Spartans head out on the road to take on the 12th-ranked Sabres. Aurora has won its last three and is led by Shawn O'Malley, who has scored three goals to go along with two assists. Josh Boyko has made 99 saves. This is a statement opportunity for the Spartans, who are on pace for their best season in school history. Marian is riding the high of its stunning win over Adrian and looks to keep the momentum rolling. The Sabres have won their last two and have been led by Clay Cross, who has come through with three goals and an assist. Hunter Vorva is 2-0 and has made 66 saves. Marian 4-3
Milwaukee School of Engineering at St. Scholastica
The Milwaukee School of Engineering just beat St. Norbert for its first win of the year. The Raiders are led by Garrett Gintoli, who has scored two goals. Rock Boynton has 120 saves. MSOE has a chance to build off the success of last weekend against one of the nation's best teams and continue to roll in the right direction. The Saints are led by Cole Golka, who has punched in a pair of goals and needs to help get the offense going if St. Scholastica is going to come out of this matchup with a win. Milwaukee School of Engineering 3-2