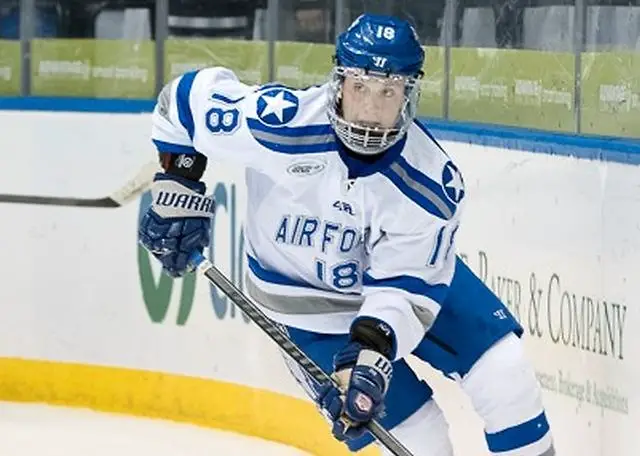 Sweeps are rare in Atlantic Hockey.
So far this season, out of 19 two-game conference series, just four have resulted in a team taking all four points.
Two of those sweeps belong to Air Force, which has won five games in a row, tied for the second longest streak in Division I.
This early season hot streak has propelled the Falcons into first place in Atlantic Hockey, three points ahead of Niagara, Rochester Institute of Technology and Army West Point. It's early, but there's already the usual logjam in the middle of the AHA standings, so even a three-point cushion is big.
After a 5-0 loss to Niagara on Oct. 25, the Falcons second consecutive shutout defeat, coach Frank Serratore said, "I didn't think we were as bad as the score indicated, but we have to tidy some things up. And we will."
And they did, running off this current stretch of five straight victories, including a win over Niagara to earn a split, followed by sweeps of Army West Point (on the road) and Bentley (at home).
In this five-game streak, Air Force has trailed a total of less than two minutes. "Three period wins," as Serratore likes to say. But that wasn't the case earlier this season.
"We weren't tough to play against," said Serratore of his team's 1-4-0 start. "We were beating ourselves by not finishing checks, by not taking the hit to make a play, by not blocking shots."
To turn things around, Serratore said his team got back to basics.
"If you're going to beat somebody else, you have to stop beating yourself," he said. "Our puck management was awful. We needed to get back to being a team that was hard to play against."
This stretch of success is made more impressive by the number of Falcons out of the lineup due to injury. Like most of last season, Serratore often has had trouble filling a game day lineup.
Starting goaltender Billy Christopolous missed the Bentley series due to illness, and there's no definitive date when he'll be back.
Sophomore Zack LaRocque filled in ably in net, picking up both wins against Bentley.
"He was good, and he got great support," said Serratore. "We really limited (Bentley's) chances."
Besides Christopolous, Air Force lost its leading scorer, Evan Feno, to injury after he tallied a pair of goals against Bentley on Friday. Feno missed most of last season due to injury as well.
The list of injured players includes senior Matt Serratore, junior Joe Tryan and rookies Jensen Zerban and Carter Ekberg.
"We only had three lines in practice today," said Serratore. "We're expecting to get some guys back soon."
The rash of injuries is reminiscent of last season.
Air Force's scoresheets so far also look similar to last year. In 2017-18, three of the team's top four scorers were seniors. So far this year, it's four of five: seniors Matt Koch (eight points), Feno (seven), Evan Giesler (six) and Jake Levin (five) as well as rookie Kieran Durgan (seven points, including five goals).
Serratore says his younger players have started to pick up the slack, and that's a main reason for the Falcons stretch of success.
"The underclassmen are on the come," he said. "At the start of the season, 17 of the first 23 points we scored were by seniors. But that's changing as the young guys get acclimated. And we've needed them to step up with all the injuries."
Air Force travels to American International this weekend, the first time the Falcons have played at the MassMutual Center. The Falcons will face a Yellow Jackets squad eager to get back into the win column after getting swept last weekend at RIT.
"We're playing good, tough hockey," said Serratore. "We're looking to keep that going."