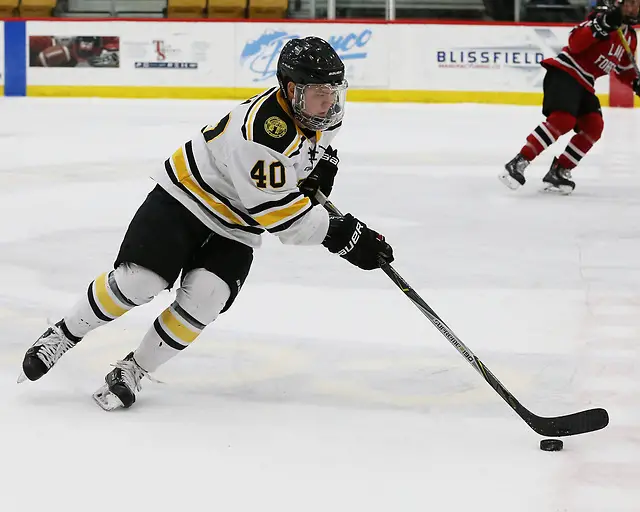 Bryan Yim turned in a game to remember against St. Norbert last weekend.
In a matchup featuring two of the best teams in the country, Adrian's senior forward rose to the occasion, tying the game late in the third period and then scoring the game-winner in overtime in a wild 4-3 victory for the Bulldogs.
"I was fortunate to get those two goals to help my team achieve what we wanted to all along, and that was to win the game," Yim said.
Yim noted in both instances the Bulldogs were simply trying to score. He scored the game-tying goal with a little over a minute left in regulation, striking when he noticed the goalie was slow getting back to the post after an earlier shot by a teammate went a a little wide before Yim snagged the puck from behind the net.
The winning goal came on a wraparound shot.
"We were just trying to get pucks in the net," Yim said. "As coach told us, no shot was a bad shot at that point."
The crazy thing is Adrian trailed the reigning national champion 3-0 after two periods, but the Bulldogs didn't fold. They refused to do it in a game that is always circled on the calendar for these two NCHA rivals.
"We didn't play the way we wanted to those first two periods," Yim said. "We showed our heart in that third period. We got back to playing the way we know how to play."
Yim's goal coming out of high school was to play Division I hockey. It just wasn't in the cards, but Yim knew Adrian coach Adam Krug because he had played for his father at one point.
"The goal was to play Division I," Yim said. "Coach Krug gave me a call, and so Adrian was definitely my first option for a Division III school. It was close to home, and I knew coach pretty well. It was a good fit for me."
Yim is from Michigan and played his high school hockey in the state. He went on to play in the USPHL for the New Jersey Hitmen and loves that Adrian has a great hockey program as well as a strong academic reputation.
He's been an impact player since arriving on campus, and even played on the Bulldogs' golf team this past fall. He loves having the chance to play on a team that is as close as can be.
"We are a tight-knit group; they call it a brotherhood for a reason," Yim said. "I can't be more thankful for what Adrian has done for me."
On the ice, he has been a player the Bulldogs have been able to count on. He has scored eight or more goals in each of his first three seasons and already has six this year. Yim has 41 goals in his career, as well as 46 assists.
"I think my confidence level has gone up every year," Yim said. "I've also learned you can't take night off. You have to have consistency every night and give everything you have."
Yim and the Bulldogs play in a league that is one of the toughest in the nation, and the challenges Adrian faces are something Yim embraces. His goal is to help Adrian win a national title, and he understands what it's going to take to help the Bulldogs achieve that goal.
"I'm pretty sure all coaches preach this, and that's trust the process," Yim said. "From Monday until Saturday night when the last whistle blows, you have to give 100 percent every time. We all have to make sure we are getting better every day, working as a unit and working toward our end goal, which is a national championship."
Streak is over
Hamline ended a five-game losing streak Friday with a 4-1 win over Saint John's. The Pipers jumped on top, 2-0, and held on for a huge win. The win was the first of the year overall and in MIAC play.
Sam Nelson played a pivotal role in the win, stopping 28 shots, and Welland Parrish continues to play great hockey as he scored his fourth goal of the year. Nelson has started three games and has given up eight goals. He's made a total of 85 saves and owns a 1-2 record. Parrish ranks second on the team in points with five. He has scored one game-winner this season, not a bad way to start the year for the freshman standout.
Lumberjacks end winless streak
Northland nailed down its first win of the season as it took down Concordia, 4-2, Saturday in NCHA action.
The Lumberjacks scored twice in the third period to secure the win and end a four-game winless streak. Four different players scored goals, including Kyle Gonzalez, who scored a goal and also dished out an assist. The goal and assist were his first of the season.
Lucas DeBenedet also scored a goal, and he leads the team in that department with four. He's also dished out two assists.
A total of eight players have scored goals for the Lumberjacks this season.
In the Poll
Wisconsin-Stevens Point remains the No. 1 team in the nation. Adrian is ranked second in the nation. St. Norbert and Wisconsin-Eau Claire are fourth and fifth, respectively, as the West region is dominating the top half of the poll at the moment. Marian is seventh, and Augsburg is ranked 13th in the country.