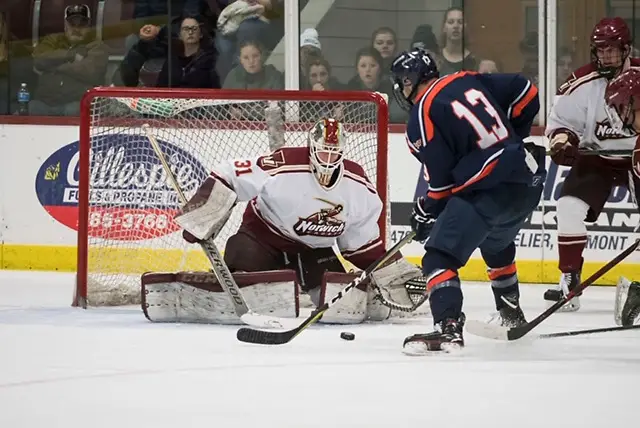 When head coach Mike McShane announced his retirement after 23 years behind the Norwich bench, the search began in earnest for a worthy successor to continue the great traditions of college hockey embodied in the Cadets program in their over 100 years of playing the sport. Enter new coach Cam Ellsworth, who knew from his first moments on campus that Northfield was where he wanted to be for himself and his family.
"It really is just an amazing place and an amazing atmosphere," stated Ellsworth. "I knew I wanted to be here from the first moment I stepped on campus here and visited Northfield. The place and the people are special. I have been very impressed by the passion and commitment to the program here. The traditions and culture around the hockey program are special so, for sure, I don't want to screw that up. Seriously, it is important to continue the great things that have made this program so special, and I am sure I will add some little things here and there to hopefully add some of my impression on the team and direction forward."
Ellsworth landed the Norwich job, his first collegiate head coaching position, having been an assistant at UMass-Lowell for seven seasons and an associate head coach his last two seasons with the River Hawks. The new coach already has an extensive network of experienced and successful coaches on speed dial to seek advice and opinions from, including his predecessor, McShane.
"Mike still teaches here on campus," noted Ellsworth. "We get together on a regular basis, and his support has been invaluable to my role succeeding him as coach and working with the team and the Norwich community at large. He loves this place and has built such a great program that I really enjoy the opportunity to consult with him on a variety of different things."
McShane isn't the only coach that Ellsworth networks with frequently. His head coach at Lowell, Norm Bazin, is also part of that group, along with Niagara's Jan Lammers and others dating back to Ellsworth's time out west.
"Norm has had such great success at both the D-III and D-I levels," said Ellsworth. "He has built programs into consistent winners and knows a lot about the teams and play at the D-III level which has been helpful from a different perspective. There are always just some pearls of wisdom these guys have had from their experiences that is a good reference point to calibrate on."
Coming in with fresh eyes and a different perspective brings some new opportunities for Ellsworth. Case in point was Norwich's 3-1 win over Hobart on November 3. Last season, the Statesmen defeated Norwich three times on the Cadets' home ice, including the conference championship game. New coach, different way of looking at the first matchup of this season.
"I had heard the statistics before the game," said Ellsworth. "I think a lot of others around here had more interest in the stats than I did. I wasn't here last year, so I didn't have the emotional connection to those games that players and others here had. I was more focused on how we were going to play against a very good team and great coach in Mark Taylor. They were ranked ahead of us in our league in the preseason, and I wanted to see how our guys responded to the challenge. The first period I thought they outplayed us, but I was very happy with how our team regrouped in between periods and came out and played much better over the final 40 minutes of play. It was a good benchmark to beat a team like Hobart and gave me some real time experience on what things to tweak a bit to help us be more successful."
The Cadets have a parade of good teams on their schedule by which Ellsworth can continue to benchmark, including Massachusetts-Boston, Babson, Adrian, and Plattsburgh or Middlebury by Thanksgiving weekend.
"I know that UMass-Boston and Babson were also teams that were ranked ahead of us in our league," said Ellsworth. "This conference is very strong, so seeing how this group approaches games and how we execute on the ice will be good to see, especially on the road."
The Cadets dropped both games last weekend, but Ellsworth knows that success is all about continuous improvement and attention to details.
"We are very focused on being a consistently good hockey team," stated Ellsworth. "We need to learn from both the good things we do and the things we can do better overall. Every game has been an opportunity to learn against quality teams like Endicott, Skidmore, and Hobart, and I am sure that learning will provide me with opportunities to make the small changes and tweaks we need to be successful on the ice."
The Cadets have this weekend off before playing in the Primelink Tournament on Thanksgiving weekend, where they will play No. 2 Adrian in the first round of the annual tournament hosted this year by the Cadets at Kreitzberg Arena.