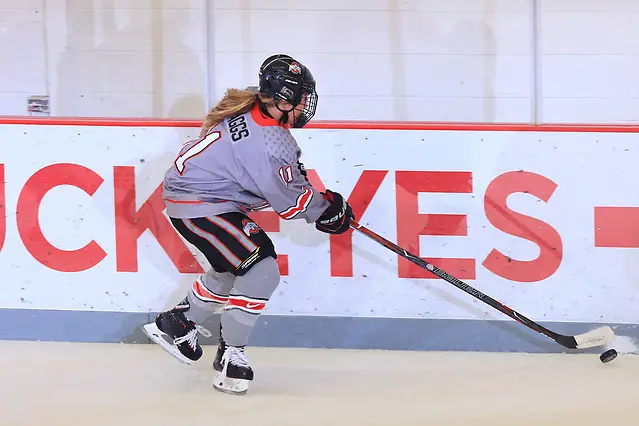 Bemidji State at No. 1 Wisconsin
On Friday, Sophie Shirley scored twice and had an assist to lead the Badgers to a 5-0 win over Bemidji State. The Badgers set a season-high with 48 shots. Sophia Shaver, Delaney Drake, and Britta Curl also scored for Wisconsin in the win. On Saturday, Shaver, Presley Norby, and Annie Pankowski all scored to lead Wisconsin to a 3-0 win and the weekend sweep.
No. 2 Minnesota at St. Cloud State
Kelly Pannek gave Minnesota the 1-0 lead with a short-handed goal in the first. Brooke Kurdida scored in the second to leave the game tied 1-1 after two periods. Less than two minutes into the third, Jenniina Nylund gave St. Cloud the 2-1 lead. Abigal Boreen and Sarah Potomak scored in quick succession to put Minnesota up 3-2, but the Huskies would not back down and Hannah Potrykus scored with less than two minutes to go to tie the game and force overtime. An upset was not to be, as Taylor Heise scored at 2:57 of overtime to give Minnesota the 4-3 OT win.
No. 3 Clarkson at Brown
Kristy Pidgeon opened the scoring in the first for Clarkson. Sena Hanson responded for Brown just more than a minute into the second, but from there, it was all Golden Knights. Clarkson reeled off five goals in the second and followed that with three in the third to coast to a 9-1 win. Sophomore Tia Stoddard led the Golden Knights with two goals and two assists, while Loren Gabel and Michaela Pejzlová each had two goals and an assist.
No. 3 Clarkson at Yale
Goalie Tera Hofman made 39 saves and the Bulldogs jumped out to a three-goal lead in the first to earn the program's first-ever win over a top-three team. Emma Vlasic scored first, midway through the opening frame, and then Lucy Burton and Charlotte Welch scored within a minute of each other to give Yale a 3-0 lead. Rebecca Vanstone added to the lead in the second, and Vlasic added her second of the day to make it 5-0. Clarkson sullied the shutout with a power-play goal from Kristy Pidgeon, but it was not enough as Yale won 5-1.
No. 4 Boston College vs Connecticut
On Friday, Caitrin Lonergan gave Boston College a 1-0 lead late in the first and then Makenna Newkirk doubled it in the third. Olivia Finocchiaro scored her first career goal to ice the 3-0 win for BC. On Saturday, Megan Keller led the Eagles with two goals as Lonergan and Newkirk tallied their second goals of the weekend and earned a 4-0 win and weekend sweep.
No. 5 Northeastern at Maine
There were 12 penalties in Friday night's match, but Northeastern was 6-for-6 on the penalty kill and their fabulous freshmen led the way as they won their 10th in a row with a 3-1 victory over Maine. Chloé Aurard had a goal and an assist, and Alina Mueller had two goals to pace the Huskies. On Saturday, Lydia Murray and Tereza Vanišová gave Maine a 2-0 lead after the first period. Aurard responded with a power-play goal midway through the second, but the Black Bears made it 3-1 with a goal from Allyson Matteau. Mia Brown cut the lead in half right before the period break for Northeastern, but Maine took a 3-2 lead into the final frame. The Huskies were not to be beaten, as it was Aurard again that scored in the third and earned the tie for Northeastern.
No. 6 Cornell at Quinnipiac
Diana Buckley and Kristin O'Neill gave the Big Red a 2-0 lead and a late goal from Brooke Bonsteel was not enough as Cornell won 2-1 Friday night.
No. 6 Cornell at Princeton
The Tigers jumped out to a 2-0 lead thanks to first-period goals from Kalie Lund and Annie MacDonald. Diane Buckley cut the lead in half in the second. Lenka Serdar scored a short-handed goal late in the third to tie the game for Cornell and salvage a tie.
No. 7 Minnesota Duluth at No. 7 Ohio State
On Friday, Jalyn Elmes put Minnesota Duluth on the board first with a goal early in the first, but that would be all the offense the Bulldogs would muster. Ohio State responded with a goal from Maddie Fields less than two minutes later to tie it at one. Emma Maltais scored in the second, and Fields had her second of the game in the third to give Ohio State the 3-1 win. On Saturday, the Bulldogs once again got on the board first, this time with a goal from Sydney Brodt, but from there Ohio State took control. Tatum Skaggs netted a hat trick to lead the Buckeyes to a 4-1 win and weekend sweep.
No. 9 St. Lawrence at Yale
Kalie Grant scored on a power play for St. Lawrence, and Rebecca Vanstone responded for Yale to have this game tied at one after the first period. Maggie McLaughlin added a power-play goal in the second to extend the Saints' lead, and Justine Reyes added an empty-netter in the third to secure the 3-1 win for St. Lawrence on Friday.
No. 9 St. Lawrence at Brown
Skyler Podvey led St. Lawrence with two goals and an assist as the Saints skated to a 4-1 win over Brown. Podvey opened the scoring, and Brown responded with a short-handed goal from Kaitijane Blumberg to tie the game with five minutes remaining in the second. It wouldn't last long, as Kristen Guerriero and Maggie McLaughlin scored before the period break to make it 3-1 St. Lawrence. Podvey's second sealed the game in the third.
No. 10 Providence vs Merrimack
Gabby Jones put Merrimack on the board first on Friday, but Providence responded with three unanswered goals to earn a 3-1 win. Cassidy MacPherson, Maureen Murphy, and Whitney Dove were the goal scorers for Providence in the win. On Saturday, Murphy led Providence with two goals and an assist en route to a 5-3 win and weekend sweep. Emily Landry put Providence up 1-0 after the first period, but Paige Voight responded for Merrimack to tie it at one. Christina Putigna and Kate Friesen made it 3-1 in favor of Providence heading into the third. Voight scored again to halve the lead, but Murphy scored twice in a row to give Providence the lead for good. Mikyla Grant-Mentis added one more for Merrimack, but they weren't able to mount a comeback as Providence won, 5-3.