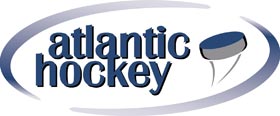 Atlantic Hockey has announced several suspensions stemming from the Robert Morris-Mercyhurst game on Saturday, Nov. 24.
Robert Morris' Geoff Lawson, Nick Prkusic and Alex Tonge and Mercyhurst's Taylor Best, Joseph Duszak, and Michael Bevilacqua will all be out this coming weekend.
Lawson and Best each received five-minute majors and game misconducts in Saturday night's contest — Lawson for checking from behind and Best for cross-checking. After reviewing the video from that game, Atlantic Hockey officials determined that another game was warranted as supplemental discipline, which will be served by both players this weekend.
The next set of suspensions came as a result of additional review of plays during the game.
Duszak was whistled for a boarding minor, but upon further review, the play should have been a major for checking from behind and a game misconduct. Because of this, Duszak is receiving a one-game suspension and will sit on Friday when Mercyhurst plays Bentley.
Similarly, Bevilacqua was called for an elbowing minor, which should have been a contact to the head major, according to the news release. Bevilacqua will also be suspended for Friday's contest at Bentley.
During a confrontation on the ice late in the first period, Prkusic was called for a checking from behind minor. That clip was reviewed and it was found that during the altercation, Prkusic made contact three separate times with the same Mercyhurst player, the last of which drove him head-first into the boards, which should have resulted in a major and a game misconduct, according to the release. As a result of this play, Prkusic has been suspended for two games by Atlantic Hockey. He will miss the series against Sacred Heart this weekend.
Lastly, Tonge was not whistled for a penalty for the play in question, but after reviewing the submitted clip, the Atlantic Hockey office found that a contact to the head major should have been called. Tonge will sit for Friday's game against Sacred Heart.