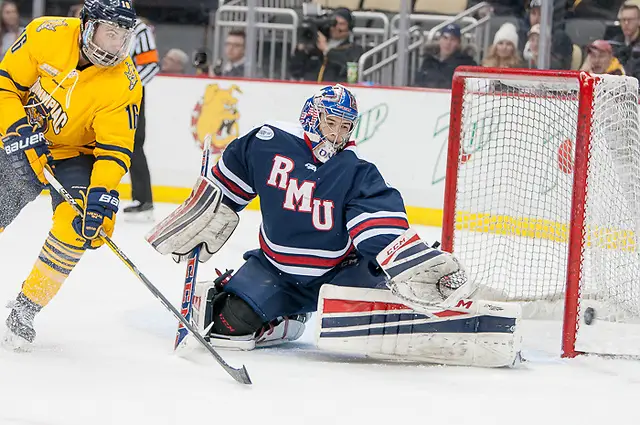 Coming off a disastrous home-and-home series against Penn State that saw Robert Morris surrender 18 goals in 7-2 and 11-6 and losses, it was time to hit the reset button and prepare for another Pennsylvania rival in Mercyhurst.
Derek Schooley's team was able to flip the script, sweeping Mercyhurst 3-1 and 7-1. Nine different Colonials scored goals in the series, highlighted by a pair from rookie Justin Addamo.
The main turnaround was in net, as junior Francis Marotte rebounded from allowing 13 goals in the Penn State series to just two in two games against Mercyhurst.
In Friday's 3-1 win, the Lakers outshot the Colonials 33-28 with Marotte coming up big in the third period, stopping all 14 shots he faced.
"It's no secret in the Penn State series that our goaltending was not where it needed to be," said Robert Morris coach Derek Schooley. "Francis Marotte is a very good college hockey goalie that had a bad weekend. We know he's going to be our goalie. We know he's going to win more games than he loses, and with that, we just pushed (the Penn State weekend) aside.
"We couldn't feel sorry for ourselves. Our belief in (Marotte), our belief in ourselves didn't waiver. We weren't going to panic."
While the losses to Penn State stung, there were no Atlantic Hockey points on the line. A sweep of Mercyhurst, the only sweep in league play last weekend, allowed the Colonials to gain ground on all of its AHA competition, vaulting them from ninth place into a four-way tie for fifth and alone in fourth based on winning percentage.
Schooley said it was a team effort.
"Our goaltending was better [and] our defense was better," he said. "And we got a great effort from fourth-line guys."
Senior Kyle Horseman and juniors Jacob Coleman and Michael Coyne were among the nine players chalking up goals against Mercyhurst.
"Jacob Coleman, Michael Coyne, Kyle Horseman and Nick Jenny really stepped up," said Schooley. "They had quality shifts and played quality minutes. They're good hockey players and I was glad to see them get rewarded for doing the dirty work."
There are 11 freshman on the Colonials roster, led by Addamo (four goals), Nick Lalonde (three goals) and Kip Hoffman (five points).
"I think it says something about our program that the coaches picked us third (in the preseason poll) considering we have 11 freshman out of 26 players," said Schooley.
"The freshman are getting better the more they play college hockey. We knew there was going to be learning curve and we've progressed. We had some early success and then got knocked back to earth, but we're progressing nicely and getting better and better."
Up next for Robert Morris is three straight conference series, including this weekend at Sacred Heart. Then the Colonials will host the annual Three Rivers Classic at PPG Paints Arena in downtown Pittsburgh on Jan. 4-5. Top-ranked St. Cloud State as well as No. 11 Union and Brown fill out the field.
"We've been fortunate to have some great teams come in for this tournament," said Schooley. "This year is no exception. The Pittsburgh Penguins have been a great partner, and teams come here to play in an NHL building in front of NHL scouts as well as to play in the great city of Pittsburgh."
After the Three Rivers Classic, the Colonials are locked into conference play for the rest of the season. Schooley says he expects things to come down to the wire in Atlantic Hockey, as usual.
"Atlantic Hockey has good teams from top to bottom," he said. "You have to be ready to play every game. It's going to come down to who is able to go on a run at the end.
"You wait for separation (in the standings) before the end of the season, but I don't think it's going to separate."