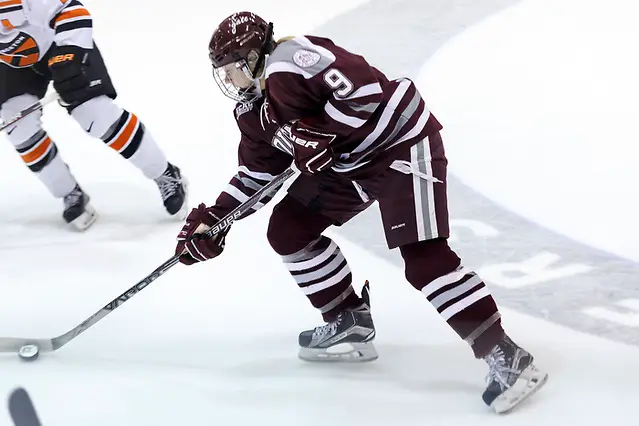 Nicole: Where do we even begin with this weekend's results? I'm not certain there's been a weekend quite like this one in the time I've been covering the sport. Five top-10 teams lost games to unranked opponents as No. 3 Clarkson lost to Colgate and No. 7 Cornell, No. 4 Boston College was swept by Boston University, No. 5 Northeastern lost to Holy Cross (who was previously winless), No. 6 Ohio State lost to Minnesota State, and No. 8 Providence lost to Connecticut.
There are plenty of surprising outcomes in there, but I don't suppose any come close to matching Holy Cross' 5-3 win over No. 5 Northeastern. The Huskies were coming off a huge win on Tuesday over No. 4 Boston College, but putting any blame there seems flimsy at best. Holy Cross is in its first season playing a full Division I schedule. They had a win over a D-I team last year, but had not won a game yet this season. They were averaging just .81 goals scored per game.
It was not the best game from Northeastern goalie Brittany Bugalski, but she also got absolutely no help from her defense, which left Holy Cross players unmarked, failed to clear pucks, were standing still, and generally looked like they didn't think they needed to show up for this game. Nearly every Holy Cross goal came on second- or third-chance opportunities. Sure, there's something to be said about the rebounds that Bugalski gave up, but her defense is also supposed to support her in cleaning those up and preventing the offense from camping in the slot and at the opposite post to tap them home, and they did none of that.
It was an epic first Hockey East win and first win this season. It was Holy Cross' first-ever win over a ranked team. They were simply relentless, scoring four straight through the second and third before Northeastern scored again and then answering back to extend the lead just a minute after. The Crusaders didn't play like a last-place team.
Northeastern came back to win game two, 3-0, but even that is a lower total than most everyone else in the league has hung on Holy Cross. It was a response, but after the joy of Tuesday, this is a pretty big mood swing for the Huskies, who had to be feeling emotional whiplash when Friday was done.
What did you make of this game? What other result surprised you the most?
Candace: Going into the weekend, I would never have predicted it. Even after Holy Cross tied it in the second, I thought they'd fade down the stretch. Holy Cross had only scored more than two goals once this season, in a 7-3 loss to Harvard the week before. Northeastern had shown great fortitude in rallying from a 2-0 deficit against BC, and then again rallying from 4-3 down late in the third to win in overtime. Since their two ties on opening weekend against RIT and Rensselaer, Holy Cross had lost every game, and they'd never been closer than a two-goal loss.
I have to give the Crusaders a lot of credit. They stormed back, and the energy just kept building for them. It's a huge win for them. I was beginning to think they might end up matching Union's ignominious winless season of a few seasons ago. Even if HC doesn't win another game this year, this is huge for the program and will look good when they are recruiting for the future.
For Northeastern, Bugalski may have lost any chance to play going down the stretch. The breakaway goal by Amanda Kewer that tied it at two in the second is one Bugalski probably wants back, but I don't think the rest of the goals can be blamed on her. Northeastern looked like it was skating in molasses, and it's just not something they can afford.
Regardless, I don't want to take anything away from Holy Cross. After losing 13 straight and going 0-14-2 to start the year, it would have been easy for the players to give up, but they kept at it. I'll be interested if they can garner another Hockey East win in the second half, or perhaps a couple. With how volatile things have been, it's always possible.
As far as what else surprised me, the Clarkson losses are up there, but I have to go with Boston College getting swept by Boston University, which has never happened in the history of the rivalry between the two schools. BU hadn't beaten BC since 2016, and hadn't won in BC's barn since 2012. BC is now on a three-game losing streak, and it appears there is something seriously wrong with the team. For a squad that has three Olympic defenders in the starting lineup, the team's tendency to give up goals in bunches is disturbing. In their six losses, they've given up four or more goals in four, and three in another.
What did you make of that series, and why do you think a team with the talent of BC is struggling so much?
Nicole: A couple weeks ago I failed to come up with an answer for Arlan in response to a question about why Wisconsin struggles to score, and I'm not any closer to being able to answer "What's wrong with BC?" It's definitely one of those nebulous, unclear things that I'm sure could earn me big bucks if I could come up with something. All the pieces seem to be there, but the puzzle is definitely not at all close to completion. The Eagles have shown themselves time and again to be incapable of winning the big games. That's not really something that can be taught, and though they get through the rest of their season on skill, when they face some push back, it's like they're not sure what to do about it.
We've talked in the past about how their lack of a tough schedule can be a detriment. Hockey East has gotten more competitive, and we can't fault them when two-thirds of their schedule is not up to them. But not playing a tougher slate seems to leave them in a place where they don't have the fight to hold off a surge or that spirit to come back when things get tough. Of course, they scheduled Minnesota Duluth this year, which was a great step in putting tougher games on their schedule, and lost both games. They've lost three of the five games they've played against ranked opponents, and if the season ended today, they wouldn't receive a bid.
Last year, BC lost their fifth game on the final day of their season — when they lost to Ohio State in the NCAA tournament. This season, they're at six losses before the holiday break, and they added three Olympians to their roster in the interim. It has to be incredibly frustrating. It would have been nice to see the Eagles come out with some fire after the loss to Northeastern. They were totally deflated when the Huskies tied it with under a minute to go and seemed a bit shell-shocked in overtime — there didn't seem to be any point in that extra time where it looked like BC was confident or able to win the game. The same can be said about the series with BU. They led for a total of 3:13 in two games.
It's all more than a bit baffling since on paper, this looked to be the top team in the country coming into the season. They have the reigning Patty Kazmaier winner and returned three of the top 10 scorers in the country. If there was one knock on them last season, it was understandably on defense, where they were missing three players to the Olympics. They have the same core on offense and brought back their elite defenders, and somehow that's added up to a group incapable of clicking.
On paper, none of this is an issue, but Mark Johnson likes to tell me "that's why we play the games." I don't suppose I came up with any insight at all there. Do you have any thoughts on why Boston College hasn't been able to put their pieces together?
Candace: I have a theory, but I'm not sure how accurate it could be. Perhaps BC is too talented for its own good. I felt that way about Denver on the men's side last year, another team I cover. The Pioneers returned three of top forwards in the country from their championship winning team of 2017 in Troy Terry, Henrik Borgrström, and Dylan Gambrell. They also had the Mike Richter Award winning goaltender in Tanner Jaillet. Most pundits felt that Denver would repeat its national championship winning season before those players left for the NHL.
After opening with a win and tie against Notre Dame and going 4-0-2 to start the year, the Pioneers fell to Earth in getting swept by Western Michigan. In the first game, the Pioneers had a two-goal lead and couldn't hold it, and in the second, they had a three-goal lead and couldn't hold it. That started a trend, with Denver having several more games in the season where they couldn't hold three-goal leads. Denver seemed to talented for its own good. There was a game where Denver had a three-goal lead after one period, and ended up losing, seeming to go to sleep.
Perhaps BC read too much of its press. Perhaps the players figure they can turn it on whenever they want to, and are waiting till the postseason. The problem is that BC is in danger of not even making the NCAA tournament if they keep up this trend.
The other possibility is the team is feeling too much pressure about winning the national championship, and they haven't been able to play freely and with confidence. There is still time for BC to get it together, but they'd better hurry up and get it done soon.
I mentioned another series earlier. I can't believe that Clarkson lost twice this weekend, and that they only scored a single goal in each game. Does this give indications of Clarkson having vulnerability?
Nicole: I'll admit I haven't watched a ton of the Golden Knights thus far because frankly they've been pretty automatic. I watched some of the series with UMD, which I expected to be closer, and got the sense that Clarkson was the team I thought they were.
Most every team has had a blip this season, so I chalked the Yale loss up to not having Kassidy Sauvé in net and a bad day. But with these two losses, they've lost three of the last five, and that's much more eyebrow raising. As you mentioned, the biggest concern isn't necessarily the losses, it's that the normally high-powered offense was utterly shut down by three different teams. They scored just one goal in each of those losses. They have three of the top four scorers in the country, and they're averaging 4.6 goals per game in their other 13 games, so when things go bad, they seem to go very bad.
I'm not sure you can put that down just to a shut down defense or a very good goalie. I'm guessing at least part of what we're seeing is similar to what we just talked about with Boston College, in that the Golden Knights aren't used to facing a lot of adversity and are struggling with how to react when they do. In Friday's game, they were down 3-0 and couldn't muster a comeback, but that doesn't necessarily work as an explanation for Saturday, where they tied it up at the end of the second and then gave up two third-period goals without scoring.
One thing I will say is that there's a pretty significant production drop-off from their top line on down. Elizabeth Giguère has 32 points, Loren Gabel has 30 points, and Michaela Pejzlová as 28 points. T.T. Cianfarano and Ella Shelton are in the teens (and Shelton plays on that top line), but the next highest scorer is Josiane Pozzebon with eight points. Their top three scorers are responsible for 51 percent of their scoring, and the top five scorers are responsible for 70 percent of the points. It's a really potent line, but the depth past them is nonexistent. If defenses can do anything to disrupt the starters, things get significantly easier.
I was really surprised by Ohio State's loss to Minnesota State. The Mavericks pushed the Buckeyes earlier in the season, so I feel like they should have been prepared for what MSU can bring. What do you think of that series?
Candace: First, it was nice to see John Harrington's squad get that win over a top WCHA program. A few years ago, that was out of the question. Near the midway point of the season, the Mavericks are over .500 overall, and they are not in the WCHA cellar. In fact, they are tied with fading Minnesota Duluth for fifth, and only trail fourth-place Bemidji State by two points. When Minnesota State's current seniors were freshmen, the Mavericks didn't get a single WCHA win all year, and went 3-29-4 overall. For them to be where they are is huge.
Minnesota State wins with a stingy defense led by freshman goalie Abigail Levy, who has played every game for Minnesota State so far. I worry a little that she might have trouble maintaining her current level of play if she keeps up this pace, but her save percentage right now is a ridiculous .956, and her goals-against average is 1.36. The Mavericks need that level from her, because they still don't score much. Senior Corbin Boyd leads the team in scoring, and she only has 11 points. As a team, Minnesota State only averages 1.69 goals per game, so there's not much margin there for the team. The Mavericks face Minnesota Duluth this weekend, so they have a tough series to close out the first half.
As for Ohio State, even as good as Levy is, it was surprising to see them get shutout. Emma Maltais continues to be a strong offensive player, leading the team with 25 points, and defender Jincy Dunne is finally playing like the player we always thought she was. Freshman goalie Andrea Brändli has been strong in net with a 1.74 GAA and .940 save percentage.
OSU was coming off a two-week break going into Friday's game, so perhaps they were a little rusty. If that's the case, they had better figure out how not to be rusty, because they are off for two weeks again before facing Mercyhurst to close the first half, and that's not a series they can afford to take lightly.
We talked earlier about Clarkson, but perhaps we should look at the teams that beat them, as both Colgate and Cornell swept their weekend series against Clarkson and St. Lawrence. I stated a few weeks ago that I felt the Raiders had been a disappointment so far this season, and Cornell has been a struggle to figure out. Does this weekend indicate that these two teams are going to challenge for the ECAC crown and make the NCAA playoffs?
Nicole: That's a hard question to answer right now, I think. I'd like to know a bit more about how Clarkson reacts and where they sit before I can decide if either of these teams can give them a run. I do think we'll have a much more interesting conference tournament than we might have initially thought.
I still think Cornell has more upside than Colgate, but I love the fight out of the Raiders this weekend. We talked above about some teams maybe lacking that sort of killer instinct, so I really love that it appears Colgate had that Clarkson game circled and weren't going to get beaten a second time in a row. As you said, we'd sort of written off Colgate a bit, and they've dropped out of the rankings, so that they clawed their way back a bit to earn this weekend gives me a lot more faith in what they might be capable of down the stretch.
Cornell has been odd in that they're not losing, but they do have four ties. One was scoreless, but in two of them, they had a multi-goal lead and let it slip away. For them I think it's just about playing that complete 60-minute game, especially on the road. They're taking 20 fewer shots in the third period and allowing 30 more shots in the third than they do in the first. Whatever it takes, they've got to find a way to have enough in the tank in the third to not be falling back into the defensive zone and hoping to hold on. Thus far, it hasn't resulted in any losses, but that's not the behavior of a top team. They have the talent to be more aggressive than that, and they have the goalie to back them up. Maybe the winter break focus needs to be on fitness and having something in reserve for that final period.
The last upset we haven't talked about is Connecticut over No. 8 Providence. The Friars had seemed to be rolling along unchecked and with a lot of momentum after beating Boston College, which is why this felt surprising. What did you think about this game?
Candace: It was definitely surprising, given that Providence was rolling and had beaten Connecticut the night before, 4-1, in Hartford. Providence was at home Saturday and entered the third period with a 1-0 lead, but Briana Colangelo scored just 1:45 into the third to tie it, and that seemed to give UConn life. Colangelo scored what turned out to be the game-winner as well at 8:38. This wasn't a case of UConn stealing it either. The Huskies outshot the Friars in the game, and 11-7 in the third.
For a team that has only three losses compared to 13 wins, two of their losses have been to teams that they should have beaten: Penn State and now UConn. Providence ends its first half on Friday against Holy Cross, a game they should win to close the first half on a good note, but one thing to note is that four of Providence's games were ones in which they scored only one or two goals. With Madison Myers in net, that is a viable strategy, but Providence will need to find some more consistent offense in the second half to have success. They certainly seemed to find that last night in crushing Brown, 8-0. It looks like the Bears have fallen off from their big weekend in beating Cornell and Colgate.
In this column, we've occasionally touched on Wisconsin's offense going on walkabout. The Badgers exploded for 15 goals in sweeping Syracuse this weekend. Were the Badgers just that on, or was Syracuse just that terrible, and if the latter, what does that say about the CHA?
Nicole: Some from column A, some from column B. Emily Clark looks to be back to full strength, and she doubled her previous goal total just last weekend. The rest of the squad had picked up some of the slack, but there's just no denying that having her and Annie Pankowski firing on all cylinders makes the Badgers an infinitely better team. I do think the chasm between Syracuse and Wisconsin is pretty wide, and the same can probably be said about the CHA and WCHA. We talked about Mankato and how they've perpetually been at the bottom of the WCHA. The Mavericks beat Robert Morris 2-1 and tied them 4-4, and the Colonials are leading the CHA.
Looking back to see that Clarkson needed overtime to take down this Syracuse team and then comparing that to the absolute dismantling the Badgers accomplished this weekend, I'm starting to wonder about the relative talent level among the schools we assume are the top in the country.
It honestly feels a little unfair to compare the two. There's just such a difference in the overall talent level and depth of the Badgers and Orange. I don't think that says anything much about either program that we didn't already know. Wisconsin is a powerhouse with a massive amount of support. They land top recruits and perpetually put one of the most complete teams on the ice every season. They have their own rink that is sold out for the season. There's just a level of near-professionalism around them that's hard for nearly any other program to match.
The CHA winner often gets sent to play the no. 1 overall seed in the NCAA tournament, which for many of the past few years has been Wisconsin or Minnesota. The results of those games have told us the same thing this weekend's series did — there's a lot of room to grow for the CHA, and the level of games they play regularly doesn't match up.
We've got a small slate of games this week and an even smaller set the next week. What are you hoping to see before we head into the winter break?
Candace: I'm looking forward to this weekend's series between Clarkson and St. Lawrence. The Saints scored their first victory over Clarkson in several years back in October, but both teams are struggling right now and need a win. I'd really like to see St. Lawrence push CLarkson again. I'm also looking forward to the weekend's series between Minnesota State and Minnesota Duluth. The Bulldogs need a sweep, but the Mavericks would love to get a win. Out of conference highlights include the series between Bemidji State and Mercyhurst and Robert Morris facing Minnesota. I'm also curious to see how Mercyhurst will fare against Ohio State in two weeks.