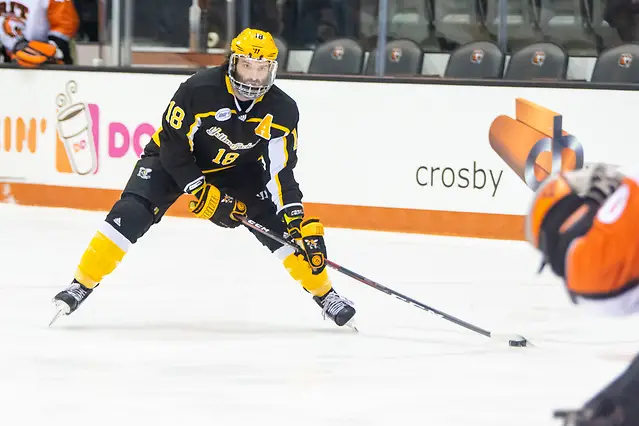 The last time American International beat Air Force, Eric Lang was a second-year assistant coach at Army West Point.
The Yellow Jackets played at the Olympia Ice Center, and none of the current players were on the roster. It was 2013-14, and it came one season after AIC took three points off the Falcons for the first time.
You'd be hard-pressed to find a four-point weekend over Air Force since it joined the league in 2006-07 because, quite simply, it had never happened.
All of that changed, and after sweeping Holy Cross last week, it's the Yellow Jackets stepping to the forefront of Atlantic Hockey. The team's first four-game winning streak since Feb. 2013 enabled national voters to take stock, and for the second time in program history, AIC appeared as a team with points in the weekly USCHO poll.
"The Air Force weekend gave our program some belief that we were as good as anybody," said Lang, now the third-year coach of his alma mater. "We haven't had great success against them. They're the model, and they represent our league nearly every year in the NCAA tournament. We want to be like those guys because we want to win an NCAA Tournament team. For our guys to (sweep), in the fashion that we did, shutting them out on both nights, has given our group a little bit of confidence. It's a swagger I hadn't seen."
AIC returned to the ice 10 days later against a Holy Cross team that gave it fits and starts. The Crusaders scored twice in the first period to take a 2-0 lead before Joel Kocur pulled the Yellow Jackets within one with under a minute remaining.
"It comes back to the word belief," Lang said. "It's our mindset that we never believe we're out of a game. We weren't great on Tuesday. Holy Cross had a lot to do with that. But our guys have gotten to a point where we have won hockey games in those situations. Our effort was there, but our execution maybe wasn't as crisp as we wanted it to be. We're still getting results, so we're not going to apologize for it. I believe our guys believe they can win every hockey game. It's a great feeling."
Kocur's goal buoyed the Yellow Jacket rally, which included the next two goals to take a 3-2 lead in the third. After Holy Cross tied the game on a Neil Robinson goal, Tobias Fladeby scored at 8:01 of the third to ensure two points for the home side.
Four days later, AIC did it again, rallying from down 2-1 in the second period without Kocur, who had been suspended following a game misconduct on Tuesday, to score three unanswered in a 4-2 win.
"We talked to our guys about elevating," Lang said. "Kocur is one of the most intense guys I've ever coached. It can get into trouble, but it's always about the team and for the team. We had a lot of ground to make up because his competitive spirit is so high."
The biggest piece of Saturday's win came from Blake Christensen, who scored his team-high sixth goal with an individual effort built by grit and hustle. He stole the puck, earned a breakaway, dusted defenders and then deked and pushed a puck around goaltender Erik Gordon to give AIC a 3-2 lead from which it wouldn't look back.
"Blake Christensen was so unbelievably competitive," Lang said. "I joked that if he was playing hockey with my son, Blake wouldn't let him win. That goal that he scored and the timeliness of it, he's as good a player as we have in our program. He elevated for us, and we scratched a win out."
It earned AIC its first four-game winning streak in six seasons, and it's just the program's second such streak since Atlantic Hockey formed as the MAAC. It pushed AIC to 7-7-1 overall and 7-4-1 in league play, and it kept the Yellow Jackets undefeated in AHA play at home. The team enters its exam break in second place with 15 points, and its plus-13 rating is the only league program with a conference mark over plus-10 (Niagara is plus-10). AIC has led or been tied in eight of its games this season, and it's won all but one with a 7-0-1 record.
"We have purposely stayed away from measurable objectives in the past couple of years," Lang said. "But we do have a board outside of the locker room, and we're checking off boxes. We go through the board, and the guys are tuned into it. They have four objectives, and they want it to be five. They get to five, and they want it to be six."
To further contextualize what AIC's accomplishing, consider it's one less win than what the team had in Lang's entire first season. It equals or betters the number of wins as 10 of the program's overall years since the MAAC's formation in 1998-99. A team that received a single vote last year for one week for the first time in its history received two this week.
Even for a team picked to finish fifth in the preseason, it's exceeding expectations, forming the first steps taken forward on a foundation built by teams that always gave effort without necessarily obtaining the desired results.
"We still have that us-against-the-world mentality," Lang said. "It wasn't too long ago when we were 60th in the country, and now we're getting national votes. For us to think about that in a short time, the players have done and they're proud of where the program is and where we can go.
"Respect from your peers is the ultimate compliment," he continued. "I received calls and texts from other coaches congratulating us, and they reminded me that we've had an incredible jump in a short time here. It's the best compliment we can get."
AIC gets a chance to let that breathe for a couple of weeks before it plays Robert Morris on Dec. 29-30, after which it will kick off 2019 with a game at home at the MassMutual Center against the current No. 1 team in the nation, UMass.
"Conditioning is a big attribute to our success," Lang said. "We've won nine or ten third periods because we condition extremely hard. We have a little bit longer break than most, so we really have to take care of our bodies here. It's a chance for us to build our strength and (continue) building our conditioning."