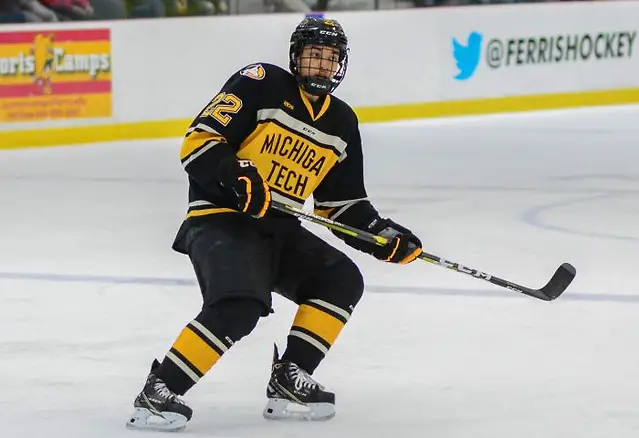 Michigan Tech defenseman Tyler Rockwell played in the season-opening series against Minnesota Duluth, but the Huskies didn't put him on the travel roster the following weekend when they visited Wisconsin.
Sitting at home was a wake-up call for the sophomore, who has since become a key player for the first-place Huskies (8-5-1, 7-0-1 WCHA) in league play this winter.
"We didn't bring him on our first road trip," MTU coach Joe Shawhan said. "From that point on, he's just decided to work hard, put in the time and change his focus. He's taking the approach of 'I don't ever want to sit out again or miss another trip. I want to enjoy this with my teammates.'
"So he said, 'Enough is enough, I want to play the game.' And he's since gained confidence and shown everybody he can work hard and make an impact. Everybody works hard at this level. You don't become a D-I hockey player without busting your tail. So it comes down to who can provide the most impact, and we have smart guys who have learned to impact that game, and that's what Tyler is learning now. He's learning how to impact the game."
Rockwell said he was "bummed" to sit at home while MTU split with the Badgers. But he managed to get in a few extra skates and some workouts while his team was away without him.
Shortly afterward, he and Shawhan had a discussion about what he wants out of the sophomore. The second-year coach wanted him to be more aggressive. So Rockwell began taking chances on the offensive end, and it's proved to be a boon for the Huskies' scoring opportunities.
"I focused on being one of the first guys on the puck," said Rockwell, whose father, John, played goalie at MTU in the late 1970s. "The weekend I stayed back, I just focused on that as well as all week in practice leading up to the next game. I figured the best way to defend is to spend as little time as possible in the 'D' zone. I wanted to be faster about breaking out pucks.
"So I focused on killing plays in the 'D' zone and getting some good passes to the forwards."
Rockwell quickly improved as the season went on. He had a breakout performance during the Huskies' series against Alaska two weeks ago. He put together a three-point series, which included him scoring his first career goal and adding two assists. One of those assists was on Gavin Gould's game-winner in a 7-2 win over the Nanooks.
The following week, the WCHA named him its Defensive Player of the Week. No defenseman had more points than him that weekend.
"It felt great," he admitted. "On that particular night, Trenton Bliss got hit pretty hard, and I thought it was a dirty hit. So we were motivated to score and run up the score there. I was really, really happy in that sense to get that goal. My mom and dad were both in the stands and so were some of my uncles and aunts, who have been really supportive."
Rockwell has six points (five assists) through 11 games.
"He's playing out of role as a top-end defender, too," Shawhan said. "That's not the role that lends itself to him, but he's relishing and excelling. Our whole D corp is emerging alongside him, too. They're playing as good as I've seen, and Tyler has been excellent.
"From the start of this year until now, the one thing I've seen is Tyler has been an incredible cerebral player, which is a great complement to his game since he likes to compete and (and play tough) defense. His size and the way he plays, you could play him a couple of ways. You can either give up scoring chances and create a ton on the offensive end, and you can get some incredible offense when you take a risk on defense. So he's done that for us.
"If you don't create that offense, though, you have to compete like Tyler does with his size. So he's a complete hockey player. He rates very high for us. Everyone who plays with him has a ton of success (plus-10 plus-minus). He's a great complement to the other players and makes everyone around him better."
Shawhan wouldn't quite call Rockwell a "pleasant surprise' because he expected the sophomore to become a special player while in Houghton. He just didn't expect it to happen THIS early.
"To say I'm shocked would be a stretching of the word," Shawhan said. "But, yes, he's been a pleasant surprise in the sense of the expression. I don't know if we expected, for sure, he'd play any games, but we knew he'd add depth and character. But he's evolved past that at a fast rate.
"The fact that he has done it so early is great."
And to think, all it took was missing one road trip for Rockwell to find his true potential.